It was actually snowing today in Copenhagen!
Still a few days left of 2005 and I plan to make the most of it.
You know, ever since I first visited Tokyo the kanji for the name kinda struck me as bearing a certain resemblance to two hat-wearing elephants and today, finally, I could no longer resist drawing them.
So here they are. All Japanese frengers feel welcome to judge whether or not it is still legible as the word "Tokyo".
I also included a photo of myself (yes, self-centered as ever…) working on some of the new visuals. I know, it looks totally and utterly ridiculous but I am telling you it's going to look so good when it's finally all finished! I settle for no easy solutions when it comes to going that extra mile to make sure it looks organic and optical rather than computer-generated (we do not like that so much).
So, as a result, it takes time but looks nice.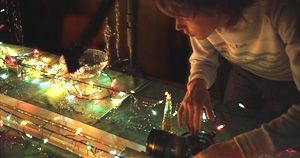 Do you remember I told you it was snowing today in Copenhagen?
Well it was a beautiful sight to behold.
Also am finishing up on a little musical short film by Silas and myself so far entitled "Wherefore Are You Not There?" which I am sure will be made available to you somehow or some other how. Who knows?
Well I don't. Otherwise, I'd tell you. And I'm not just saying that. I am also meaning it. Telling you no lies. Because that wouldn't be very Christmassy at all, now would it?
So rest assured… well, I forget what I was on about.
Whoa look at the time, better shuffle off to Dream Land.
Christmas joy to y'all!
– Jonas