Manchester, UK (May 19, 2015)
I was told a great anecdote by some fellow Mew fans last night. About a decade ago or so Mew played a concert in a smaller northern UK venue. They must have felt like the tour had become a bit repetitive at that point, because they opted to shake things up heavily. That night they played their whole setlist in reverse order making Comforting Sounds the opener for the first and last time ever, I'm sure. After the show the fans met the band and jokingly told Mew that they should perhaps play the songs backwards as well next time. The answer felt promptly: "Don't even joke about it. We might just be doing that in the future."
That story is the one I should have been telling people in Liverpool, when I was trying to justify exactly why I – a Danish person – would travel to Manchester, London and Amsterdam to see a Danish band that I have already seen a dozen times. Sometimes I do wonder whether it is too much, but then I find great excuses like last night's concert being the first time I've seen Mew abroad. It's a first! I'm not being repetitive here, hurrah.
The Ritz is not sold out. Empty balconies but a reasonably crowded floor in a quite nice looking dark venue. It has been 6 years since they played in Manchester last time. They walk onto stage to the backing track of Making Friends' intro. Silas punishes the hi hat and snare for the new live intro of Witness. It shall be no secret that it is not quite my favourite song off +-, but I enjoy it more than I thought I would. It is delivered like it is supposed to be a sonic punch in the stomach. They seem to be in a good mood, hence I am in a good mood.
As Satellites begins I start paying attention to the new visual set-up (wait, what's that? A first!). I had long been waiting to see how it would work out live. I feel like I know why Mew stopped using the visuals. It makes up for more flexible setlists and them functioning as a rock band that deserves attention. Especially the flexible setlists I would choose any day over the visuals. Then again it did feel a bit visually underwhelming back in November, when they were just a band on a stage. It's not that they can't be that, but my mind will always crave stimuli ad libitum when I listen to this band. With the new visual installation known from Satellites music video, I think they've settled nicely in between poles.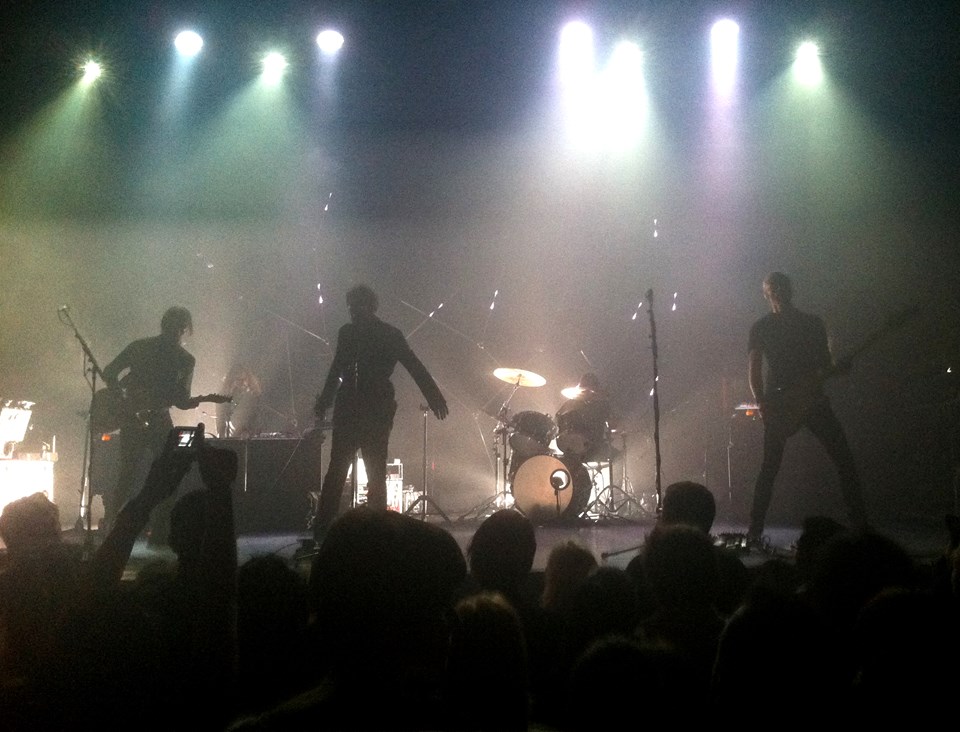 Last time I reviewed a Mew gig I compared watching Mew live these days with a lottery. I would like to withdraw that comparison. At The Ritz the setlist feels carefully balanced and weighted. There's no sign of randomness as with a lottery. Frengers, Kites, No More Stories and +- all get treated with respect, and the sequencing of songs seems natural. Special, The Zookeeper's Boy, The Night Believer (that's another first!), Beach. Sweet sounds of pop. Silas the Magic Car is the highlight of the gig for me. It's delivered with punch and energy but retains its intimacy somehow. If only more bands could achieve that.
With Snow Brigade, She Spider, Wry/156, Apocalypso/Saviours in the latter half of the setlist the intimacy is put on hold, and they are back to using the audiences mid-regions as sonic punching bags. The new medley reminds quite a lot of the one they played in November, but The Seething Rain has been substituted with Louise Louisa. Zookeeper elicits a nice sing along from the audience and mimicking the end of Kites, Jonas leaves stage with the words "Stay with me / don't want to be alone".
This is not a night for feeling alone though and Mew plays My Complications and Comforting Sounds as encore. I finally make up my mind during My Complications. That final Young Mary vocal melody is the best on +- and one of the finest Mew has ever written. Just after the end of Comforting Sounds I hear some subtle backtrack synth chord progression in the background. I couldn't quite figure out what it was due to guitar feedback and audience noise , but it might have been a bit from Rows. This is the thing though. I need to hear Mew perform Rows so badly that I might have been making this up out of sheer want.
The best first for me this evening is not Mew's endeavour though. It's finally putting face on some of those people, whom I first had contact with more than 10 years ago – because of Mew. These people are undeniably the biggest reason why I'm willing to put myself in debt through student loans just to get questionable sleep on a couch and be stuck on buses for endless hours with a headache while writing this. Just like Mew at The Ritz, these people who love Mew, never disappoint me.
Text and photo: Frederik Voss
Setlist: The Ritz
Making Friends Intro / Witness (w/ drum intro) / Satellites / Special / The Zookeeper's Boy / The Night Believer / Beach (Extended) / Silas the Magic Car / Snow Brigade / She Spider / Water Slides / Am I Wry? No / 156 / Apocalypso / Saviours of Jazz Ballet / Medley (Clinging to a Bad Dream, The Zookeeper's Boy, Louise Louisa) —– My Complications / Comforting Sounds