Glasgow, UK (May 17, 2015)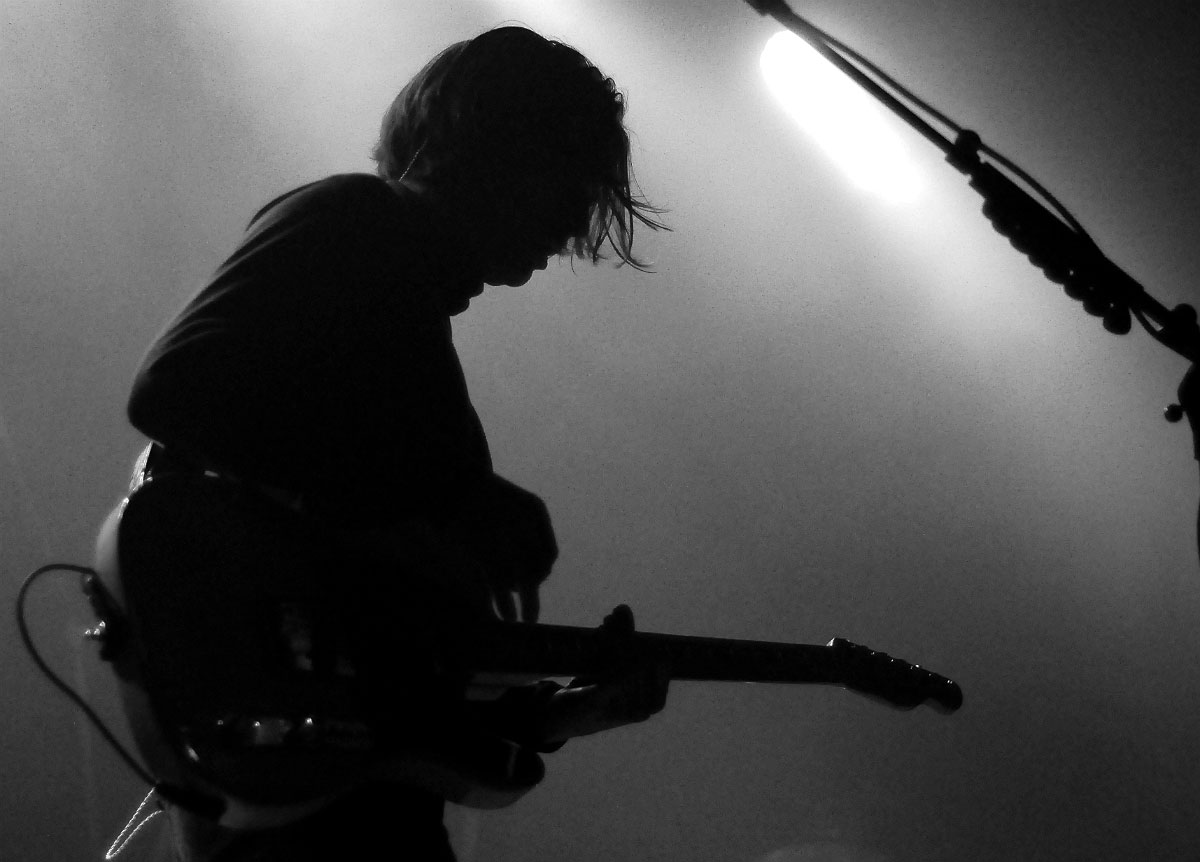 It was Bonfire Night 2009 the last time Mew came to Scotland. I distinctly remember moaning about how the last thing I needed on a Thursday night was to be rushing down Sauchiehall Street at midnight, trying to avoid neds chucking fireworks at each other. That show was great, filled with old prog-heads and kids alike, multiple layers of visuals, targeted lights and a growling teddy bear. But… But but but. No More Stories… was difficult, a dense, dark, inflated riddle. Some of it required a willful struggle to get to grips with.
That record was about a lot of things, but one thing it certainly was not about was joy, about celebrating soaring, easy melodies and appropriating pop cliché. In fairness, that was not what I felt like I needed six years ago – but for plenty of reasons, that is what I want to hear now. I want artistic brevity, I want simple pop elevated to high art. "+ -" has turned out to be quite the ticket, then – an absurdist record that's taken plenty of steely balls and plenty of time to make.
It's absurd partly because it's so heavily stylised and requires such an enormous suspension of disbelief. It's more absurd still because it's so good. It's symbiotic – it gives back exactly what is given to it.
My life was OK, I was counting my steps.
As if to demonstrate that, tonight's opener is Witness, a tune that left me utterly cold initially but, after picking away at its layers and some alternative acoustic arrangements, started to grow quickly and has ultimately made a fool out of me. Tonight it's roaringly loud and aggressive, all choppy guitars and a bassline that flickers. I'm not being snide when I say that its concision is the best thing about the piece. There's movement in it, and then the movement abruptly stops, doubling the effect.
And then a funny thing happens.
Let's think objectively for a moment. You're reading this, a review on a Mew fan site, about Mew, by some bloke with a Mew tattoo. This is awfully meta, potentially Pravda, it has the ingredients to be deathly dull. What exactly am I meant to say? Whether you were there or not, you already know that they played Wry and 156 and Snow Brigade and Apocalypso and Special and Zookeeper. What do I tell you that is likely to add to your existing understanding of the sequencing, the sonics? Do I tell you that, in my heart of hearts, I know that I don't really need to hear those songs live again, and that I'd rather hear something fresher, something newer – not because there's anything wrong with the elderly stuff, but just because I like change, I want to tell myself that I refuse to get safe? That would be a noble state.
Let me go, old dinosaur, from the right to the wrong setup.
Tonight, though, I suddenly don't want new stuff. I want safety. I cherish it. The old songs all sing at me, remind me that the words and chords are as part of my being as they are of those who wrote them in the first place. This is, obviously, intensively visual music – it's music that has scored a chunk of my life, and because they've done so, the songs take on a life outside of what they are. They are no longer merely of themselves. In the Glasgow ABC, on a Sunday night, in the year 2015, aged 28, I get little flashbacks to other times and places. Saviours (aimless walking, Tyne Bridge). She Spider (driving lessons, Edinburgh). Eight Flew Over (getting off the bus, Nottingham) is especially magnificent with its impossible time signature rolling out from the foggy PA.
In time, although my hair turns grey and grizzly, stay with me.
Coffee Break is on the setlist; they don't play it, though, and opt for a chaotically brilliant Water Slides instead. It's not a night for feeling sombre – you can calculate that much, and a chameleonic entity like Mew have made a career out of confounding people. They can sound like Taylor Swift if they want to, they can even sound like Bloc Party, all no dynamics and sledgehammer subtlety. These are patently ridiculous things to sound like, but that doesn't matter. It's not like this for most other bands, but for them, it's better this way. Someone, somewhere is crossing their arms and telling you this isn't quite what they had in mind, actually. That person personifies the point.
I feel like new again, as if I was healthy.
The summer rain is biblical outside, afterwards. It's hard to get perspective in the extreme elements, but perspective is not what this is about. This was ours. They are ours. Later, I can't fall asleep – I have a headful of fuzz, like an insomniatic teenager. Things feel, for a fraction of a little while, like they once were, again. Precious.
Hone in on the buzz in ways you could not.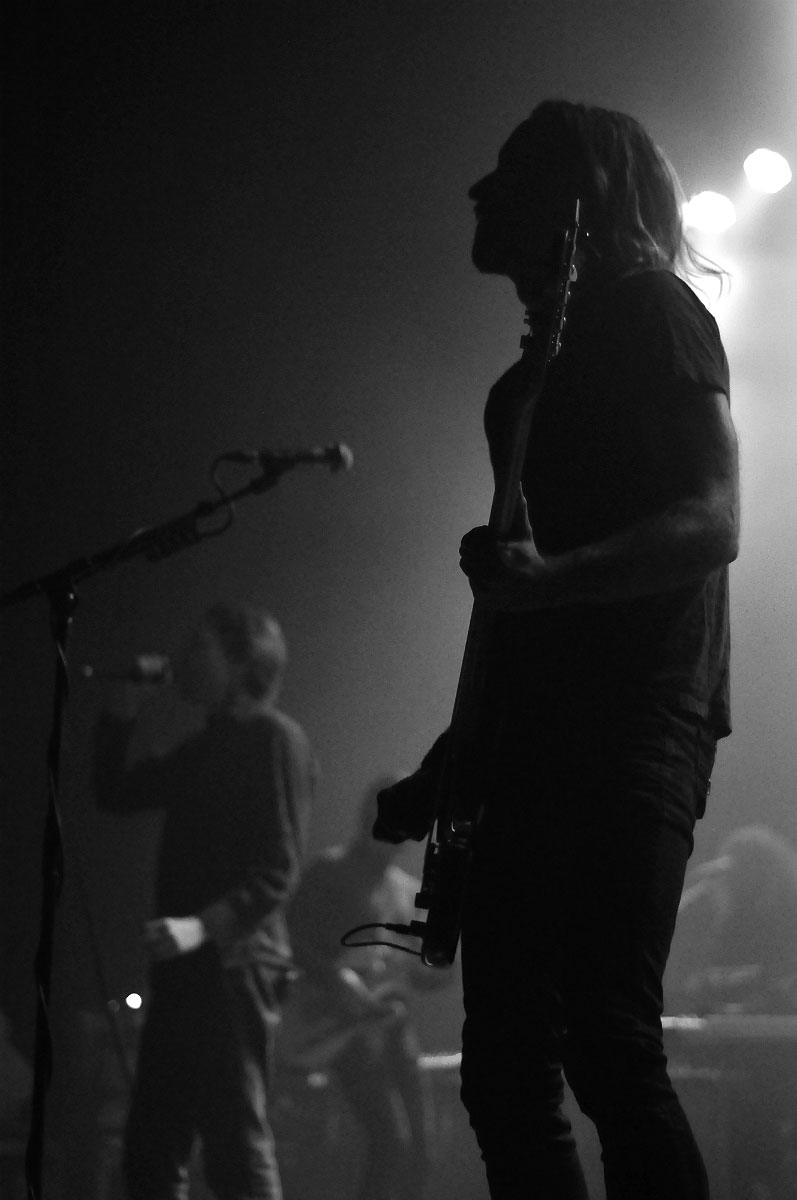 Text: Ally Winford
Photos: Petra Němečková
Photo Gallery
Setlist: ABC O2
Witness / Satellites / Special / The Zookeeper's Boy / Silas the Magic Car / My Complications / The Night Believer / Beach / Eight Flew Over, One Was Destroyed / Apocalypso / Saviours of Jazz Ballet / Medley (Clinging to a Bad Dream / The Zookeeper's Boy / Louise Louisa) / Hawaii / Am I Wry? No / 156 / Snow Brigade / She Spider —– Water Slides / Comforting Sounds