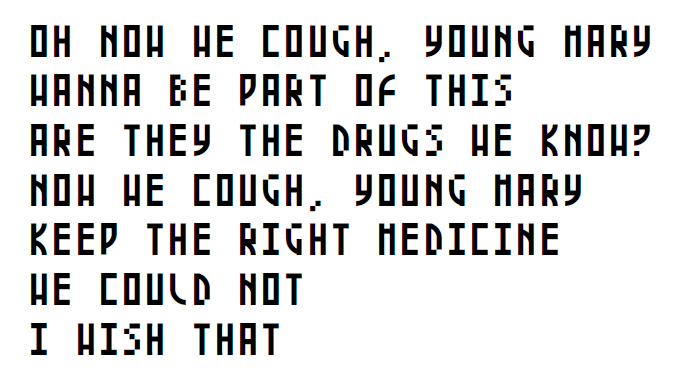 From the very first moment I heard My Complications live at Vanguard Festival in the summer of 2014, I knew it'd be one of my favourite songs off the new album. Granted, the dynamic-less Russell Lissack riff felt (and still feels!) a bit forced, but I have no problem coping with it. The pace of the song is one Mew does not operate within too often. In fact, it only brings to mind Apocalypso and Snow Brigade off the top of my head – two songs that themselves bear resemblance in their frantic drumming by Silas Graae, the most evil guitar sound Bo Madsen dares to use, while still claiming they make pop music besides their wintery, dark lyrics. My Complications were none of those. Without being a happy-go-lucky song, it still had an amazing, uplifting energy. A mood equivalent to the Modest Mouse lyrics "don't worry we'll all float on" perhaps, I thought.
Fast forward: "+ -" is out. My Complications didn't disappoint me the slightest bit. Some fans initially missed the "Zookeeper-esque" choir ending of the November tour, but personally I had never quite heard Mew sound like that catchy synth/acoustic guitar coda before. I'm pretty certain that the sound of that final bit is precisely what made Pitchfork remark on the similarities to Young Turks. Mew stated before the album release that they had worked with more key changes and less "counting" this time around. This is exactly what they do on My Complications and the thrill of the key change from minor in verse to major in chorus is partly what gives rise to that feeling of water all around, yet floating on. And then the greatest aspect of the song revealed itself. There was an explanation for that weird but extremely catchy final melody – the way the "We could not / I wish that" couplet was being sung, so unnatural but exciting. We had it all backwards. Again.
Where New Terrain / Nervous was quite an exhilarating experiment of pop music, the reversible production took away some focus of the beauty of a melody that works either way. With My Complications the backwards melody is now on its own competing on par with all the other melodies. Western Silver Lion Cub works as its own reversible production track but also as a key for My Complications in terms of work process, melody and lyrics. Mew has previously given melodies and lyrics, or works-in-progress if you must, their own lives as b-sides (Animals of Many Kinds, In Time Do You Forget (Daydream) and I'd count Do You Love It? as well), but it has never felt as significant as this time.
There's another reason why I instantly liked My Complications. It's naïve and even better it's the naïvete of youth. Despite being mostly past-tense, there are enough indications across the lyrics of the two songs indicating youth:
"You looked so tiny then"
"Young Mary"

Western Silver Lion Cub:

"Out at night on your skateboard"
"Even when I thought you were grown"
"Walk out of this / My youth"
And of course my favourite and most pinpointing of them all "»Soon« is the song of our ages". This cannot and must not be anything but a reference to My Bloody Valentine's song Soon first released on the EP Glider in 1990. The teenage years of a certain songwriter.
It does not only feel like a song about youth though. I'm certain this is a song about the hardships of a first failed relationship. That first girl or boy that first introduced you to love. It's hard admitting this person was never the right one for whatever reasons, as they become a lifelong symbols of love.
A connection to the Mary (Maria) of Vaccine was speculated in the MewX review of "+ -". I think this is spot on, and there are more interesting connections than just the name. Bear in mind the following will be hopelessly over-interpretative, but I can't help it this time. Hospitals, vaccines, coughing, medicine, drugs and poison. There's an obsession with Mary and eyes: the clouded retinas, looking to her mother's eyes, still in her mind's eye.
In the darkest moments of My Complications and Vaccine there seem to be a similar admittance to wronging Mary as well:
"Until no longer gullible
No longer loveable
And colourful
As colourful as you"

"And me – the worst kind of person
A person can be
Some prize!
But through your eyes I'm a wholly different size"
And then there's that harmful way young Mary listens to singing words:
"Takes my voice in
Lets the poison sing"

"Slowly searched the arch-less singing words"
And then there's the difference of the two. Where he feels like new again in the world's arms, "she has no wish for arms". Maybe this Mary, or belle, in Western Silver Lion Cub is the same belle of the ball from Symmetry? Another song of young love that just didn't pan out.
The final lyrics of My Complications seemed rather abstract and I kept looking at until I stumbled upon its Western Silver Lion Cub reversed lyrics that are straightforward and revealing – acting precisely as the key and pinpointing the complication:
"And you know I will be missing you terribly"
Reversable lyrics:
Western Silver Lion Cub
My Complications
And you know I will be
Missing you terribly
Even when I thought you were
But it's hard when you go
To get up, leaving home
Even when I thought you were grown
Oh and now we cough, young Mary
Wanna be part of this
Are they the drugs we know?
Now we cough, young Mary
Keep the right medicine
We could not
I wish that
I miss that naïve first love and will keep longing for it, but in reality it's much more complicated than those teenage years suggested.
Frederik Voss
Image source: "+ -" digital booklet