Roskilde, Denmark (July 7th, 2012)
Three years ago Mew performed their fifth ever show at Roskilde Festival. The stage was Arena and the festival organisers had to close the nearest entrance, because it was too crowded. Arena holds 17,000 people and there were some 10,000 more spectators for that particular nightly show. It was obvious that Mew would play at Orange stage whenever their sixth Roskilde show was to be. Orange has a capacity of tens of thousands, and according to sources, Mew had 50,000 people in the audience – making it the largest amount ever for these Danes. Some of this was helped by the "warm-up" act which was none other than Bruce Springsteen & The E Street Band.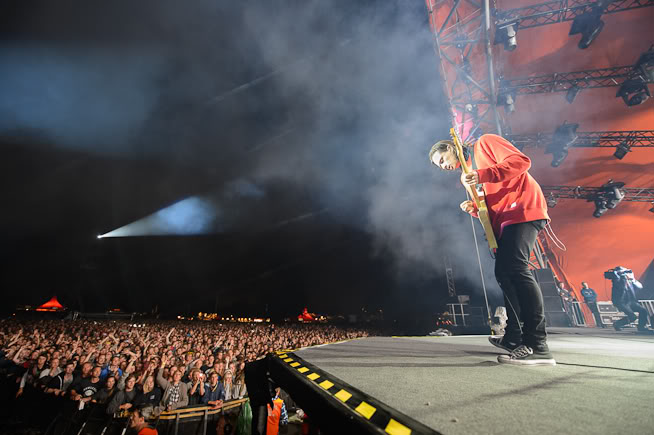 I had never seen Mew at Roskilde, so I was very anxious about this show. The setlist was identical to the one seen and heard just a few days prior at Bremen Teater in Copenhagen, but the shows themselves could not have been any different. The first one was seen by a couple of hundred people that were seated and were mostly very quiet. The second one by tens of thousands of screaming people who were constantly jumping and singing along. I found myself from fourth row even after almost three hours of queueing. I was planning to queue much less, but the lines just got too busy. Well, it's good at Orange, because you get to see the previous act's finale from a pretty good spot. So, I saw the last of Bruce Springsteen while queueing for Mew. Many good Danish people were met while standing there… and they take their Mew very seriously. I took notes during the show, but they got lost during the last night when it gets completely nuts at the camping grounds. This is something that Roskilde Festival – Nordic's largest annual rock event – tries to change for the better. This is why the following is shorter than usually. This also comes a little late, because Roskilde Festival – after nine days – really is a tiresome event in all its glory…
The nearly 90-minute set opened with Intro / Boy (working title) and people went nuts in the first rows. They noticed immediately that it was new material and they listened to it carefully. It was the very first beats of The Zookeeper's Boy when the jumping started. And you have to admit it, Mew played many of their biggest hits right there in the beginning. The Frengers hits followed and people jumped like crazy during 156 and that's one thing that happens only in Denmark. In other countries the moment is not at this level, really. It must have been very pleasant for band members to play this venue. I mean, even Nick Watts walked very near to the audience to play his guitar.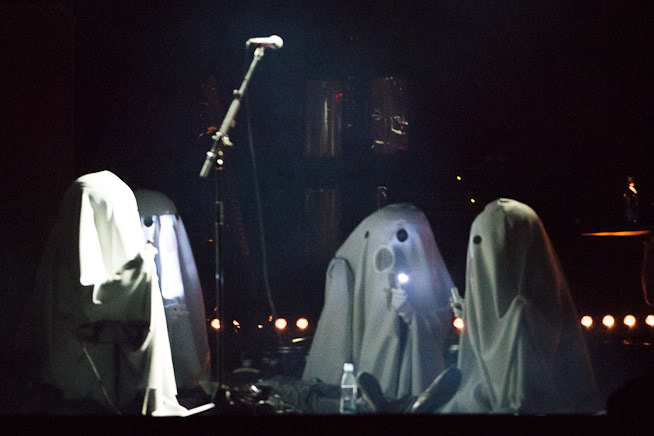 Seen at Bremen Teater, the "Roskilde girls" returned for No More Stories material. Once again very much inaudible, they were dressed as some sort of ghosts carrying bright lights. Jonas Bjerre – quite theatrically – laid down on stage, and the ghosts then brought him back to life. As expected, the decibel levels from screaming alone reached heights in the beginning of Comforting Sounds, and they added lights for that stage production. Orange was full of stars, and it was very otherworldly. People were singing so loud during Comforting Sounds that I can only guess that Jonas was there as well. Couldn't hear much of him, but we did see him stepping. In the early version of the song there is a step dancing bit, remember. Nice little detail, I'd say. Many people must have thought that Mew would finish with this track…
If Comforting Sounds was not Bo Madsen's show enough, the encores were. People just love Introducing Palace Players with its rockier outro and the longer version of Special. Although from different albums, these two songs seem to fit together well. Klassen (another working title) was the last song played and people got the chorus very fast. It is repetitive there, and for an unreleased song it was only a good thing at Roskilde. The band members didn't really talk in between songs here, so that was another big difference compared with Bremen.
I read quite a few reviews of Roskilde highlights and many of them mentioned Mew. Well, Politiken only gave 3/6 as the Danish scale goes up to 6 (*add This Is Spinal Tap joke here*). Mew are never that average, so (respectfully) I will give that Politiken reporter 3 out of 6 while Mew gets a solid 6 out of 6. Roskilde was one of my best Mew show experiences, but next time I'd like to stand on the left side, because one has to see some Silas Graae, too.
Text: Tero Heikkinen
Photos: Philip Bo Pedersen
Photo Gallery