NOTE: The following has been written before the Roskilde Festival show, but we were instructed not to post it until after. Also, it was not allowed to take any photos from the performance, so we have a couple from the venue itself.
Copenhagen, Denmark (July 4th, 2012)
This is what we saw the last time that Mew went on stage almost twenty months ago. It was the biggest "wtf-moment" (if I may) in the history of this particular band. We were there, and wrote a review – in case you missed it. That was 2010 and this is 2012, but it's been a while for a good reason. They are writing a new record, as we all very well know. It was expected that some of the new, unreleased material would premiere at Bremen Teater, a small 644-seated venue in downtown Copenhagen. I don't know where they get that amount of seats, because we counted less than 20 rows with approximately 25 seats in each of them. Anyway, the show was sold out and it looked like 200 people with bought tickets plus Mew's friends etcetera. It wasn't too crowded.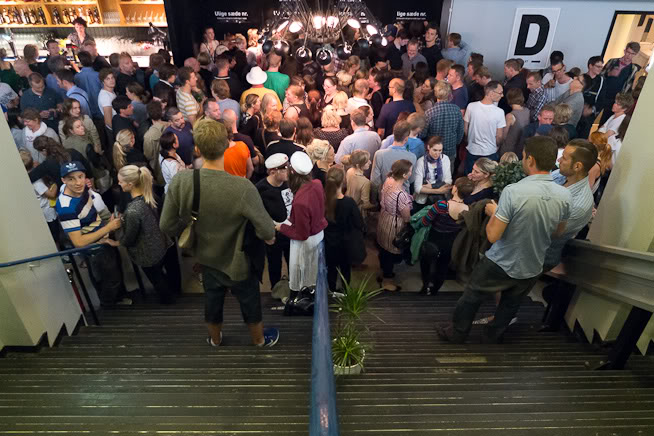 Mew are known for opening with new intros after creative breaks. This time it was a four-minute track that – although feels quite unfinished – is going to be on the upcoming album in some form. No question about it. It was that good. The official setlist just said Intro and Boy, but I'm gonna call it Mommy for now, okay? Felt like one song, but apparently it was two in one. Anyway, it was a very funky track, so I can imagine that (the now long-haired) Bo Madsen had a lot to do with the sound. He really enjoyed playing it. This new stuff was accompanied by a head-spinning owl on the right smaller screen. Yes, the screens are the same as we've seen since 2009. You will love this visual effect, because it – once again – is something that is synchronised with the rhythm. I do believe that this track will get different visuals sometime later.
It's great when they mess up with the "safer setlist" enough to make it more surprising. For a long time Special has been followed by The Zookeeper's Boy, as it is on the album. Now they had these two hit songs on opposite sides of the setlist. Am I Wry? No and 156 were still attached to each other, but that's due to Jonas Bjerre playing guitar in both. Well, Bo switched guitars after every song, really. Add She Spider and Snow Brigade, and a Frengers fan was very happy during the first half an hour. Then it went all No More Stories. They invited five girls on stage. Dressed in short skirts, these girls were fresh from Roskilde and they returned to the festival grounds right after the show. These "Roskilde girls" sang background vocals on Silas the Magic Car, Sometimes Life Isn't Easy and Hawaii. The quintet was mostly inaudible, though.
With Sometimes Life Isn't Easy they went with a very long version where the "hold my arms back" bit was repeated over and over again. It reminded me of the version we had heard on one of the video diaries in 2009. It was a very cool version and I would imagine it returning onto setlists of future shows. Bamse aka Bear was also played and it felt more finished this time. They had some work done with it, but still, Jonas believes that this track may remain a live thing, therefore not appearing on the upcoming album. "(They) have some really good stuff brewing and want to create the new one from a clean slate." You may quote that, because it's an actual quote from him. Bo played Comforting Sounds quite differently this time. You know that the last five minutes of the track allows some improvisation. Can't wait to see audience reaction to this track at Roskilde Festival (Bremen show was very much a warm-up show to that).
Usually when you see a show you have to be looking up on stage, but at Bremen teater it was quite the opposite and those sitting on the first row were very close to the band members. Less than a meter, perhaps? I was on the third row and it felt like I was right there on stage. For this reason, the sound was very loud, too. But everything sounded great from start to finish. Silas Graae's drumming made everyone's feet move, even when sitting down. Making the band very happy, the audience stood up for encores (Introducing Palace Players, Special and Klassen) and enthusiastically clapped their hands throughout the first two tracks. Everybody listened carefully to Klassen which was another new song. Naturally, this song's name will also change in the future, but its working title is Class (in Danish) for now. This was the quieter of the two, but also longer – clocking in at more than five minutes. Some of you may have found a recorded video of this song on YouTube. The whole set ran for ninety-two minutes including a two-minute break before the encores. So, it was a full 90, but Bo and Jonas were very talkative as well. They even had chats in English, knowing that many fans had come from abroad. Bo said that he seems to be the only one fucking up the songs, and Jonas said he fucked up Am I Wry? No, at least. Nothing wrong with using the f-word on stage when the dialogue flows this well. They enjoyed being on stage after a break, you could tell. Bo was constantly moving and that obviously had an effect on Jonas who I have never seen dance so much.
No new merchandise was available, unfortunately. But what they had was dead cheap. 100 DKK for a t-shirt is a bargain!!! Roskilde review is soon coming up, and we are expecting a similar setlist, but you never know.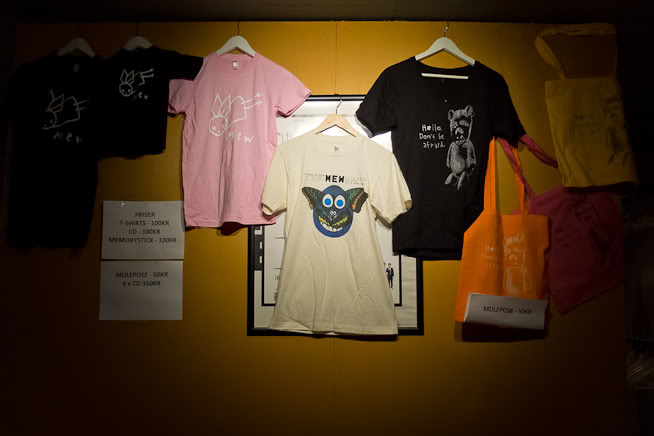 Bremen Teater setlist
Intro (Boy) / The Zookeeper's Boy / Am I Wry? No / 156 / She Spider / Snow Brigade / Silas the Magic Car / Sometimes Life Isn't Easy / Hawaii / Beach / Apocalypso / Saviours of Jazz Ballet / Bear / Comforting Sounds — Introducing Palace Players / Special / Klassen
Text: Tero Heikkinen
Photos: Philip Bo Pedersen