Operaen (two shows) – Copenhagen, Denmark (November 28th, 2010)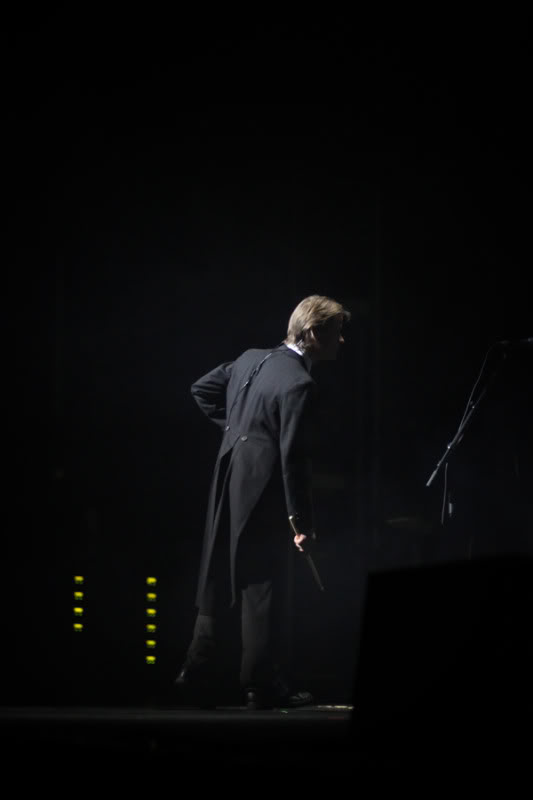 Red curtain opens. A pianist fox is snoring heavily. Enter the tuxedo-wearing conductor Silas Graae who passes the audience and jumps on stage. He tries to wake the sleeping fox up by hitting the microphone stand with his drumstick. Fox wakes up and starts playing the piano while another creature (whatever that was) gives the drum beats. Six more foxes join the orchestra and Silas conducts a three-minute medley of familiar Mew tunes (well, The Zookeeper's Boy and Am I Wry? No at least) in prestigious classical orchestra arrangement that also includes violins, cellos and brass instruments.
Now, it's very hard to explain the opening to the two shows at Copenhagen's modern opera house called Operaen (and a day later in Aarhus' Musikhuset as well). Operaen saw two sold out shows, one at 6pm and the other three hours later. The first one was announced earlier, so the first rows were packed with hardcore fans, the 9pm show's first rows were full of their friends and family, and the tone of the show itself was a bit different. The first performance lasted 90 minutes and the second even ten minutes longer. A 100-minute show marks the longest I have ever seen, but there's a catch in the end and we'll get back to that. Approximately 3,400 tickets were sold for these two shows altogether, making it one of the most profitable working days for Mew. They cost up to 48 euros each and that is a fair price considering that these shows were easily their most expensive to create. You could also tell that they made a killing with their merchandise sales. There were some great deals at the merch stall. Some of the older shirts cost only 100 DKK (around 14 euros) and the large event poster for half of that if you were traveling with a tighter budget. The Slick Monsters Tour -shirt should cost less than 175 DKK, for those shows were held in February. The queues at the stall were quite long at times (poor Martin being there alone).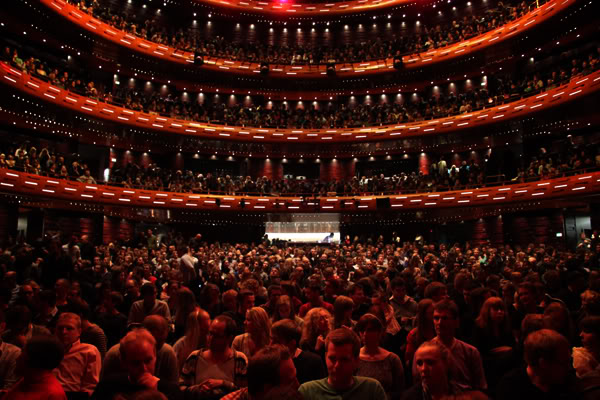 Operaen is an amazing piece of modern architecture (opened in 2005) and it was a perfect venue for Mew who had played there once before in a charity event. So far, very few rock bands have managed to play there at all. We all were expecting something special for these shows, but none could've thought that they really wanted to play a CONCERT rather than a show. Well, this takes us back to the funny and stylish opening act…
The snoring fox was so well-made that it felt like it really was on stage rather than just on the right stage screen (drummer being on the left smaller screen and the rest of the foxes on the big one). After Silas stopped waving his drum stick, he walked behind his drumset and the "main fox" kept playing the piano, thus introducing Bo Madsen on stage. Bo played Special a good thirty seconds with the fox and when the animal disappeared the intro to Special started to sound more familiar to us (with now tuxedo-free Silas' drum beats). At this point the stage was completely dark for about a minute until the sparkling lights revealed the whole band on stage. The lights were all over the place and the wires – for which the lights were attached to – were dropped from the ceiling for this moment only. Needless to say, Special had no backdrops this time, but it didn't lack visuality at all. Dancer Rico Coker (now with his own platform) was part of the visual act and – together with Bo – they had some nice moves that looked well-rehearsed. Bo wants to dance, and now he doesn't have to do it alone.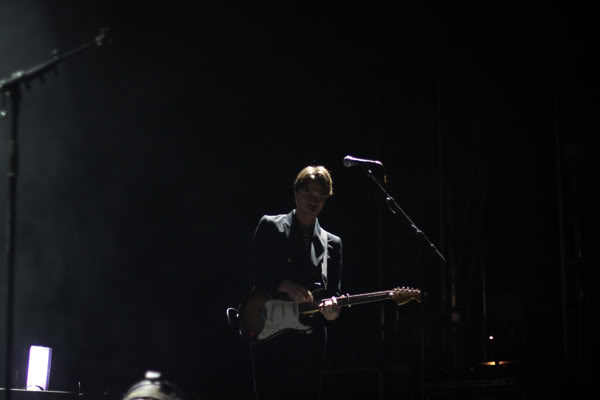 As a viewer, I was lucky enough to get two very different experiences when I saw the first show from the third balcony and the second from the third row. In the marvellous 1989 film Dead Poets Society the professor (played by Robin Williams) courages his pupils to take another view on things by jumping on their school desks. I had that feeling there. If you ever get to see Mew from above, pay attention to Silas' drumming. It's a stunning thing to see from that point of view. It was funny to see something where the audience has to remain on their seats, and no-one is screaming or singing loudly. Only in the end the audience stood up to show respect and a few songs got some major clapping, too. The sound almost exceeded the band's music. That's how loudly 1,700 people clap their hands.
The use of backdrops has never been pre-planned this carefully. Sometimes certain parts were projected only on either of the two smaller screens. For example, Introducing Palace Players had visuals only in the end (projected on the left screen only), and the overall presentation felt designed without being too technical. Some errors occured there, too. For instance, it's not particularly cool seeing the wolves on screen before Apocalypso even begins. If we think about the best visuals that Jonas Bjerre has ever created, in my opinion, they are the ones for Louise Louisa which was not played. Maybe this was due to the Fox Orchestra Intro (for a lack of proper title, I'll call it that for now) being a bit similar on an idea level.
Apart from what has already been mentioned, what was so special about these shows? Lots of things, I reply to myself. Jonas played Snowflake live for the first time in years. The acoustic version was wonderful, even when it didn't go perfectly at the 6pm show. This is something very Mew… when an error occurs, they start all over again rather than just keep on playing. A sign of perfectionism there. The other track that came completely out of the blue was Her Voice Is Beyond Her Years with the decade-old backdrops avec Stina Nordenstam. The song also had a very nice intro with Tricks of the Trade (keyboards and vocals only). These tracks were attached to each other so well that it felt like it was really just one song. Awesome work.
I really feel like Bamse should be on the next album as an intermission. Operaen was perfect for some bear talk, and now it looks like the track has found its permanent place after Apocalypso and Saviours of Jazz Ballet. A nice trio with three very different tracks in one go. It's also a great demo of any given venue's sound. At Operaen the sound was great in the back and in the front. Although, it felt a bit loud at times, but that's Mew for you and it shouldn't come as a surprise. During Snow Brigade you could see Nick Watts playing guitar in the front and that's a rather rare sight. Bastian Juel played exceptionally brutal sounds with his bass. When hearing that Mew would play three hours worth of music live in one night, I was afraid that that could be a little too much for Jonas' high pitches, but those fears were uncalled for. His voice was perfect at all times.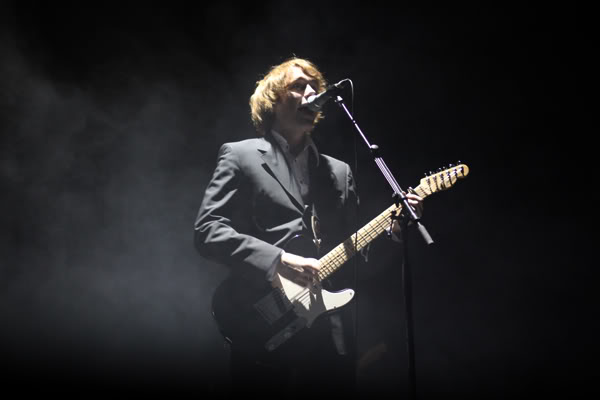 If you compare the setlists from both shows, the usual suspects can be found from both, but personally I preferred the second one even if it lacked the Tricks of the Trade/Her Voice Is Beyond Her Years -combo. After the first show, you could sense that many had expected to hear Comforting Sounds, especially since Mew have not played in Copenhagen (their hometown) for a full year. Do You Love It? worked better when it was played later in the set and not as the first actual Mew track like in the beginning of the 9pm show.
Now the finale that everybody is talking about. There are two clear camps for this, those who loved it and those who thought it was very lame. Some people wanted a Mew track as the last song. Did we get one? You figure it out. I thought this was visually the most stunning ending and it was executed better at the 9pm show when it looked like Mew were really surprised by it. Still, it only works once. The surprise factor is gone on the second viewing.
This is what happened. After the last Mew song was played, the backdrop sheet was pulled up and another part of the stage was revealed. We had no idea that the previous hour and a half we had been looking at half the stage. The whole stage rotated 180 degrees leaving the band's equipments in the back and revealed a new set of extremely bright lights to cover them. We saw three masked guys "playing" a very 80's like instrumental dark synth pop track. The masked guys gave a chilling doomsday feeling to it. If you ever want to do a show where you are going to blow up the place killing everyone, this is the way to go. But… no, don't do it for real. The stage was smokier than Marlboro Man's tiny bathroom. This confusing moment lasted around seven minutes and for many it was unclear if the show really ended there. These were the kind of shows where you might expect band members to bow to the audience. You know, that very theatrical moment where you hold hands and do it for minutes and minutes, as long as the audience was clapping their hands. Mew didn't give this opportunity. Maybe they felt that that would've been too corny and obvious.
"Lords of Destruction present Mew", said the poster. Was it the other way around or what was it? It doesn't require hard detective work if you know how to google.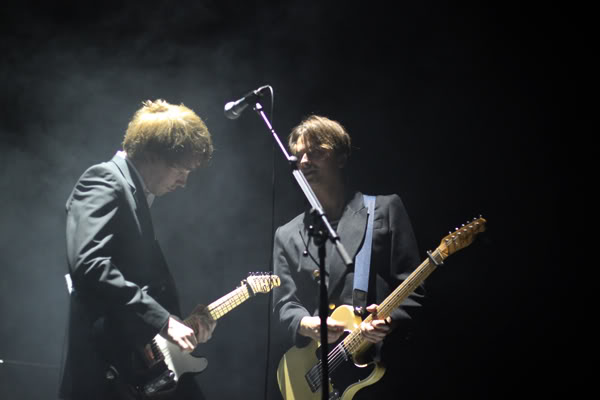 Final words. From visual point of view, these shows were the absolute best Mew have ever delivered, and probably ever will. It takes a venue like this to do it, and only a venue like this. They do exist in every country, but the first act demands you to sit and that's something you can't do everywhere. The Fox Orchestra Intro will be a rarity despite the long hours spent in animating and in making the soundtrack for it. It's possible that this bit will never be seen again. Same goes for the Lords of Destruction -finale. I would go as far as calling these shows the best I've ever experienced, by any act. I was practically speechless for twenty odd minutes and the concerts still haunt me after two days. It's all downhill from here, but we shouldn't be comparing these to the future gigs. Now… that would be unfair.
Text by Tero Heikkinen
Photos by Philip Bo Pedersen
Finally… the longest Mew show (over 100 minutes) known to man was followed right after the Copenhagen shows:
Musikhuset / Aarhus (November 29th, 2010)
Fox Orchestra Intro / Do You Love It? / Hawaii / Sometimes Life Isn't Easy / Eight Flew Over, One Was Destroyed / She Spider / Am I Wry? No / 156 / Snowflake (acoustic) / Silas the Magic Car / Introducing Palace Players / Beach / Her Voice Is Beyond Her Years (w/ Tricks of the Trade -intro) / Apocalypso / Saviours of Jazz Ballet / Bamse / Comforting Sounds —– Special / The Zookeeper's Boy / Reprise —– "Lords of Destruction"