Many of our readers reside in United Kingdom…. and many of them know that the ONLY festival show for Mew in England this summer is the small (independent) Truck Festival in Steventon, Oxfordshire. The 13th year marks the festival's first event in its teens, so it's very fitting that one of the main acts is called Teenage Fanclub. The festival organisers – known as Truckers – are very excited to have Mew as their headliner for Saturday, July 24th. Booker Drew Brammer gave us a special link where you may buy a one-day festival ticket before anyone else. He also adds:
"A couple of years back we were lucky enough to have Mew play Oxford, and it was one of the best live shows we'd ever seen, so we knew then that we had to have them play Truck Festival. We're really excited about exposing them to the Truckers and seeing them in the open air."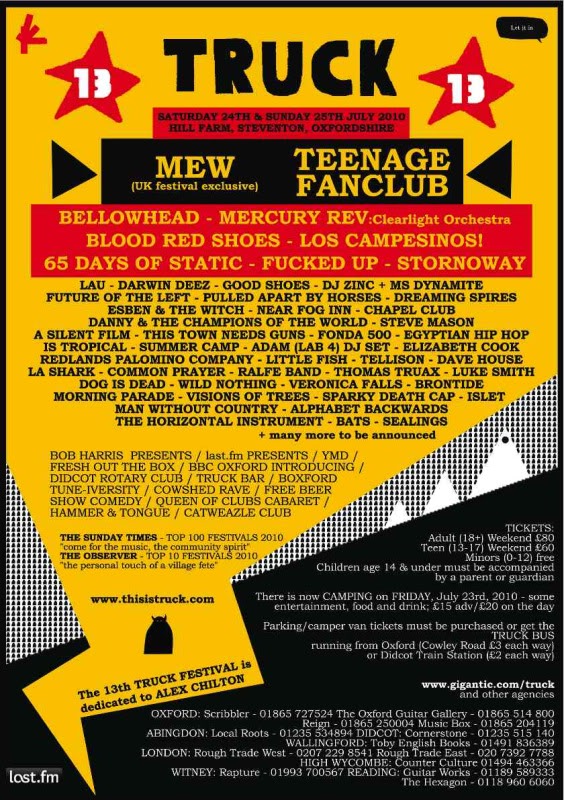 Tickets have sold very well this year, so if you wish to see Mew in England this summer, do not hesitate for too long. Naturally, MewX.info will be reporting the festival.
*****
In other news: today is 15/6, that's how June 15th is usually presented in Europe. This website opened exactly four years ago (as MewX.org) and the date was not a coincidence back then. The site was originally in Finnish language only (for the first year or so), then there was a gap until we restarted with English, Danish and Finnish. We posted all the news in three languages for a year and a half until we decided to go English only. A decision we have not regretted. We thank all the readers here… the global traffic has been pretty good for a fansite.