Siesta Festival – Hässleholm, Sweden (May 29th, 2010)
Skive Festival – Skive, Denmark (June 2nd, 2010)
Mew kicked off their summer festival tour from the town of Jelling (Denmark) on May 28th and the following day they were already performing in Southern Sweden. Hässleholm is a nice little town only an hour's drive from Malmö, one of Sweden's largest cities. Siesta Festival is less than ten years old, but Mew have already played there twice. Reasonably priced tickets attract a lot of young people – in fact, the average age of an attendee is probably no more than 20. Out of the few foreign acts, Mew were one of the most anticipated. One of the reasons may be the fact that they have not played in Sweden since their solo show in Stockholm last November. The capital doesn't lie the South, at any rate.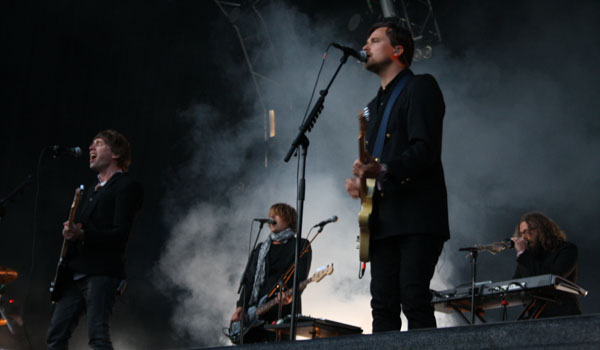 Mew jumped on stage at 9:30 pm. After a few tracks it could've been dark enough to use the visuals, but they decided not to show them to the Swedes this time around. It was not a particularly large audience, maybe just 3000, though the camping area may account for this. It was located quite far from the actual festival area, and by the third day many must have had blisters on their feet and opted to keep the walking to a minimum.
Once again, they opened with the Scandinavian favourite Snow Brigade, and personally I would have hoped for something else had I known that the show was going to last only for an hour. I have a feeling that Mew wanted to play Comforting Sounds as well, but the drunken Swedish (teen) audience started to walk off after 156, prompting the band to leave it at that. When has that happened before? Interesting choice as the final song, but it certainly kept you craving for more. Swirlies frontman Damon Tutunjian helped the band on bass during Introducing Palace Players, but that was a very brief moment (in Norway's Quart Festival he did more just about three years ago). Overall, this show was one of the most passionless shows I've seen by Mew, an exact opposite of what would be waiting for us in Denmark a few days later.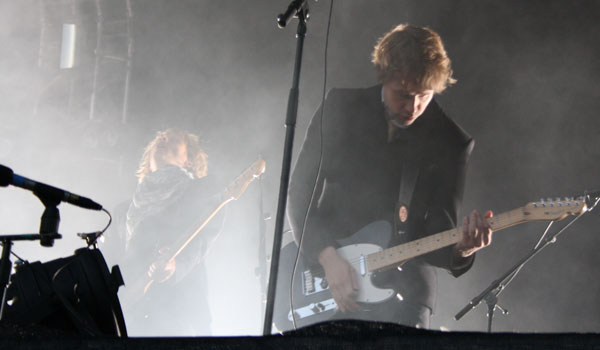 Siesta Festival setlist:
Snow Brigade / Circuitry of the Wolf / Chinaberry Tree / Hawaii / Beach / White Lips Kissed / Tricks of the Trade / Apocalypso / Saviours of Jazz Ballet / Silas the Magic Car / Special / The Zookeeper's Boy —– Introducing Palace Players / Am I Wry? No / 156
*****
Mew were charging batteries for three days and that resulted in one of the best shows I've seen by them, at least what it comes to outdoor gigs. Skive is a small (and slightly scary) town in Jutland, the mainland of Denmark, some five hour drive away from Copenhagen. As the Danish capital city is located on an island, you need to take a ferry at some point. Previously known as Skive Beach Party, Skive Festival is Denmark's third largest summer festival and it was wonderfully organised. No question about that. The camping area is just a 10-minute walk away from the main stages and Mew played on the second largest one on opening day. I say day, cause they started at 8:15 pm and it was way too early and sunny to even consider the visual backdrops. So, once again, they didn't use any. Are they deliberately telling us that they don't need the animations to put on a good show? If so, they sure are right. Even without them, this was a wonderful show. It was all about the performance.
The sound was particularly good for an outdoor event and the band seemed happy and energetic on stage. As the stage was located next to a beach, Bo Madsen made sure that the audience danced to Beach. Nick Watts was constantly getting people excited, he sure can play the keyboard and jump at the same time. Danish people, in general, take a lot of pride for Mew and I don't blame them. Any country would. The crowd was really into it during the whole 77-minute show that opened with Introducing Palace Players and ended with Comforting Sounds. They probably could have played an even longer set (with Tricks of the Trade maybe?), but they started almost ten minutes late (a rarity in their world) and Green Day was about to get ready on the main stage.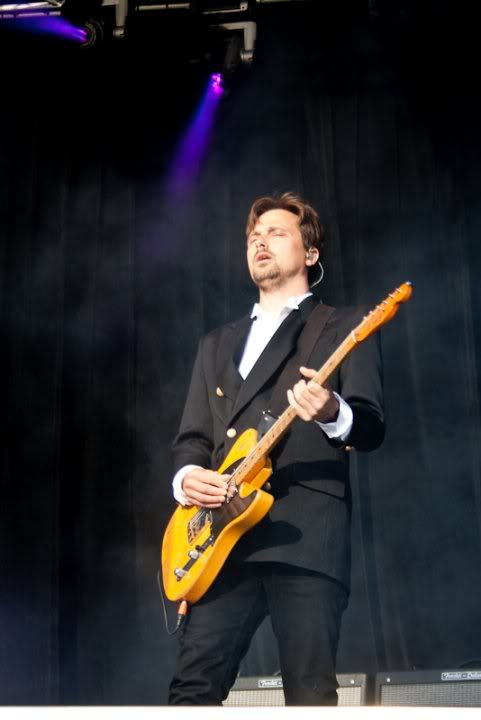 The title should give it away already, but Hawaii works beautifully in sunlight. Not sure about Cartoons and Macramé Wounds, though. That seems to demand a darker atmosphere despite its lyrics. Due to aforementioned track, they were able to extend the show to a reasonable length. Almost eighty minutes with fifteen tracks is quite an achievement when some songs are so short to begin with, and Sometimes Life Isn't Easy is just played shorter. When Mari Helgerlikova cannot be seen on visuals, they cut the finale of that song.
Skive Festival setlist:
Introducing Palace Players / Snow Brigade / Am I Wry? No / 156 / White Lips Kissed / Hawaii / Beach / Repeaterbeater / Sometimes Life Isn't Easy / Cartoons and Macramé Wounds / Apocalypso / Saviours of Jazz Ballet —– Special / The Zookeeper's Boy / Comforting Sounds
NEXT UP: Finland's Provinssirock (on June 18th). The time slot is set as early as 7:45 pm… so, this would be the first Finnish show without visuals in use since Ruisrock 2003.
Text and photos by Tero Heikkinen