Provinssirock – Seinäjoki, Finland (June 18th, 2010)
In 2005, then relatively unknown Mew stole the hearts of Finnish festival audience at Provinssirock. Located in the town of Seinäjoki (some 400km north of Helsinki), this festival is one of Finland's oldest and largest. The 32nd annual Provinssirock gathered approximately 20 000 people on its first day (June 18th) when the main attractions were 30 Seconds to Mars, Mew and Pendulum. Five years ago our beloved Danes performed here in a huge tent that was built this year as well. A lot has happened since then, and Mew have become too big for that venue, so they opened the main stage instead. British singer Paloma Faith had the honours of kicking off the festival (in that tent) and Mew were ready on the main stage just one hour later. Mew started playing at 7:45pm when it's all daylight in Finland during summertime. Actually, it really doesn't get dark at all in these latitudes. At 1am that night, the singer of 30 Seconds to Mars, Jared Leto thought it was crazy that the sun doesn't set.

Let's talk about the show. All in all, I must say that I was quite disappointed. The sound was absolutely awful in the first 20-30 meters from the stage. It was all bass and you couldn't hear the vocals. Provinssirock had a new stage, ordered from Denmark, and I'm pretty sure it was the same as the one at Skive Festival just two weeks prior. Finland didn't have a stage big enough (available) for Rammstein and their massive production. This stage was way too big for Mew in broad daylight, but it would've been amazing if they could have used the visuals. To get a better sound, I went further back and it was fine there. Although, the biggest problem at Provinssirock were the weather gods. It had rained heavily right before their show, so it was wet and cold (and muddy). Many fans in wet clothes just stood there, and that reflects back to artists, I'm sure. I was told that Mew looked happy enough on stage. Only, I couldn't really tell. I had to rely on the video screen, more or less. The cold, the rain and the early slot resulted in a pretty bad turn-out. Looking at the crowd, one might have thought that you were in Sweden. Also, many fans were still queueing for their wristbands, cause the festival had big problems there. There's an interesting 360 degree photo here. It's also possible that Mew played so early due to their next show being in Aarhus (Denmark) on the following day.
On Friday it had rained before and after Mew. So, in the way, they were lucky (Saturday was nothing but rain) and the early slot turned out to be a good thing after all. Last time that Mew performed in Finland without the backdrops was in 2003 when they played at Ruisrock for the first time. One reporter from a Finnish tabloid-magazine said in a "news-article" (which was all lies, of course) that Mew's manager had called the organisers upon arrival, and that he was pissed when he found out that some Finnish band is playing after them. Managers always know lineups before confirmations, no need for such calls. That particular Finnish band playing after Mew was called Lauri Tähkä ja Elonkerjuu and they are a very popular act in Seinäjoki (where they are also from). They are a terrible band, and had to play in the rain. So, in your face, Lauri Tähkä.
Paloma Faith went for a drink or two (or three) just after their own show, so they got to dance to Mew. This YouTube -video also proves that the sound was more than acceptable 200 meters away from the stage. Some fans in the front row had made a huge sheet that demanded Vaccine onto the setlist, I wonder if the band saw that. Mew had also brought the Bamse t-shirts for sale and that was a good thing (even though it's pointless to play that track without visuals). Well… as you noticed, this is not much of a review. I refuse to review a show that I couldn't really see, hear or feel… at least, properly.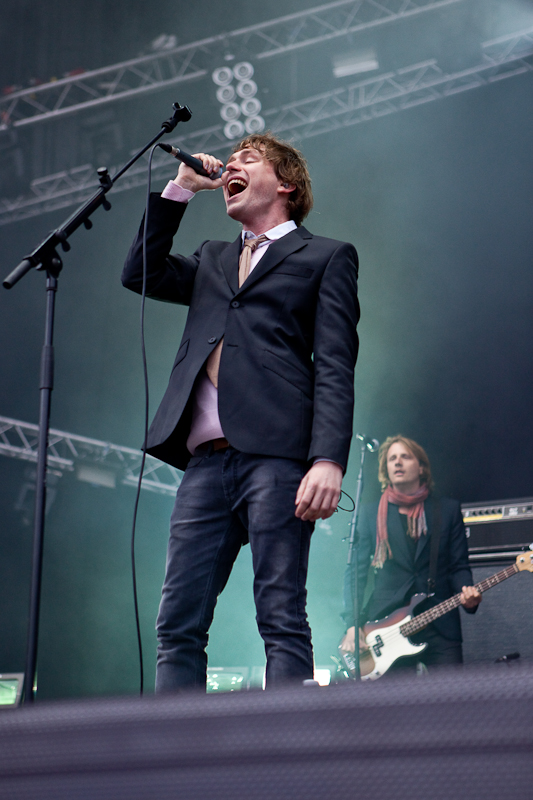 Provinssirock setlist:
Introducing Palace Players / Snow Brigade / Am I Wry? No / 156 / Hawaii / White Lips Kissed / Sometimes Life Isn't Easy / Beach / Repeaterbeater / Tricks of the Trade / Apocalypso / Saviours of Jazz Ballet / Comforting Sounds —– Special / The Zookeeper's Boy
Tero Heikkinen
Photos by Pete Heikkilä