Early April, eight years ago. In the German city of Cologne, Mew are preparing for a local music magazine's exclusive show by having a nice dinner. There's Bo Madsen, Jonas Bjerre, Silas Graae and Johan Wohlert, and the mood is light. Johan knows that this is his last live show with his friends. As they dine, other band members wonder what's going on in his head. Surreal, it must have been.
"We've known for a while that Johan was leaving and have had time to gain strength after the initial shock. Yeah, sure it's a blow, and it felt like kind of a defeat that we couldn't keep the band together, and it drained me for a while. It did", Bo wrote in their journal a week later. These were sad times for the band, but they were also sad times for the fans. It felt like an end of an era and some refused to believe that it was permanent. Those in denial can happily now say "told you."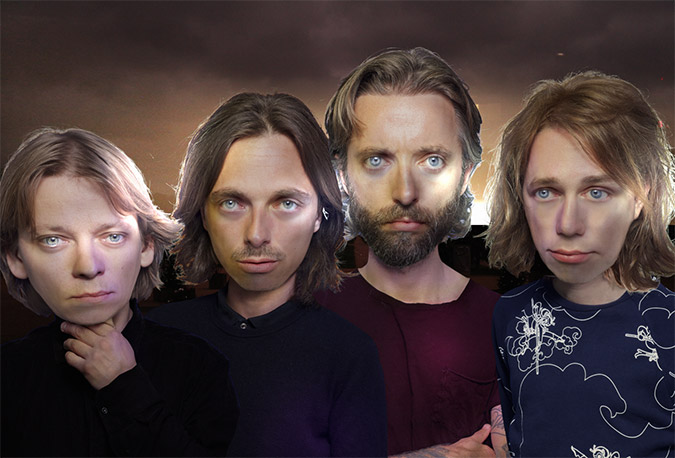 Anyone can see that Johan's decision back then was not an easy one. Mew was fresh with the critically-acclaimed And the Glass Handed Kites that won four of the major accolades (incl. Best Album) at Danish Music Awards just a few months prior. They had also booked a long tour to America and Captain Woolheart (as Johan often called himself in the band's journal) felt that it would be too much for him to be away from home. He was about to become a father and wanted to spend time with the baby boy. Some in Danish media circles called him 'Father of the Year'. Who else would leave a successful band just like that? The Captain leaving the ship first? Ahoy, Mew was far from sinking, every sailor knows this.
Bastian Juel-Christiansen came in to replace Johan for live shows. The former Swan Lee bassist quickly became accepted by fans and he ends up playing way over 200 shows over the next eight years. It's sad to say goodbye to him and he surely has Mew's gratitude. A job well done, Bastian.
On a more personal level, I last saw Johan live on stage in Stockholm in March 2006 and two months later I saw Bastian play for the first time. That gig also took place in Stockholm, and it was the latter Swedish show that convinced me to create this website. And we're still here, but now for the first time during the fansite's existence the band can be called a four-piece. Just like it used to be… and just like it should be. I have also interviewed Johan twice. First in Helsinki in 2005 and again two years later when his band The Storm had released their first album. He was still the Captain, but instead of addressing frengers on deck, he was addressing stormtroopers.
Maybe someone had seen Johan last Summer – going back and forth in the studio where the magic for the upcoming album takes place? Rumours in Danish medias about his return needs to be denied by the people who work closely with the band. They don't want to spoil this big news. They want to do it properly for the fans. Jonas explains to me that it was obvious to see what had been missing from the equation when Johan came to play with the band almost a year ago. The original four members have written the new songs together and it seems to have taken even longer than usually. But that's Mew. And they want to give you their best album yet…
Read Johan's fresh comments below the photo…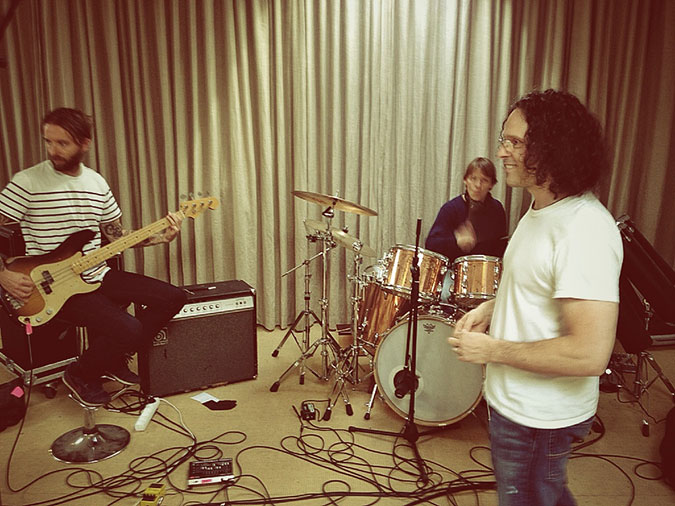 I remember it quite clearly. Bo was on the phone, as he had been many times during our time apart. We're really old friends, remember, and had been in regular contact ever since I left the band. But this time the call was different, this was Bo reaching out, asking me how I would feel about maybe getting back in a room, all four of us, like old times? They were working on material for the next record. Michael Beinhorn was to produce the record, just like he'd done it on Kites. I think I said something like… "Let me just think about this for a day or two?", but deep down I had no doubt that getting back with the band, my brothers in arms, would be wonderful! It was something I had often longed after during those 7 years apart. Just that feeling of the 4 of us playing music together in a room. That feeling was so powerful and it was missing in my life.

I also got a call from Michael Beinhorn. He said that "we need you back in the band for this record and for the sake of this band's future". He explained that he had been very specific about getting me in on the project, if he was to produce. In that sense I think this was probably Michael's greatest contribution to the record, convincing everybody that it was time for the 3 amigos to become 4 again.

The first couple of rehearsals weren't that great from a creative standpoint, but what was great was the chemistry! It felt so natural playing together again! More like it was 7 months ago, not 7 years! I hadn't even played the bass for years, having swapped it for guitar with my new band. After a couple of hours of playing, it just struck me how much it sounded like Mew, like us! The Boys were back… And we all knew!

Best regards,
Captain Woolheart
Text: Tero Heikkinen
with additional comments from Johan Wohlert
Promotional photo: Jonas Bjerre
from original portraits by Rasmus Weng Karlsen
Pre-production photo: Mew