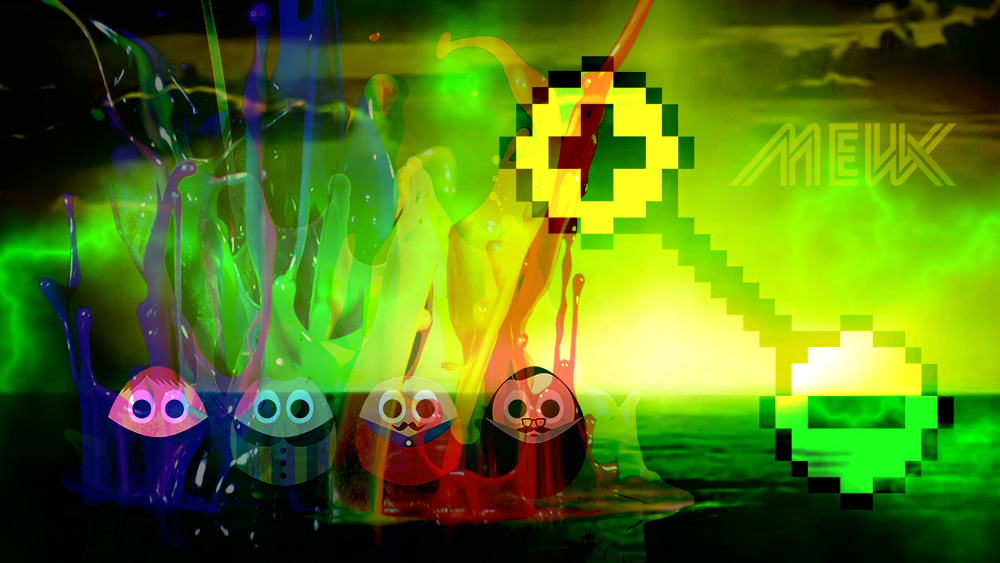 Waiting for a new Mew album is like waiting for a bus: One will come along eventually. Today, two thousand and seventy-nine days on from No More Stories…, the Mew bus has finally pulled up at the bus stop of Frengerdom; as always, it's unavoidably boardable.
In their review of the three-piece Mew's first and final statement, and Mew's previous long-player, Danish magazine Soundvenue ventured that "Mew exist in a sphere all of their own"; on "+-", every song feels like it exists in its own universe, every moment lit by its own spotlight. The result is an album that feels painstakingly picked apart and put back together, each track exhibiting another side of Mew's beguilingly multi-faceted personality. On first glance, it may seem lacking in the band's typical album-long consistency and cohesion, but when you're met with another glorious moment almost all the way, that concession feels well judged.
It's also the work of a band whose wisdom of years is of its utmost clarity. The label "prog" has been pinned to Mew pretty much since their inception, but it's never sat all that comfortably with the band. "We want to push the boundaries of pop music," Bo Madsen was quoted as saying a whole decade ago now, prior to the release of Mew's most overtly progressive effort, indeed their only record to date where that so maligned term seems at times to really fit the music, And The Glass-Handed Kites. On "+-", Mew's pop ambitions are clearer than ever before. Largely gone are the scatterbrained time-signature shifts, but instead of being zapped of energy or interest, the songs feel gleamingly streamlined as a result. And when you get a triple shot of pop in the forms of My Complications, Water Slides and Interview The Girls, Rows rises out of the ground, a brooding Burj Khalifa which engulfs you and wraps you up in Mew's undiluted vision; it's a moment where Mew assemble like the Megazord in the original series of Mighty Morphin' Power Rangers, or like The Avengers in that film, to remind you just how good the four of them sound together.
Music critics assemble!
"What we find from Mew in 2015 is the most complete expression of their many facets ever to have been committed to tape for a single album. If you like Mew, you'll like this." – Haydon Spenceley, Drowned In Sound

"The album is, in the classic Mew approach, layered and utterly symphonic, as well as being thoroughly varied." – Christian Erin-Madsen, GAFFA

"Mew have crafted one of 2015's finest collections to date. A triumphant return which is unlikely to be bettered this year." – Dom Gourlay, contactmusic.com

"A meticulously crafted, consistently melodic and frequently beautiful work from an excellent band." – Christopher Monk, Music OMH

"The sixth LP from the Danish quartet…feels like throwing open a window." – Simon Price, Q Magazine
Your Record Collection + "+-"
So you want to grab hold of the album… Hyunji Choi and M/M Paris's artwork looks surprisingly beautiful in its glossy flesh, both in its hard-bound book-cum-two-CD edition, where a recording from Mew's show in Copenhagen last year serves as the band's best live statement to date and a valuable addendum to the album, and in its big, bold double-vinyl version. Or if you don't bother with those pompous physical formats (!), consider throwing a couple of coins at the band to download it. This is a record sculpted by an artist under their own steam and it more than merits your reward.
"+-" may form the bulk of what we'll hear from Mew for a while, but when you've got this much this good to hear, you'll be more than satisfied waiting by our bus stop for the next album to come along. Lemon truth.
Read our official album review for "+-" here.
Text: Gustav Greijer
Image collage: Ann Lancaster