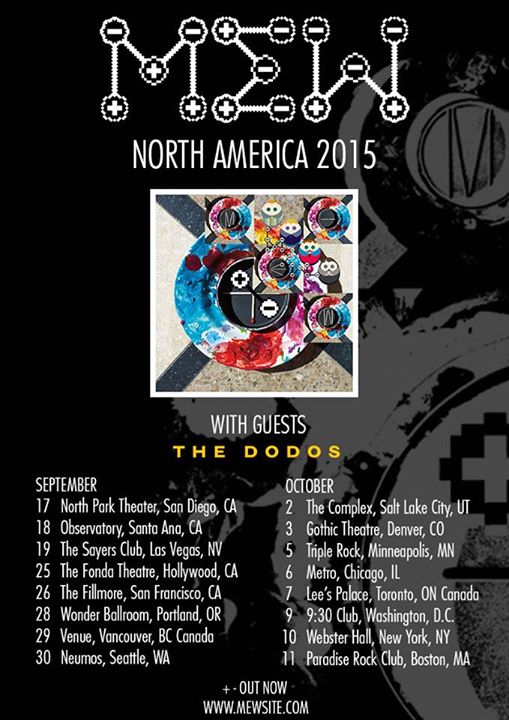 At long last, Mew's North American tour will kick off tomorrow, September 17, with a show at The Observatory North Park in San Diego, California. This will be Mew's first proper tour on this side of the world since December 2009 when they were here promoting No More Stories…. With only a handful of festival performances (SXSW) over here in the interim, American and Canadian fans have been waiting for six full years to see the guys in action.
Mexican fans will be quick to point out that it is not a true North American tour, as there are no stops scheduled for their lovely country (save for the Festival Corona Capital later on this year.) With a gap of five days in between their Las Vegas and Hollywood performances, it stands to reason they may have intended to visit Mexico during this time, but for some reason it may not have worked out. Instead, they have filled some of these empty days with several intimate in-store performances at local record shops, which should prove to be very special experiences for all. Do try to get in to one of these if you live nearby! (All of the in-store events are listed on our Events Page with instructions on how to get in.)
We have amassed an army of eager reviewers and photographers to cover all the action over here, so be prepared to experience Mew from a new perspective! We will be posting things as they roll in, so you can expect a flurry of activity over the next month.
If you haven't yet bought tickets (why haven't you?!) there are still some available. Check out where they are playing in North America on our Events Page.
Hope to see you out there!