Brecon Beacons, Wales (August 21, 2015)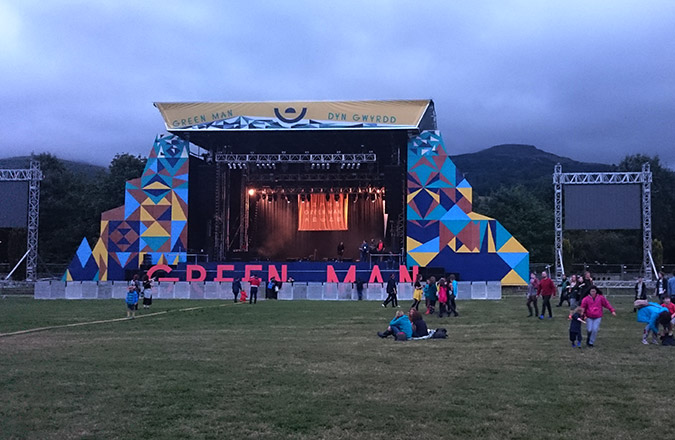 Green Man festival is located in the heart of the Brecon Beacons. It's truly a sight to behold with beautiful hills and forests surrounding the festival grounds. It's not the largest festival in the world, but it's jam-packed with personality and has such an incredibly family-friendly vibe. It was lovely to see children and parents at a festival and it gave a very different vibe to most UK festivals. Brecon is a beautiful place but there's no denying that the weather over the weekend was incredibly off-putting. By the end of the first day I was ready to go home due to the rain and the severe lack of sunshine. Not something you want at a festival. However, the idea of seeing my favourite band in my home country was such an exciting concept that I couldn't help but feel slight butterflies in the hours leading up to the show. A friend of mine asks me if Mew have ever played in Wales before and I reply that I vaguely remember from this very site that Mew played in Cardiff Barfly a fair few years ago. Jonas Bjerre would later confirm in the night that they played in 2003. He also explained how difficult it was getting all their equipment up and down the stairs of the venue.
I made a point of getting to the front row for this show and my friends followed. I wondered to myself how many Mew fans would be in the crowd that was slowly forming. +- made it into the UK album charts and it showed because many fans in the crowd were turned onto Mew from that album. Including a woman that had stayed up all by herself while her family had gone to sleep so that she could see Mew for the first time. There were also a few Danish girls shouting "Roskilde" during the show which brought a smile to my face.
After seeing Mew at the Roundhouse just a few months ago, I was interested in seeing a few things in particular. Mew without Bo Madsen and Rows. Rows is undoubtedly my favourite track off +- and is quickly becoming my favourite Mew track of all time, but I tried to dismiss the idea of seeing it live as Mew were listed as having an hour and fifteen minutes on stage. A ten minute song would eat up a chunk of that, I told myself.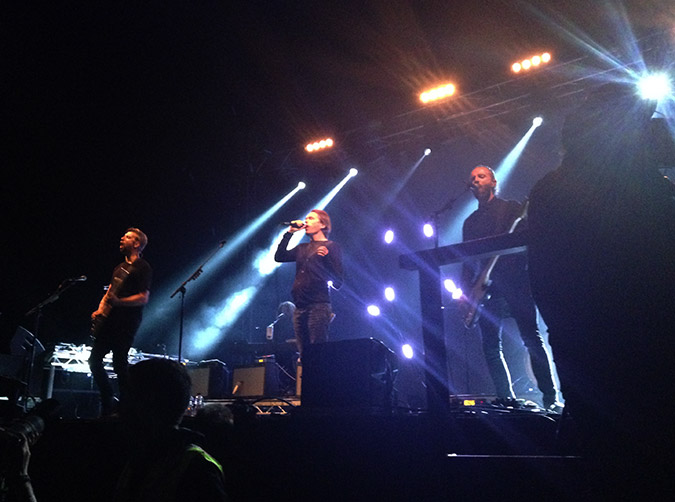 The set was amazing, simply put. I was apprehensive about seeing my first Mew show without Bo Madsen, and although his presence was sorely missed, Mads Wegner put on a fantastic show and he definitely fit in with the rest of the group. To my delight, Rows was played towards the end of the show and it was truly magnificent. The song is truly an epic, and in a live setting it is absolutely goosebump-inducing. The ending to the song in particular works live better than I could have ever imagined, and overall the song feels far more adrenaline-inducing. That, coupled with the fact that animations are back, make for a truly awe-inspiring moment. The animations themselves are a mix of new animations and some that you all know and love. They really add something to Mew shows and it's wonderful to have them back.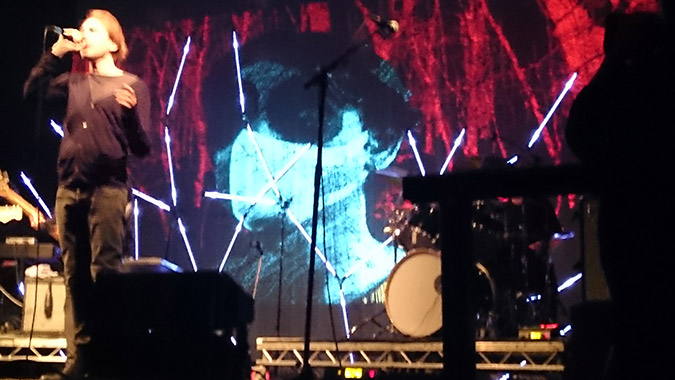 After Rows had come to a finish, I was incredibly surprised that the show kept going. Jonas announced that they would be playing an older song, and with that Am I Wry? No commenced. This really got the crowd going. I turned around to see many fans jumping and singing along and I couldn't help but follow suit. 156 followed in typical fashion and I got to sing along with a friend of mine who wasn't overly aware of Mew, but nevertheless loved 156 from the fact that I used to constantly play it when we were younger. This same friend would then praise the show afterwards saying that Mew were very good live. He also added that perhaps his favourite thing about Mew were how polite they were on stage. He then went onto say how sweet he found that. He wasn't wrong either, Mew are always polite and after every song they always gave a big smile and a big thank you. The crowd interaction was great and they seemed to really like Brecon. Johan Wohlert said that it was a beautiful place that he could imagine hobbits and elves running around. He also said that he really liked the family-friendly atmosphere. Jonas also added that he much preferred playing at this venue as opposed to Cardiff Barfly, which I cannot blame him for.
Mew left the stage after 156 and I started getting ready to leave but then the crowd started chanting "one more song" over and over. I kind of shrugged it off thinking that Mew wouldn't get to play an encore due to time restraints but I once again followed suit and began chanting the same. To my surprise, they came back to play Comforting Sounds (Although, perhaps I shouldn't have been surprised.) It was the perfect way to end a perfect show, and it was funny to see Johan getting really into the audience's applause. Jonas had to pull him back so that they could all bow together. From my recollection of the festival, Mew was the only act that I saw that got to play an encore and the only act to have such a fantastic crowd reaction.
The only negative I can think of was when a giant inflatable ball landed on my head during the start of Comforting Sounds, but that's probably my own fault for getting so swept away by the music. Honestly though, it was a spectacular show and one that I will hold dear to my heart for years to come. It was a flawless performance with a great crowd, a great set list, a great venue and great friends.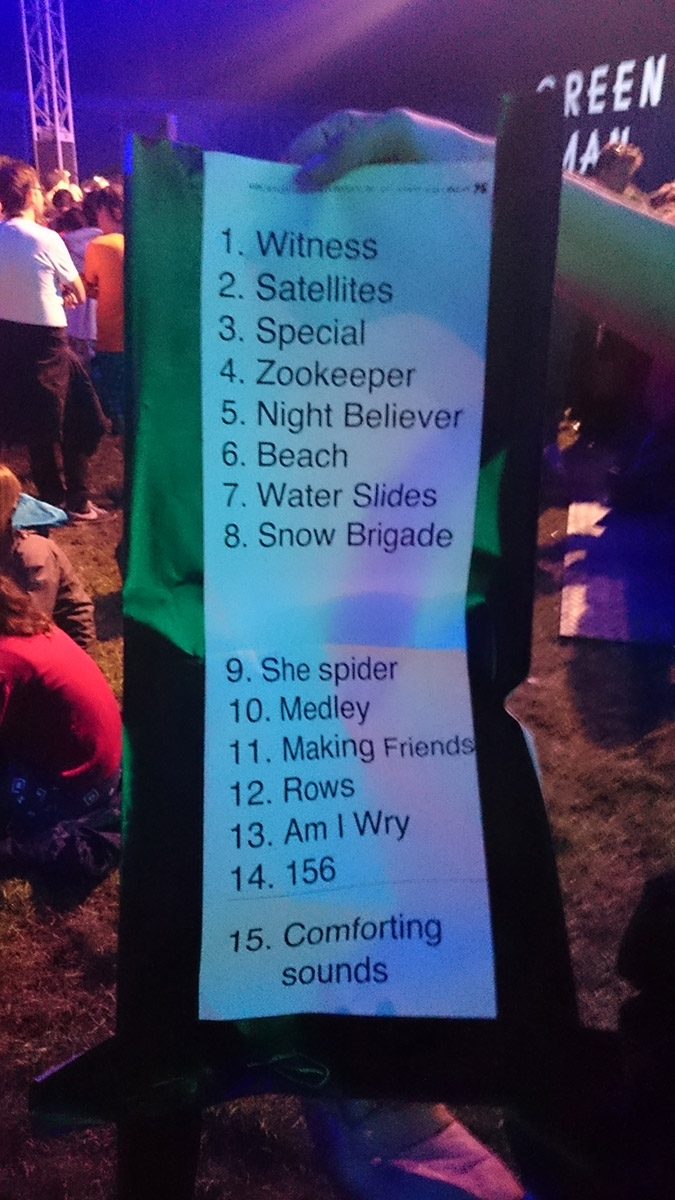 Text: Keir Martin
Photos: Sammy Southall
Setlist: Green Man Festival
Witness / Satellites / Special / The Zookeeper's Boy / The Night Believer / Beach / Water Slides / Snow Brigade / She Spider / Medley / Making Friends / Rows / Am I Wry? No / 156 —– Comforting Sounds