This post is going to read a bit like a love letter to KEXP, and for good reason. This morning, at long last, the video from Mew's live session at KEXP during their September visit to Seattle was finally posted. I've been waiting patiently (if not a bit anxiously) for this to happen for a month and a half. There are a myriad of reasons for my worries, however, they were for naught; as anything produced by KEXP, it is beautiful and masterfully executed. We just had to wait for the video crew to return from their latest trip to Iceland Airwaves, where they recorded their famous live sessions from that legendary music festival.
For those uninitiated, KEXP 90.3 FM Seattle is an indie music institution. In their previous life, they broadcast as KCMU out of the University of Washington campus in Seattle, before undergoing a brand transformation through help from Paul Allen (of Microsoft) and moving to their current location. Historically they have been known for breaking bands that have become huge success stories. (Anyone ever heard of a little band called Nirvana? You get the idea.) These days they run their operations completely on charitable donations from businesses and individual contributing members, and are one of the last surviving non-profit radio stations in the United States that is still run completely by human DJs. This is something amazing and special in this world where everything is becoming increasingly automated. Just check out their recent profile in the New York Times. KEXP has been an integral part of my life for as long as I've lived in Seattle. I could write a book about all the things this station does that make my life richer. I've made so many friends and learned so much about music and culture through them; after all, without their services it is possible I would never have found my way to Mew. They have earned my unending love and support.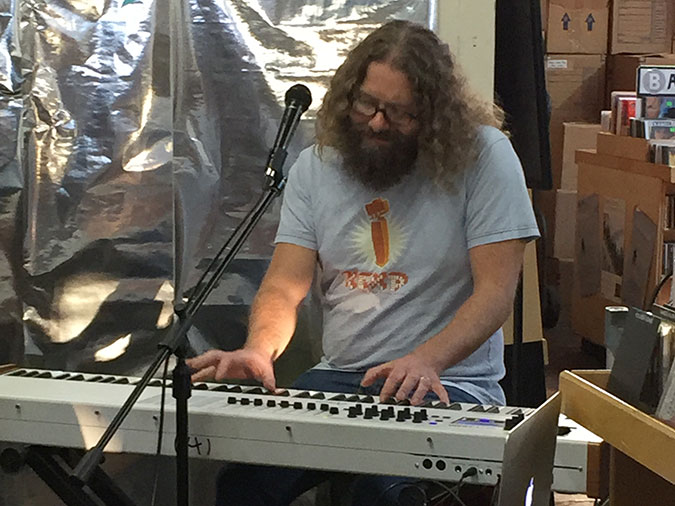 Nick Watts is a big fan of KEXP: just check out that shirt
Most of you have probably run across their YouTube videos at one time or another. They run over 500 live sessions in their studios per year (that's averaging more than one a day, which is incredible when you think about it.) Nearly all of them are simultaneously broadcast over the FM airwaves and internet stream, and this year they have also begun livestreaming some video as well. This wasn't the case with Mew's visit, though. Mew came through Seattle during a week that KEXP was running their fall pledge drive, which meant that the studio was jam-packed full of volunteers helping to take donations and all of the DJ staff were spending their on-air time asking for money, so all of the in-studio sessions were being recorded for later playback instead of being broadcast as they were happening.
I was invited to come tour the radio station and view an in-studio session as a thank-you gift for being a contributing member of a certain tier (it wouldn't be polite to tell you how much money I donate to them every year, but rest assured it is…more than I can actually afford.) I had asked to visit when Mew came through, without knowing for sure that they would be stopping by. The tour felt a bit silly to me, as the previous week my friend DJ Shannon had asked me to appear on her Thursday night show as a guest DJ for a special Mew rarities hour. So clearly I didn't really need the tour, but it was still really good fun to see the bustle of the volunteers as the whole building came to life during the pledge drive.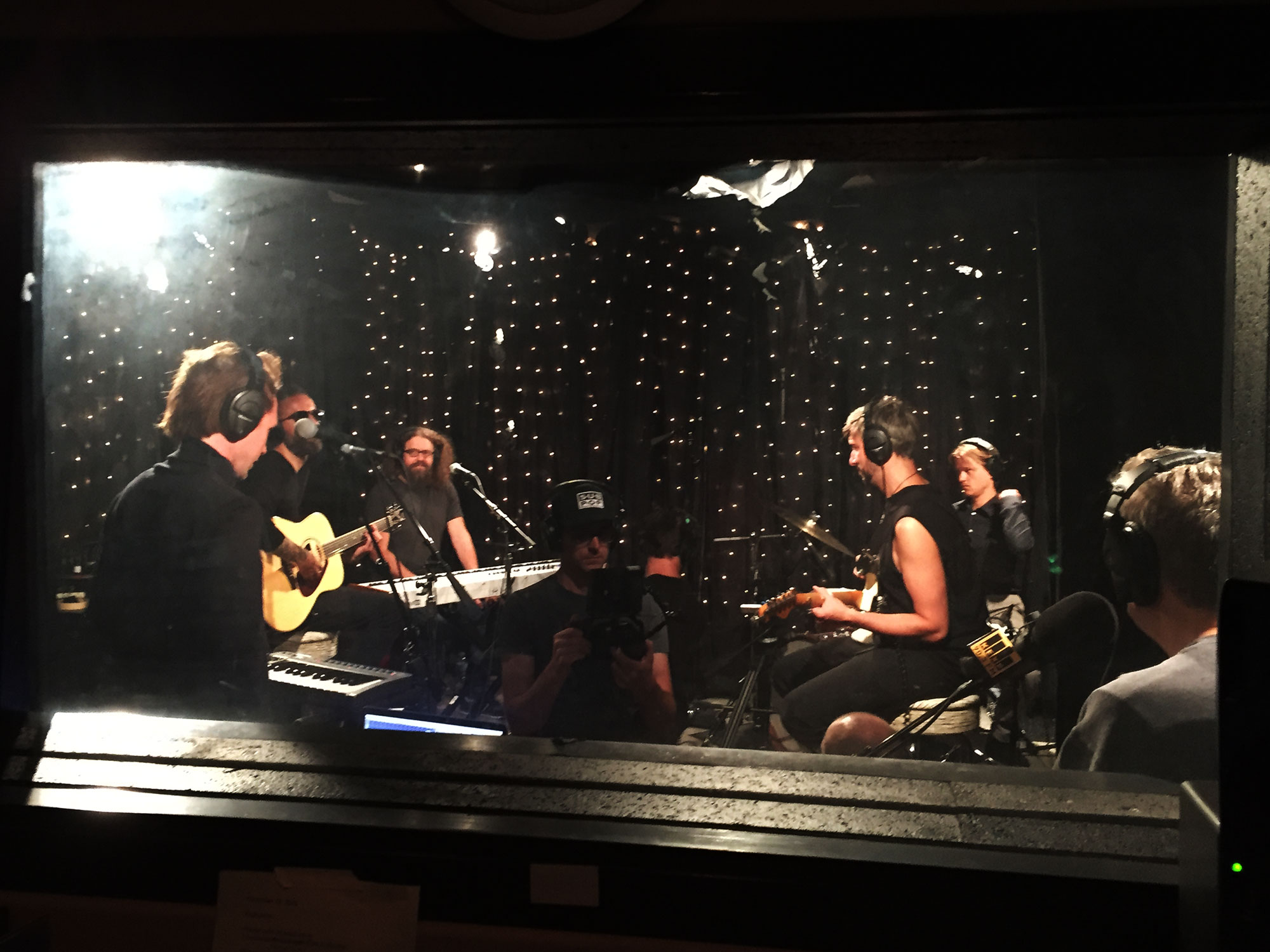 The view from inside the KEXP sound booth
When I entered the live recording booth and saw Mew on the other side of the glass, it was nothing short of a dream come true. It sounds so cliched, but it's the only way I can explain it. When I'd heard their last live session back in 2009 (when they were touring for No More Stories…), I thought to myself how amazing it would be to actually be there to see it happening live. For years I dreamt of that, but never did I think it could actually happen. But there I was, and there they were, and everything was surreal. Nick Watts was sitting at his keyboard facing the window, and he noticed me in the booth and waved. Jonas Bjerre turned around and smiled when he saw me. I walked over to the open studio door to say hi. While we waited for the host DJ to arrive, Mew rehearsed a bit and I chatted with the handful of people inside the tiny sound booth: DJ Shannon, KEXP's sound engineer, Mew's tour manager, and the donor coordinator who had given me the tour.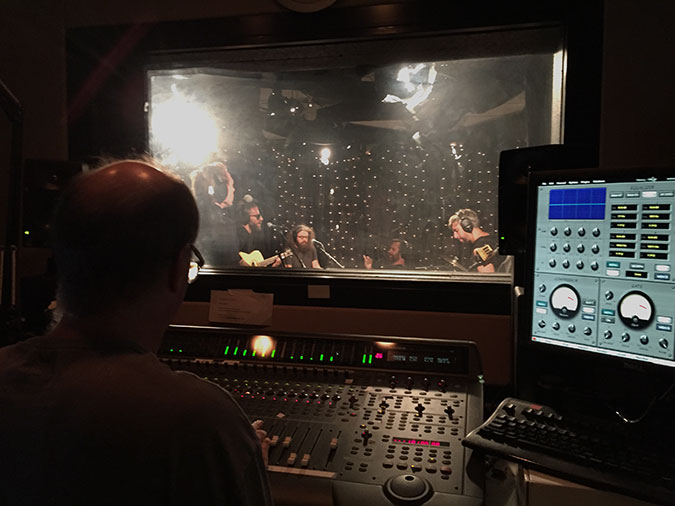 KEXP's sound engineer Kevin Suggs hard at work
The host DJ arrived, and everything got going. I continued to float on a happy little cloud of surreality, feeling so lucky and so proud to be able to be right there at that moment, going down the mental checklist of events that had to happen in order for this to be a reality. Incredible. I snapped a few photos but mostly I just watched intently, as I knew my iPhone's dinky little camera would have nothing on the professional photos that KEXP would share with us later. As expected, Mew's set was fantastic, although it ended far too soon for my taste. But since this was just one of three times I would see them that day, I thought 20 minutes was just fine!
Afterwards I was lucky enough to chat with all of the band members briefly (and to even practice a little bit of Danish with them; also a huge dream come true for me. It's kind of amusing that the first native Danes I encountered since I began studying the language less than a year ago were the same ones who got me interested in the language to begin with. I'm not a brave person by nature, but I had to give it a try.) I made sure Jonas knew how badly I wished the backdrop animations would be used that evening during their full show. (I'll say it a million times: their live show is so much better with the animations. It's part of the full package that I fell in love with.) We took a few photos together, then waited a bit for their car to pick them and their gear up, and we parted ways for a couple hours before we would meet up again in a record shop across the street from the evening show's venue.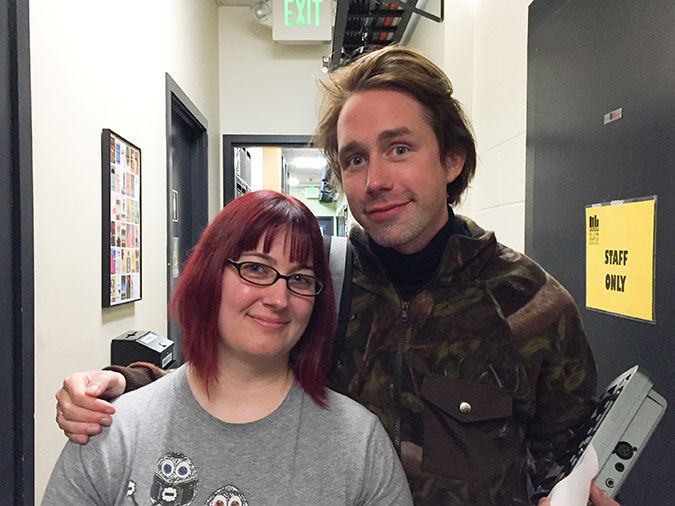 One ridiculously happy Frenger with some Danish musician
Throughout that amazing day I had to keep reminding myself that it was all real, that everything I was experiencing was actually happening. I owe so much to the wonderful people at KEXP who helped me fulfill my somewhat ridiculous wishes. They always do amazing things for the independent music community, and all on a shoestring budget. They are currently in the process of moving into an upgraded facility near the Space Needle so they can continue to offer these experiences and more. If you have any spare cash, please consider sending some their way: it would be put to good use, trust me.
Text & Photos: Ann Lancaster