Copenhagen, Denmark (November 4, 2015)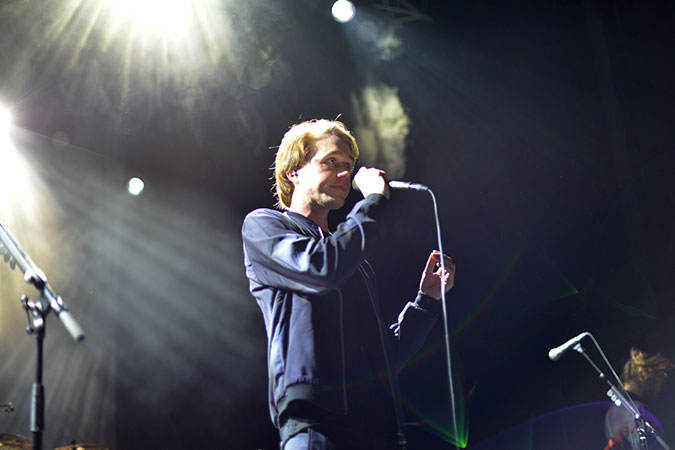 Sometimes for reasons unknown things don't quite go as you want them to.
As I look around the venue I wonder whether this is the oldest crowd I have ever experienced at a Mew gig. Things have definitely happened since those early concerts in 2006 where you would have lines of teenage girls in the front rows screaming at Mew, completing the most genuine of rock clichés. Tonight at Falconer Salen in one of the slightly expensive areas of Copenhagen, Mew attract a far more mature audience as a kind of juxtaposition to those nights in KB Hallen almost 10 years ago. Mew too have grown slightly more mature and with that comes a certain amount of predictability, I guess. Have you read the live reviews preceding this one, you are up to date. There's no reason for me to tell you that again.
Which moments do I enjoy the most then? Introducing Palace Players is one of my absolute favourite tracks. Finally getting to hear it live again is a pleasure despite the absence of the intro. Sometimes Life Isn't Easy features a female live saxophonist whose name I don't catch. She does a nice job. The visuals might be displayed with the highest resolution I have experienced at a Mew show. Crystal clear and big. During Making Friends I find myself totally immersed in the visuals. I am not certain if new stuff has been added since Roskilde, but it definitely feels more attention grabbing tonight. Rows still makes me shiver. So grandiose. Throughout the concert Mew seem at ease. They have grown into their set, and the new songs, since May and Roskilde.
Normally the predictability is not a problem for me. Mew, more than any other I know, can make me feel nostalgic and let me zoom out on my own life in a very specific way. They have been there following me through most of my life. Tonight I just cannot get into that nostalgic state of mind and at the same time Mew is not forcing me somewhere new. The more mature crowd around me looks happy and satisfied though. Have I seen Mew too many times? Is the setlist too similar? Am I too stressed to enjoy myself this evening? For whatever reason this concert experience does not quite turn out as I want it to.
Text: Frederik Voss
Photos: Lizethe Rivera
Photo Gallery
Setlist: Falconer Salen
Witness / Satellites / Special / The Zookeeper's Boy / Introducing Palace Players / Sometimes Life Isn't Easy (w/ saxophone) / Water Slides / Snow Brigade / She Spider / Medley / Making Friends / Rows / Am I Wry? No / 156 — My Complications / Comforting Sounds