Jakarta, Indonesia (March 31st, 2015)
"Jakarta, Indonesia, you have been amazing! Thank you so much. Glad to see you, we will miss you!", shouted Johan Wohlert right before their first solo concert in Jakarta ended. Yes, Tuesday, March 31st of 2015, was a staggeringly beautiful moment for Mew and Indonesian Frengers who filled the venue right in the afternoon. 2000 tickets were provided by the promoter and almost all of them were sold out, because of our enthusiasm to see Mew's first solo concert. Indonesian Frengers flew and came from all over Indonesia just to see the show.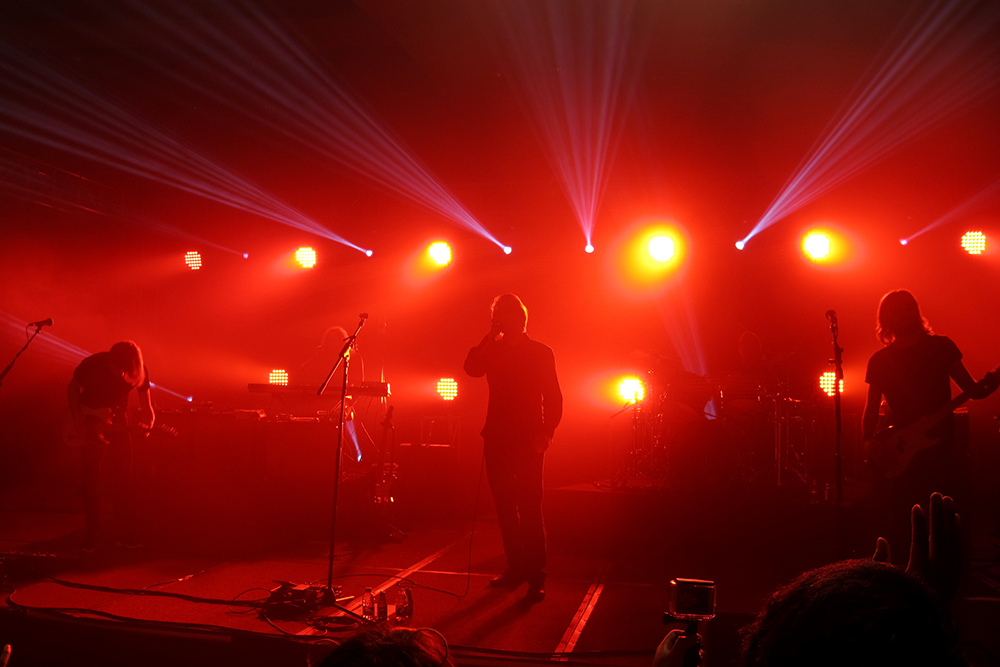 Again, luck was on my side, because Mew's flight and mine only had 1 hour time difference, and I got the opportunity to say another hello to them at Soekarno Hatta airport. Silas Graae asked about the venue in Jakarta and in my opinion it was a natural question to ask, considering it was quite tiring for Mew who had just arrived in the afternoon after holding a concert the night before in Singapore. With a very little time and tight schedule for interviews, soundcheck also would definitely be done very briefly.
The concert opened with Coffee Break which was very surprising to us because this old song has never been performed live during their South East Asia tour, although they often sung it while touring in Europe last year. That's why when the intro to the song started, everyone screamed hysterically, and also automatically went silent in order to listen to this calm song deeply.
Two new singles, Satellites and My Complications were played afterwards, greeted by another hysterical scream from Indonesian Frengers right after Nick Watts played the first tunes to the song on the keyboard. Apparently, Indonesian Frengers have also memorized the lyrics, proven by how they sing along together with Jonas Bjerre. And this did not happen only once, as I stood about a meter from the barricade and I could really hear all the audience singing throughout the concert. Watch this video to see the first three songs that were played.
Mew performed songs from Frengers, And The Glass Handed Kites, and No More Stories era that night and it made Indonesian Frengers sound like a choir, singing and dancing excitedly with Mew. It felt like they released a very deep longing, being one with Mew to have fun during the concert. I don't know if it just me, but I could feel the sound changing in the beginning of the show. I guess the sound engineer raised the volume a little bit because the audience's singing voice beat Jonas'. This only made Indonesian Frengers go even crazier savouring the night.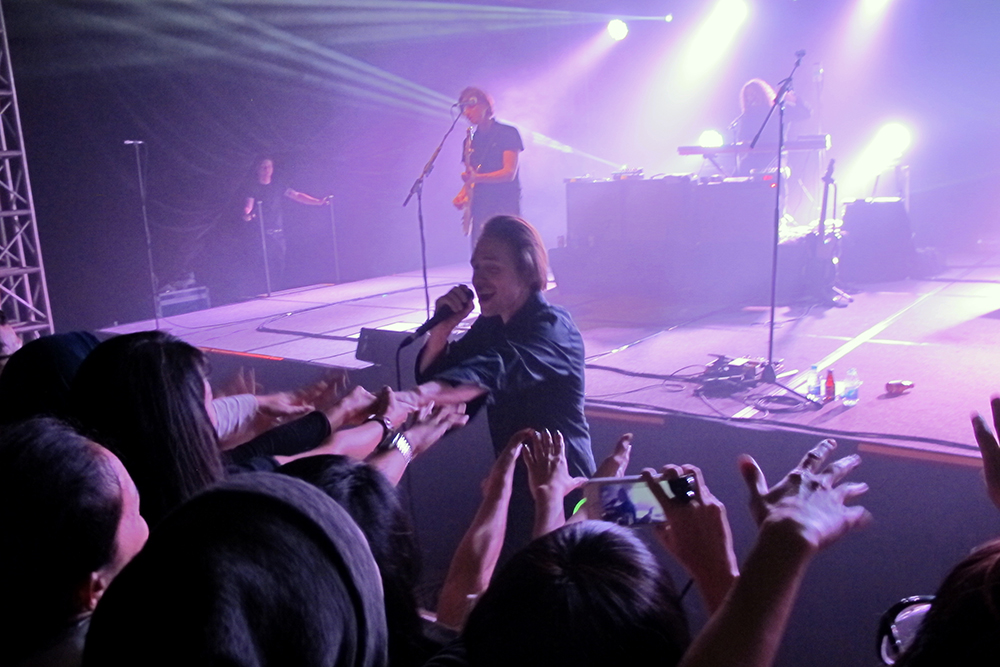 This first solo concert performed by Mew was completely different from the previous shows in Indonesia. This time they bought their own lighting and the lighting engineer is reportedly brought directly from Germany (according to a reliable source). Mew's stage concept admittedly has always evolved from year to year. Actually, there are a lot of Indonesian Frengers hoping to be able to see the unique animated visual backdrops like they used to bring years ago, but hey, come on, they can't always use them, right? After all, there is nothing wrong with a make-over. In my opinion, the lighting that was displayed that night was exceptional. The way those electric lights danced during the concert were so dazzling and intriguing, it even made Mew's performance more magnificent and enchanting.
"Can I say something? Is it OK? Well, we came this morning and we played in Singapore last night. They were pretty fun but, uh, you guys give competition. So anyways, I met this guy at the airport and all he wanted was… if we could play She Came Home for Christmas. So we said, what the hell, let's do it, so here it is", Bo Madsen told us before they performed the song. There were a lot of Frengers crying listening to that song. How could we not? She Came Home for Christmas is one of the highly anticipated songs to be heard live and the lighting just fully supported the atmosphere – it automatically changed to orange-ish red and it felt like we were literally drowned in the sea of lights, whilst listening to a song that has a very deep meaning for all of us. With those magnificent lights, Mew looked like they were floating above the stage. Audience's eyes were blinded by the lights. It was a very serene moment during the concert.
Mew's performance was outstanding that night. Jonas was very talkative, he kept on pointing his microphone to the audience so we could sing along, Bo was restless, Johan did his usual head-banging and also raising his bass so high, and Silas enthusiastically beating his drums, leaving a very beautiful memory in the minds of Indonesian Frengers. Bo, Jonas, and Johan also walked down from the stage to greet us closer.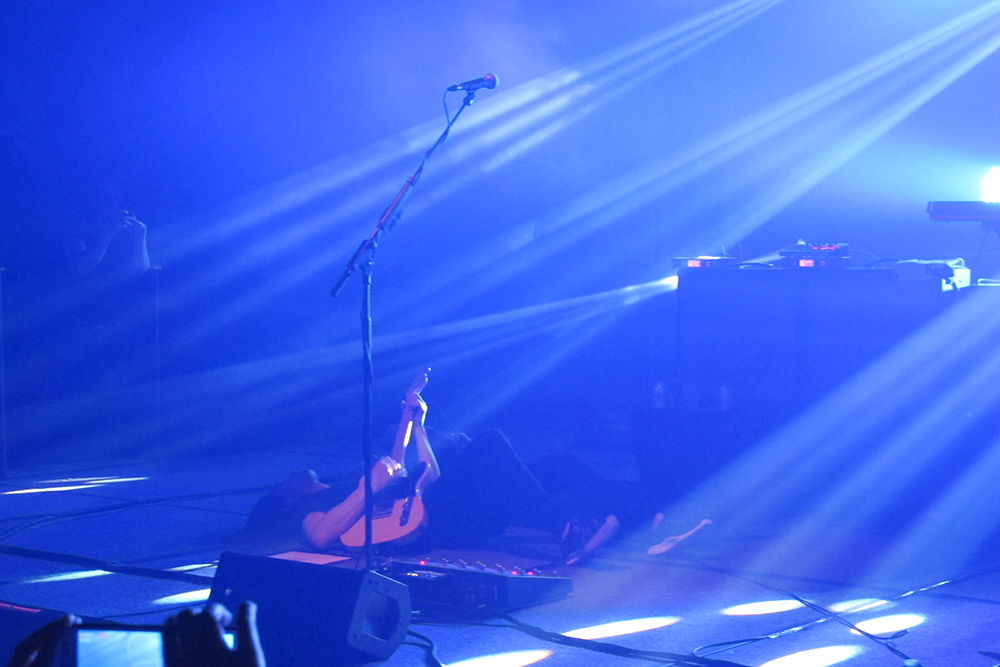 As almost always, Comforting Sounds was the last song to be played and in the middle of the song, Bo suddenly "slept" on stage while playing his guitar, followed by Jonas "sleeping" beside him. This bromantic and funny scene made our hearts melt. The euphoria that night was heavenly and we really expect to be able to see them again and again in the future, with performance as dazzling as this one.
Text and photos: Dita Rachma
Additional Photo Gallery by Ainur Rasyidah
Setlist: Skenoo Hall
Coffee Break / Satellites / My Complications / Snow Brigade / Beach / Am I Wry? No / 156 / Silas The Magic Car / Hawaii / Apocalypso / Saviours of Jazz Ballet / Medley (of Clinging To A Bad Dream, The Zookeeper's Boy & The Seething Rain Weeps For You) / She Came Home For Christmas / Water Slides —– Special / The Zookeeper's Boy / Comforting Sounds