London, UK (May 23, 2017)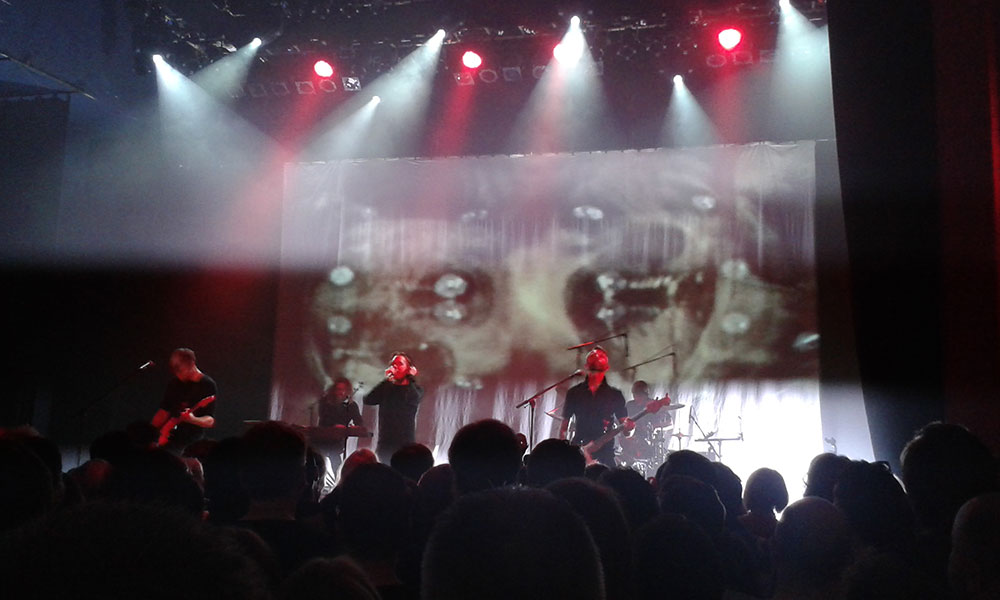 Mew are a live force. At their best, the combination of jet engine dynamics, pinpoint lighting and unmistakable visuals forms an experience which fully transports the psyche to their unique world. The distinct elements of great Mew shows come together seamlessly, as if directed by a single hand. Over the duration of their finest performances, a visceral glow is imparted from the stage and becomes ever more attached to the consciousness of those in attendance. The reality outside feels like a cold splash in the face.
But tonight's set opens unsteadily and not wholly on par with their most memorable. In A Better Place is a fine opener; it's not bombastic by any means, and, unlike many live favourites, its volume is not physically palpable. It's this tour's New Terrain circa 2009, or Making Friends circa 2013, songs which worked well as live introductions because they emphasised the dynamic shift between themselves and the anthemic songs which immediately followed. But here, the unavoidably saccharine 85 Videos comes next. Its misjudged position in the setlist has a magnifying effect on its unrestrained sweetness and on its melodic sections which are tonally and rhythmically at odds with one another. It lacks midrange too, and Silas Graae's snappy parts are, on this occasion, unusually imprecise.
Special comes after, but its erstwhile groovy lead is made incongruously twangy by Mads Wegner's transposition of it onto his guitar. Whereas in its original form, composed and performed on a baritone Danelectro, it was dark and growling, in its present form it's treble-heavy and stiff. It clashes with the rest of the arrangement rather than being tellingly entwined in it.
Then, for a while, many Visuals songs come and go, passing without much more life in them than their studio-recorded counterparts. The singles have backdrops which are minimally adapted versions of their music videos, and the non-singles are scarcely decorated on the canvas at the back of the stage. This seems strange when visual elements are said by the band to have been the seed of the album's songs. The inconsistency in video accompaniment has an unfortunate impact on the flow. My favourite Mew gigs have been the ones where that aforementioned seamlessness in sound and vision have been central to the set's design, and tonight that's, at least at first, somewhat lacking.
There is little interaction between the band and the audience. Beyond platitudes of "thanks" and "it's good to see you again", Johan Wohlert points out his son, Tristan, who is in the audience of a Mew show for the first time. Suddenly I'm aware of the eleven years that have passed since Johan departed to be with his family and to be a father. It's been a topsy turvy ride of albums which have taken a million years to arrive, unpredictable changes of direction, and a sense of an artist always striving to be something new, to test what it means to have a clear identity while doing something different at every turn. And then the dynamics between the band members became fraught, one of the cogs in the Mew wheel came loose, and three-piece Mew came back in double quick time with a strangely light and optimistic-sounding record. That lightness is distinct, and borders on flimsiness, when presented live next to older material.
But things shift and mutate. When Water Slides is aired, it's sturdy and strong. It's also one of the band's newest classics, and one of their most underrated compositions. In the best Mew way, it's a big pop number while being gnarled and dishevelled round the edges, and it's darkly coloured by enigmatically ominous lyrics. It's an immediate highlight, and the point in the show where things begin to quickly grow. The set's final third is a clear success.
Carry Me To Safety is, without any doubt, the most effective of the new songs. Its titanic second chorus, full of thumping drums and animated guitars has a seizing and moving quality. Jonas Bjerre's closing vocal, with only Dr Watt's keys in support, is bare and still. The contrast between the loud and quiet is, at this point in the show, really effective. On this evidence, the Visuals album-closer would be a fitting contender to replace Comforting Sounds as set-closer proper. It brings with it previously unseen backdrops too, featuring typical anamorphic figures providing the opening string accompaniment. Unlike in earlier parts of the set, here sights and sounds come together in a way which seems fully formed. The new addition holds its own next to the tried and tested material which surrounds it in the setlist.
There are several pieces of music you can expect to hear at a Mew concert: Special, The Zookeeper's Boy, Am I Wry? No, 156, and Comforting Sounds. It's something of a mystery that the musicians onstage never tire of them. As the band leave the stage following Carry Me To Safety, I know the latter three of those songs will follow in the encore. I'm thinking about the band's potential to play any other three songs from their back catalogue in their place and pull it off, to introduce more unpredictability into their live shows and do justice to the amount of good music they've produced over their career. But then Am I Wry? No and 156 land in the most perfectly Mew way. The at once pummelling and spellbinding quality of those songs' live forms shakes me awake from scepticism. It blots out the memory of any miscalculations which came before. And it brings me into a present which is designed, in such totality, by an artist whose inimitable power to affect me is immediately clear. Tonight's ending reminds those in attendance in one fell swoop, that, no matter what happens, and wherever they go, Mew's history will carry them still.
Text & Photos: Gustav Greijer
Setlist: Shepherd's Bush Empire (London, UK)
In a Better Place / 85 Videos / Special / The Zookeeper's Boy / Satellites / The Wake of Your Life / Introducing Palace Players / Twist Quest / Ay Ay Ay / Water Slides / Apocalypso / Saviours of Jazz Ballet / Carry Me To Safety — Nothingness and No Regrets / Am I Wry? No / 156 / Comforting Sounds