Copenhagen, Denmark (June 24th 2009)
I am writing this a little late for it's been a very busy week. It's also been a very sad week in the world of music – people should just stop dying. Let me start by saying that Mew still have it. Whatever "it" is, fans know it well. It's been almost two years since they've played a live show and in an interview a few hours earlier Jonas Bjerre admitted being very nervous. He also was very anxious to perform after a long break. What better way to start than a show where tickets were sold rather "secretly". Approximately 200 people attended – some Nordic media, but mostly fans who could find their way to the show in such a short notice (announced in less than 10 days prior). Tickets were cheap (about 20€) and Mew even gave away free beer for all attendees – they obviously didn't do this show for money. They sold new merchandise and they will never be sold this cheap in the future.
Naturally, the show was held in their hometown Copenhagen and the venue was a television studio that could have fit 600 people quite easily. The stage was on the same level than the audience so it felt very intimate. Now the downside – they couldn't get their backdrops to work. Jonas told me that the crew had had two sleepless days trying to fix the problem. They couldn't, but it's all gonna be fine when next week's Roskilde- and Ruisrock-festivals take place. They added extra lights to compensate the lack of animations, and as it was a television studio, needless to say that the sound was terrific. They have a new sound guy who did excellent job on his first Mew show. Keyboardist Nick Watts must be quite high on Mew's "cool-meter" since there was a sign at the entrance door that said "Doctor Watts and some Danish guys" which people found funny. It was written with the font they have for the new album.
The show opened with a new track, New Terrain which is one of No More Stories' best tracks and Jonas' personal favourite as well. The song felt like an odd choice because most of it is played backwards and it really works only as an intro. So they used a background tape and played on it. In the beginning of the song drummer Silas Graae was seen playing keyboards and guitarist Bo Madsen played them wicked drum beats. It's definitely worth seeing. As this was an unknown track, the audience just stared and listened in awe, but then – without a break – Introducing Palace Players started and the audience screamed. Ex-bassist Johan Wohlert was also spotted in the audience. Apparently the aforementioned track has been on heavy play online since everyone seemed to know the lyrics, even when they are not yet published. Bo's guitar playing was raw (as it is on the album) and Silas – once again – proved to be a world class drummer. Jonas' singing voice was top notch. The song ended with a 30-second long never-before-heard outro to make sure that Jonas had enough time to pick up his guitar for the next track.
Then the setlist became heavy from And the Glass Handed Kites. As if we already didn't have enough intros, we got Circuitry of the Wolf accompanied by Chinaberry Tree. Then the (intro-free) Special and other Kites-favourites The Zookeeper's Boy and White Lips Kissed. Then it was time for a new track Repeaterbeater which was also something people had not heard at this point. Now it's everywhere, and people seem to love this upbeat track that is also going to be a single in the near future. This two and a half minute track has more ideas than many pop bands can fit into their whole albums. Next they were supposed to play She Spider, but they skipped it for some reason and played another new song. It was time for Sometimes Life Isn't Easy which also features an 88-year old Mari Helgerlikova. As has happened with some of Mew's other duets, Mari was not personally present, but may appear on a backdrop. Animations were not in use, so we don't know this yet, though. In an interview prior to this show, Jonas assured that Mari does exist even though you can't really google her. The track also features a choir so background tape is surely needed.
Apocalypso/Saviours of Jazzballet-duo played next and then a big surprise. A minute-long Small Ambulance has never been played live before and it felt like they have a new Pink Monster on their hands. Some intermezzo to play when such is needed. Maybe this track will be heard only after the aforementioned dynamic Kites-duo, just like Pink Monster is attached to She Came Home For Christmas. You might think that they have played too many songs from the previous record, but the last four songs were reserved for Frengers. Snow Brigade first and then Am I Wry? No/156 which they should play separately sometimes (as they have years ago), it's just too predictable. Guess what was the last song played? You never guess… sure you do. Comforting Sounds was quite rightfully the finale of the set and should continue being so – at major festivals at least. It's a near ten minute track you never get bored with and should replace the current Danish national anthem. Many bands would only dream to create something as epic as Comforting Sounds is.
Overall, this was a very solid and unique 75-minute set, something that will probably be the basis of their current tour with only a few of the older tracks stirring the setlist. It can't take long that they'll add the more danceable Beach to setlists and (most likely) the massively epic Cartoons and Macramé Wounds as well.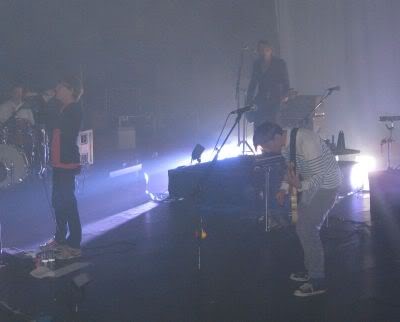 New Terrain / Introducing Palace Players / Circuitry of the Wolf / Chinaberry Tree / Special / The Zookeeper's Boy / White Lips Kissed / Repeaterbeater / Sometimes Life Isn't Easy / Apocalypso / Saviours of Jazz Ballet / Small Ambulance / Snow Brigade / Am I Wry? No / 156 / Comforting Sounds
Tero Heikkinen
Thanks to Mirjam Kellermann for the picture, check out all of them here.