Aarhus, Denmark (June 14th, 2014)
Last time that Mew played at this particular festival was back in 2010. As Jonas Bjerre said himself during the concert, it has been too long since they've been to Aarhus. They played on Green Stage which was one of the two biggest stages at Northside 2014 with approximately 25,000 attending their show.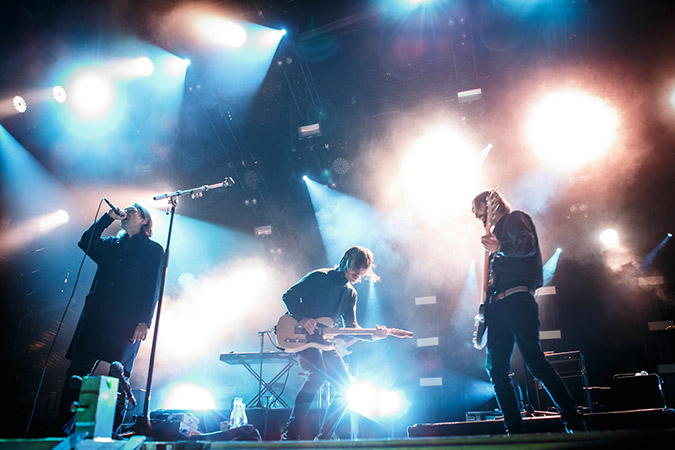 Jonas, Bo Madsen and Silas Graae opened the show walking to the front of the stage, standing together, saying that this is a very special event and that they've just finished with recording their new album. But most of all Jonas said something that no one expected. An old friend was invited back on stage with them and that – of course – was their old bassist Johan Wohlert who hasn't been on stage with them since 2006!
The opening song Witness is new, just under three minutes long, and has never been performed live before. It was well performed and with a lot of energy. Fast forward drums together with Jonas' vocals which in this song were deeper and more round. Every note that Jonas sang throughout the show was prodigious and precise. Jonas' humble attitude imprisons the audience and makes every Mew concert magical. As a drummer myself, I can only give thumbs up to Silas' always masterly performance. Silas is capable of hitting the drums and playing a beat like no other drummer I've ever heard. The sound supported his skills as a phenomenal drummer. Bright and clear cymbals together with a thundery snare drum and tams that roar ahead.
The sound was overall good with crisp, detail and bass. Unfortunately sound problems occurred during the show starting off with a big noise meaning that Johan's bass was out for about half a minute. Anyhow, Mew managed to perform as if nothing had happened which shows how professional the band really is. Still no big screen videos in the background, but the light show compensated completely for that. It was a tremendous light show, like one I've never seen before. Stroboscopic light giving the effect of slow-motion following the spectrum of the music was perfect.
Together with the new songs, old classics were played. As always, a special atmosphere is created when Mew plays them good old classics. The audience screams and begins to jump together with the beat of the music and (as always) Mew creates this special magical feeling that surrounds us all and makes us enjoy the concert even more.
Another new song called Russle from the upcoming album was performed live for the first time. It's a longer song which is for everyone no matter which instrument you prefer to notice. The guitar, though, was especially outstanding and intriguing and it makes me think that maybe the working title of the song refers to Russell Lissack, Bloc Party's guitarist who will also appear on the upcoming album. If both Witness and Russle, together with the other new songs that have been played before, reflect the coming new album, then there's a lot to look forward to. Klassen was one of the 'other new songs' and it sounded pretty similar to what it was last year, but with new lyrics in some parts. Koor – as we've previously come to call it – can now be referred to as Changes. Lyrics-wise it makes perfect sense.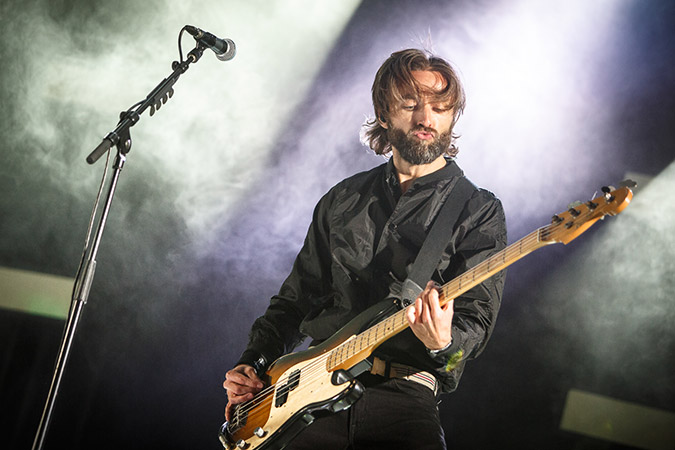 Despite the minor sound problems, Mew delivered a sensational and 'straight-to-the-history-books' -concert with the return of Johan Wohlert. Johan's joy of being back on stage with Mew was obvious. His energetic performance on stage influenced the audience in a way that was unforgettable. During the finale, Comforting Sounds, he even walked to the photo pit to greet the audience. Together, as in the old days, Mew is back with renewed energy.
6/6
Setlist: Northside Festival 2014
Witness / Klassen / Snow Brigade / She Spider / Special / The Zookeeper's Boy / Sometimes Life Isn't Easy / Russle / Apocalypso / Saviours of Jazz Ballet / Changes (outro) —– Am I Wry? No / 156 —– Comforting Sounds
Text: Mark Prahinog Nielsen
Photos: Philip Bo Pedersen
Photo Gallery