Melbourne, Australia (December 3, 2015)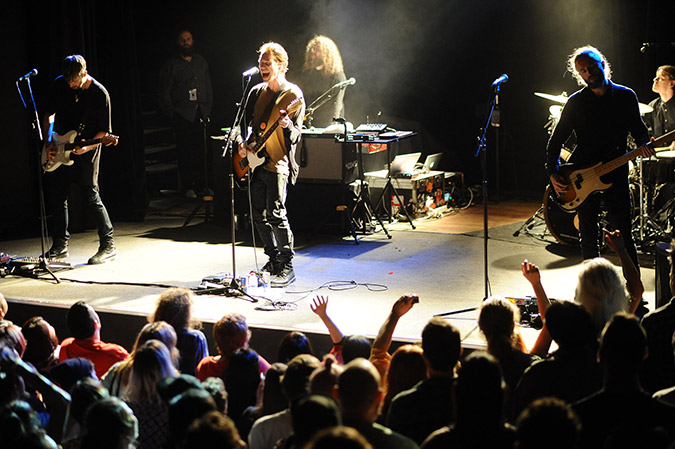 Seven years ago we were listening to And the Glass Handed Kites while driving to the shops, each trying to predict when we would be able to see Mew live. One of us gave an optimistic bet of a tour whenever the next album would be released, the other was a tad more pessimistic giving them 10 years to find their way here. Needless to say, when we found out they were coming to Melbourne this year we could hardly wait.
I'm sure our story is a familiar one to most fans, as the wait had in fact stretched for many years. But on December 3rd the night had finally arrived. We had counted down the months, then the weeks and finally the days leading up to this night.
Upon making the descent down into the venue, the first of many surreal moments was witnessed. After years of listening to a band who has such little coverage in this country, and fellow fans few and far between, it was an amazing sight to walk into a room filled with people, all buzzing with the same excitement, all here to witness this once in a life time event. Both Halcyon Drive and Solkyri did an excellent job in warming up the crowd, building up the excitement for the night ahead.
Eventually the house lights died down and the backing track was cut, by this point the anticipation had reached fever pitch. Was this finally happening? Surely it can't be. It was. The band members filed onto the stage one by one, finally joined by lead vocalist Jonas Bjerre, beginning with the upbeat sounds of the Witness from their most recent album, +-. The +- warmup continued with the track Satellites, before the all too familiar baritone strains that signalled the intro to Special. The excitement from the crowd was evidence enough that this song held a special place in many people's hearts, and it was at this point that it was clear, Mew had arrived in Australia.
The wonder of the crowd was mirrored on stage by Jonas who, upon receiving thunderous applause following each song, seemed to have a bashful smile on his face. It was as though he himself couldn't believe the enthusiasm of the fan base that had been growing down here for many years. The barrage of popular tracks continued all night with some standouts being Snow Brigade and 156, showing us that the album Frengers reaches a whole other level when played live. High energy moments were accompanied by breaks of intimate sounds, such as a medley comprising of reprised The Zookeeper's Boy and a small taste of Louise Louisa.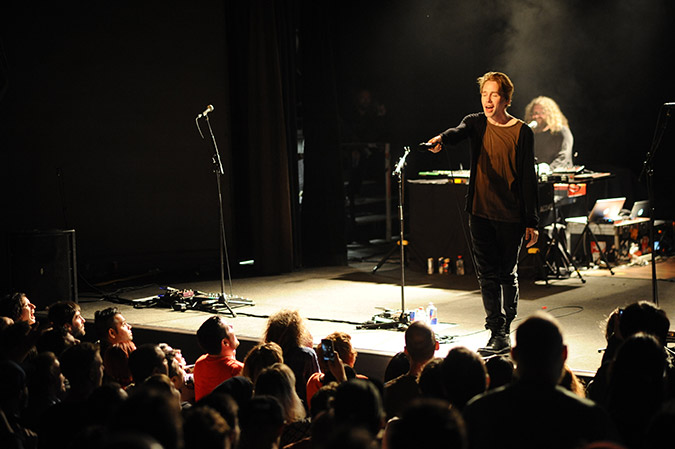 Unfortunately, as we all dreaded, the night had to come to a close, but not before we were treated to the soaring melodies of Comforting Sounds. This had been a night year in the making, and you would be hard pressed to find anyone at the venue who would argue that it had not exceeded everyone's expectations. We can only hope that we are not made to wait another 20 years to bear witness to world's greatest 'Indie Stadium' band again.
Text: Ellen Singleton & Bronson Schick
Photos: Caz Whitehead
Photo Gallery
Setlist: Max Watt's (Melbourne)
Witness / Satellites / Special / The Zookeeper's Boy / Introducing Palace Players / Sometimes Life Isn't Easy / Water Slides / Snow Brigade / She Spider / Medley / Making Friends / Rows / Am I Wry? No / 156 — She Came Home For Christmas / The Night Believer / Beach / Comforting Sounds