Brisbane, Australia (December 4, 2015)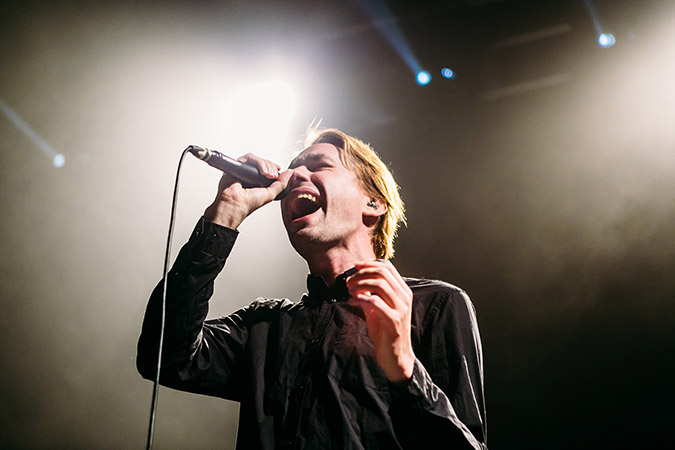 Aerials kicked off the last night of Mew's debut Australian tour. The band themselves have spoken about how much they love the band and an excitement shows through their live performance. Although the crowd is a bit thin, these Brisbane locals give us a taste of their last few releases with their latest EP Restless getting some good attention. When I first heard about Aerials being the first support I was a little bit perplexed. For the uninitiated, they're a melodic rock band in an early rock Muse fashion, which was curious given the slow build instrumental nature of second supports Solkyri and of course the greatly-anticipated Mew. The rockier vibes of Aerials gave the crowd an outlet to vent the weird buildup of anticipation, anxiety and excitement that I know I definitely felt going in. With Aerials finishing up, it was time to grab another drink and try to slow my beating heart for the slow pressure cooker musical treat of Solkyri.
The next 40 or so minutes were around what I was expecting from Solkyri. From what I'd heard on Spotify in my pre-gig research, I was expecting long, drawn out rhythms with lush build ups before breaking into heavy hitting yet melodic guitar sections accompanied by machine gun mini-fills on the drums. I have to say they quite lived up to the hype. It occurred to me about three quarters of the way through their set why they were such a great support band for Mew. Jonas Bjerre's vocals are mind-boggling, therefore to introduce the rockier pop edge of Mew with Aerials, before jumping into the slower, melancholy of Mew's older hits (without constant vocals) with Solkyri, it was the perfect blend to (finally) introduce Mew to Brisbane fans. Solkyri ended in a rather loud cascade of thumping bass, thrashing drums and fuzz. I was way too excited for Mew, and perhaps had drank a lot of scotch or a decade of waiting was finally getting to me so I ran across the road for a garden burrito. It was delicious – and it gave me a chance to give my ears a 10 minute detox. After I had adequately cleansed my aural palate, it was actually time to see the band I'd been holding out for.
Now it seems a bit over the top and perhaps even cliched to fawn over this debut visit. Perhaps you could point to any number of bands who haven't toured to the little upside down country of the world, but a band like Mew seems to incite a small but hugely dedicated group of fans. I personally remember listening to The Zookeeper's Boy as a young teen and being blown away by the vastly different style of both Jonas's voice as well as the blending of rock, art rock, dream pop or whatever you can categorise it as. Whatever you classify it as, it gave me something completely new and calming at a time that was vastly the opposite. I guess long story short, it meant a lot that they finally came.
Mew finally took the stage to the shouts and whistles of the dedicated fans. Kicking in with the opening cuts from their latest album '+-', the band was faultless in their execution. Which is impressive after what I'm sure was a whirlwind tour of Australia. Their second track, Satellites lends itself to some of their older tracks with an expansive chorus full of that signature soaring melodies. This of course was then the perfect lead in, to some of my personal favourites Special and The Zookeeper's Boy. As Jonas delicately positioned himself on stage, I couldn't help but smile like a giddy teenager. Singing along to The Zookeeper's Boy has always been a guaranteed 'mood improver', and it works ten-fold seeing the band live.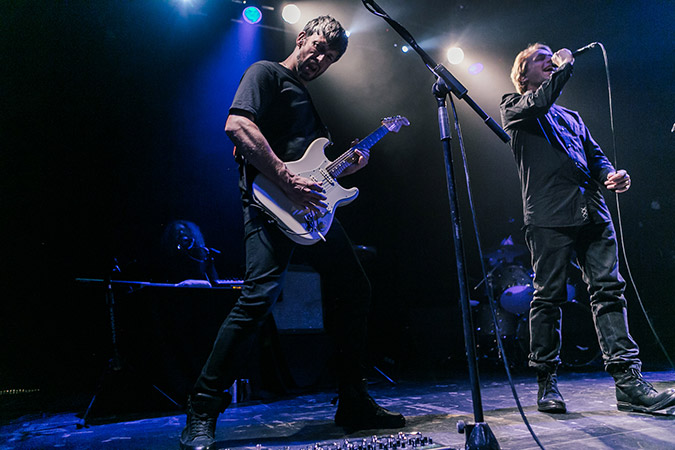 After slowly meandering through a few songs from 2009's No More Stories… they played Water Slides which I've come to love greatly since seeing the live video online featuring Kimbra. It's such a great groove, with a criminally dance-able chorus that sits perfectly before some heavier tracks from my personal favourite Frengers. The set very quickly (it seemed) jumped through a rather gorgeous medley, new track Rows and old classics Am I Wry? No, before the crowd went from 10/10 to 156/10 as the room rang out with "Don't you just love goodbyes". It's such a fantastic track, and the band truly cemented their place in my list of favourite live shows. As Jonas slowly sauntered around the stage I couldn't help but imagine him upon a stage in an elaborate play – and perhaps he was, as the crowd waited with bated breath for his tales of love and life to a mystic background of sounds and rhythms.
The inevitable encore arrived and my wildest imagination couldn't have prepared me to hear She Came Home For Christmas. Originally appearing on their debut album in 1997, it was a real highlight for me after not expecting it to be on their set. They finished up with Comforting Sounds. It was gorgeous. Something about the Frengers final track gives the gig an incredible sense of finality. But I think the crowd as well as the band very much hope to see this mystical act grace Australian shores once again.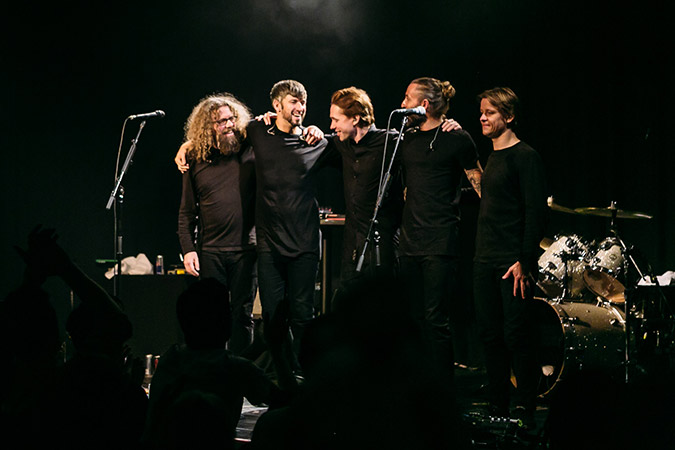 Text: John Larney
Photos: Jess Gleeson
Setlist: Max Watt's (Brisbane)
Witness / Satellites / Special / The Zookeeper's Boy / Introducing Palace Players / Sometimes Life Isn't Easy / Water Slides / Snow Brigade / She Spider / Medley / Making Friends / Rows / Am I Wry? No / 156 — My Complications / She Came Home For Christmas / Comforting Sounds