House of Culture / Helsinki, Finland (February 16th, 2010)
Pakkahuone / Tampere, Finland (February 17th, 2010)

After the two successful Norwegian shows, it was Finland's turn once again. First up was the sold out show in Finland's capital city Helsinki, and more specifically at the 1400-capacity Kulttuuritalo (House of Culture) where Mew previously played two consecutive shows in March 2006 (tickets for those shows sold out in record time). Known for its architecture, Helsinki had them perform in this legendary venue designed by the world-famous Alvar Aalto. The venue also sets some challenges for visual bands like Mew for it's mainly meant for classical performances. Its ceiling is all white and therefore Mew decided to cover that with visuals from time to time. Some backdrops (including Bamse) were projected above the audience and when they were not, you could see the band members' shadows rocking the ceiling. It looked absolutely wonderful. The sound was great except in the very beginning where you could barely hear Jonas Bjerre's singing voice. That was fixed after two or three songs. The warm-up band Taxi Taxi! (from Sweden) were not that lucky. Their sound was off most of their 30-minute set. House of Culture is not a perfect venue for Mew but it's good, and as Bo Madsen pointed out later in the show, it sure beats "the fucking Old Ice Hall" any time. I thought their November show at that massive ice hall was the worst show I've ever seen by them… and I have seen quite a bit.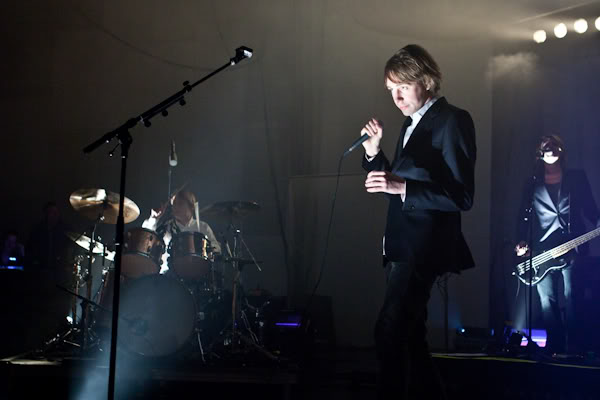 Just like in Oslo a few days earlier, the show in Helsinki kicked off with Snow Brigade which works surprisingly well as the first track. In Nordic countries this song seems to be one of the ultimate fan favourites (especially for younger females) so they made the audience jump, dance and scream from the very beginning. In fact, the show was extremely upbeat for the first five tracks (that included Hawaii and Introducing Palace Players) until Silas the Magic Car slowed it down a bit. This is the same spot where White Lips Kissed usually calmed the audience down, but that song has been absent for a while now.
The setlists have been so great and different from show to show lately. Apparently it takes three international album releases to make that happen. Remember that it was pretty much the same set every show just a couple of years ago. I would bravely call Helsinki's setlist the best I have attended yet – even without Comforting Sounds. Or was it because the lack of that epic song? I think Mew are trying to make their most precious song a rarity rather than an obvious finale. I would love that… you would have to earn it. Louise Louisa is a wonderful finale, but is it a mean ending? Can you let people leave the venue feeling so sad? Hey, it's sad anyway, cause it's over – isn't it? Before the final song, we (here at MewX.info) got a very personal shout from Mew, and a few moments earlier a lot of people had left the venue thinking there was only one encore. They quickly rushed back, and they know now that Mew can do two of them encores. When Louise Louisa was over, everyone knew that there will be no Comforting Sounds and this was the first time in Finnish history that they didn't play it.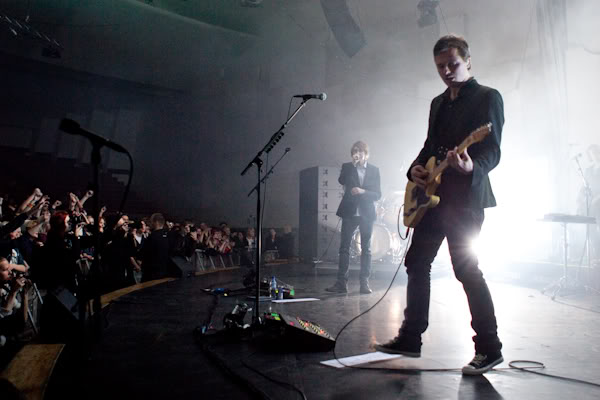 Let's go back to the actual set that ended with the amazing Cartoons and Macramé Wounds. A song that challenges Comforting Sounds in pure epicness. It works so much better live than on the record and it's a tad longer even clocking in at eight minutes. They have backdrops for the song, but they don't feel final to me. I always imagined this song having a more… well… cartoonish visuals. Maybe they will change in time. I saw people hugging strangers during this song and Finns are often not known for this kind of affection. We are more reserved than that. Before this song they played another new track (that premiered in Oslo). Tricks of the Trade had no visuals, but it doesn't need any. It's a dance song. Unfortunately Cartoons and Macramé Wounds wiped the floor with it. Maybe they should play Tricks of the Trade way before in the set to make it more powerful (or later, like in Tampere). Bastian Juel also took a rather surprising center stage at one point and he should do it more often for his presence looks great.
Mew were exceptionally chatty during this set. Jonas spoke some Finnish in perfect accent: "On kiva olla Suomessa taas" ("It's great to be in Finland again") and they mentioned Finnish being a very difficult language, but also a very beautiful one. In the beginning of the first encore, Bo played the intro for Special very differently, intentionally or not. He stopped after a minute or so and said that it sounded so good that he wants to play it again. Naturally, Silas Graae stopped playing here, too (smiling back at Bo). The second time it sounded more familiar to us.
Helsinki setlist:
Snow Brigade / Hawaii / Circuitry of the Wolf / Chinaberry Tree / Introducing Palace Players / Silas the Magic Car / Apocalypso / Saviours of Jazz Ballet / Bamse / Uda Pruda / Beach / Am I Wry? No / 156 / Repeaterbeater / Sometimes Life Isn't Easy / Tricks of the Trade / Cartoons and Macramé Wounds —– Special / The Zookeeper's Boy —– Louise Louisa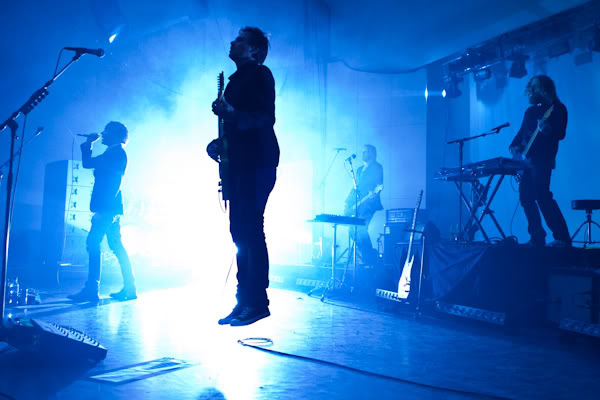 While Helsinki had the better setlist, Tampere had the better venue. The 1200-capacity Pakkahuone has an atmosphere that may feel cold, but at least it's dark enough for Mew. Maybe too dark even, since the Danes are overusing their lights a bit. I was practically blind for twenty seconds in the beginning of the set. I also like the fact that they don't rely on backdrops alone… just beware if you suffer from epilepsy. The audience was more mature in Tampere, but that's because the venue was divided in two areas. The other for adults with alcohol sale rights and the smaller area for people from 15 to 17. In Helsinki the show was for all ages. The audience was definitely better in Tampere (located some 200 kilometers north of Helsinki) and the show itself was close to being sold out.
Comforting Sounds made a glorious return after so many consecutive shows where it had been absent (in America and Norway, too), and it turned out to be such an emotional version. Bo was smiling throughout the guitar intro. They also played Medley where Jonas messed up a little. Before the song he told a little story of how they played this venue the first time almost eight years ago, they were supporting Kent, and the Swedes dared him to drink a bottle of vodka resulting to a hangover which was not going to be the case this night.  Reprise made its debut on Finland's soil here and I would also like to mention the head-spinning owl that could be seen during intermission. This magnificent creature was projected on one of the smaller screens on stage (in Helsinki on the ceiling as well) and made me think of Twin Peaks (Mew are David Lynch fans after all). They also have a short instrumental song called Owl and it looked like the animal's purpose was to watch over their equipment while they are backstage… and/or to watch over the fans… and/or to tell the audience that they are not quite finished yet. That little visual addition is absolutely adorable and I'm pretty sure I also saw a glimpse of it in London last November.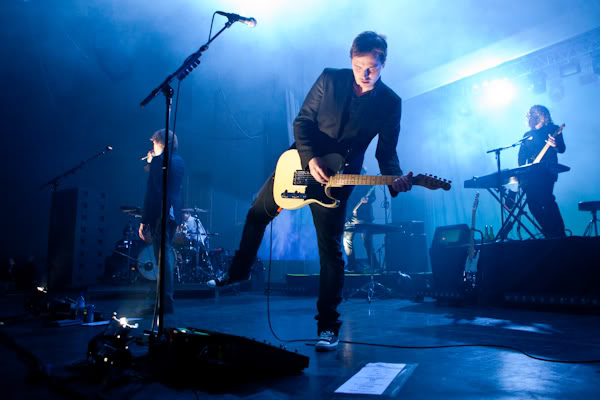 Finland may be freezing cold this time of year, but Mew warms the air. Nick Watts told me later that they thought both gigs were exceptionally good, but I still preferred the latter, just for the intense atmosphere alone. It's great that Mew are so well-received in Finland, Norway and their home country Denmark. I guess, we are the lucky ones.
PS: The 4GB memory stick contains a full live recording of their show from Java Rockin'Land held in Jakarta, Indonesia last year.
Tampere setlist:
Introducing Palace Players / Special / The Zookeeper's Boy / Am I Wry? No / 156 / Repeaterbeater / Sometimes Life Isn't Easy / Hawaii / Medley / Cartoons and Macramé Wounds / Snow Brigade / Apocalypso / Saviours of Jazz Ballet / Bamse / Reprise —– Beach / Tricks of the Trade / Comforting Sounds
Written by Tero Heikkinen
Photos by Pete Heikkilä
(All photos are from the Helsinki show and we will publish more of them in our Gallery / Media -section shortly. If you wish to use them, please do so, but give us credit).