Apparatjik, WMF Club Berlin (Berlin, Germany, February 1st 2010)
With all the mysterious hints of what the show would be like, I still didn't really have a clue of what the show would be alike. Bauhaus, cubism, music and visuals combined with technique and science. Some said the guys would be performing inside a cube with visual projections.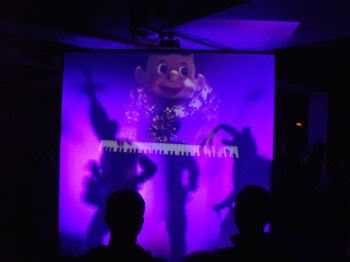 Even though I had no idea of what to expect from the show, it was everything that I expected. It was also what I had wished for.
The show was on the second level of the venue. We waited a bit in a room with big square room inside of it. A white screen in front of that place made me think that Apparatjik would be inside and that they would be projected onto that screen. But right before the show we were led into the square like room. Inside was a two by two meter big cube, the exact same thing as we could find on their website earlier. The cube consisted of four initial white screens with the sides of the cube projected on them. Okay, so no way that the guys would be in that cube, I thought. But when the show started we were treated with animations as we have seen before on their myspace and facebook account and mixed within these projected animations were the shadows of the guys who were actually standing inside the cube and mostly joyful dancing around while they were playing their music. It was as chaotic as I describe it. To add up to this, they wore antlers, cubes and other undefined objects on their heads. They were clearly enjoying what they were doing. It was fun. The animations would sometimes become so scary that they made my sister scream, but she loved to get scared like that. The show was great, it converted my sister who I just dragged along – she didn't like Apparatjik before – into a fan by both the show and some new and very enjoyable tunes they performed.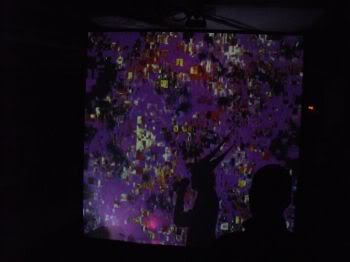 Apparatjik enjoyed the show, we enjoyed the show. It was a successful and joyful evening. Well worth for driving through two snowstorms.
Now… some YouTube-videos. The sound is really bad, but take a look at the visuals here, here and here. Plus some high quality video clips from this user.
Kim Vermeer