Oh, we promised to return to this series with scifi, fantasy and adventure, but since it's Christmas… Jonas Bjerre's favourite Christmas movie of all time is no surprise…
"Can I say The Snow Man? Even if it's not a whole film? Otherwise… It's a Wonderful Life".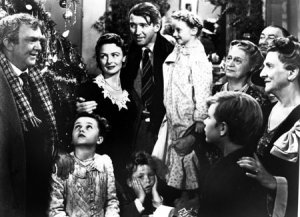 "Look, daddy. Teacher says, every time a bell rings an angel gets his wings".
It's a Wonderful Life (Frank Capra, 1946)
Probably the best Christmas movie of all time… at least the most adored one. From director Frank Capra, it tells a fantastic tale of a suicidal man (James Stewart) who meets an angel and gets a chance to see what his home town, friends and family would be like if he had never been born. Nominated for five Academy Awards (including Best Picture), the film is shown every Christmas on television in many countries.
Happy Holidays from MewX!!!
Mew posted this holiday greeting on Mewsite.
*****
Want to see Apparatjik live? They will play their first ever show in Berlin (February 1st, 2010). You may also want to see this video by Jonas… and a new vinyl and some merchandise here.