To all our Japanese frengers thank you so much for once again making our stay so enjoyable! All the shows were sold out and we got to see some more of Japan this time (although free time was still scarce). Thanks for all the marvellous gifts and letters and for letting us know how you feel about our music!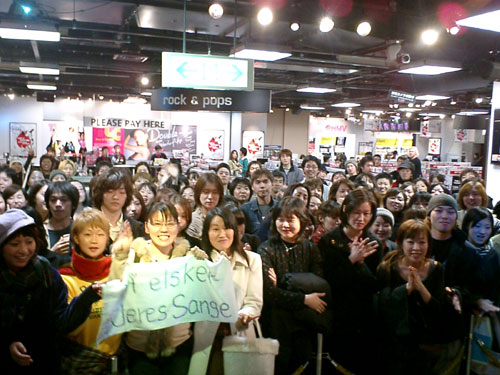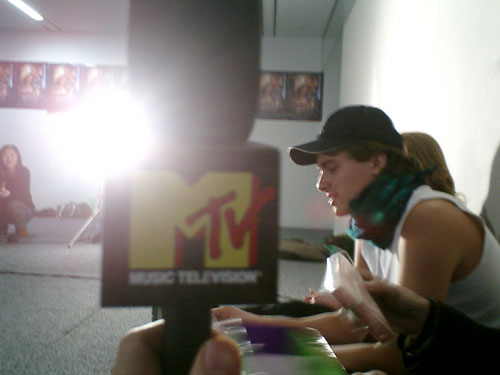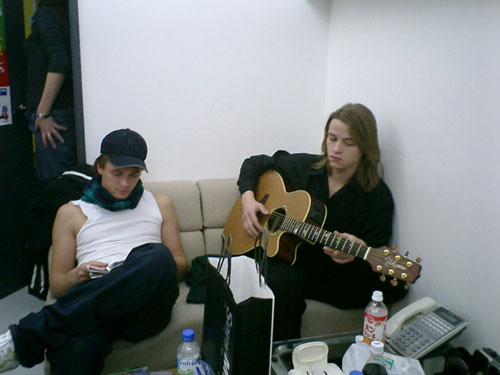 Hi frengers it's Jonas. I have decided to dedicate a whole section of the journal to this new found (for me anyway) miracle which is the magic of karaoke! On the first night we went out with the sweet guys and gals of the label as well as our American support band Velvet Teen. Josh of said band won, of course, with his very nicely performed Careless Whisper, a Wham! favourite. But Judah did also impress with his very reggaeish Roxanne (Police). The dear doctor Watts and myself did a version of Bee Gee's Staying alive which sadly scored pretty low (even lower actually than my attempt at a Japanese song in which I could only sing the Hiragana and had no idea what the melody was like…. a fishy scoring system?). Maybe our toothpaste smiles weren't white enough, I don't know… too much red wine, I guess. Stains that bright xylotol-and-bleach-enhanced whiteness. Next time we will blowdry our hair, I think.
On the last night we had the pleasure of the company of some Danish friends of ours, Junior Senior came to Tokyo and joined us for dinner and karaoke. This night the winner (or should I say, high-score) was Junior and myself performing Neverending Story, though with the incredibly capable help of Chino (who also impressed with I will Always Love You, by the way). Though Bo's When Doves Cry was one of the sexier performances, Mayumi's Welcome To The Jungle took the prize in that department (especially the "I wanna see you bleed" section!). Senior did honour to the faded saints of a Swedish group which I am not going to name here as it might offend certain purists… let's just say that all he wanted was another baby yeah. Well done! Oh and I must not forget the doctors surprisingly well delivered crooning of New York, New York. Terui did justice to Saturday Night by some band I don't know and Mitch… well I only remember the crotch grabbing and microphone action to tell the truth… David, our french connection was also great but I fail to remember exactly what he performed as the night had turned sort of blurry at this point. Anyway if you haven't tried karaoke yet I strongly recommend it! Good fun!