The previous post gave you the setlist for the show at Botanique in Brussels, Belgium. The new intro – titled as Hymn – is not Reprise nor is it any other intro that we have heard prior to this current European Tour. Mew always come up with new intros even if they are played only once or twice.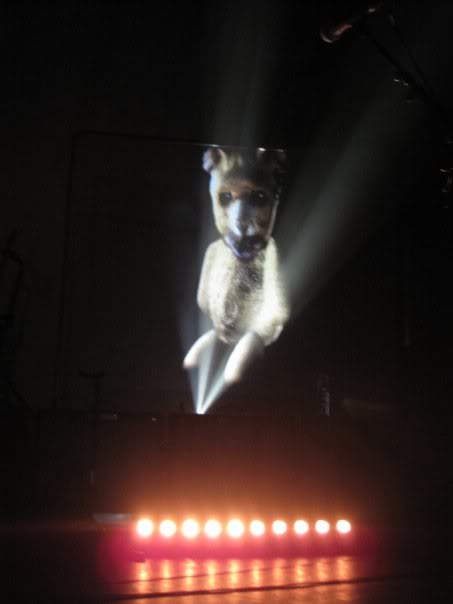 Also, in Brussels they played an entirely new song titled Bamse or Bear (on the setlist) and it even had backdrops, so it will probably be played over and over again in the future. According to some frengers who were present, many of the No More Stories -tracks had new or extended backdrops (most notably Hawaii) and some older songs had alternate versions of the visuals. Remember this vague picture Mew posted a week ago? Also part of the new visuals. Looks like they spend their tour break creatively. They have also added two new smaller screens to the sides of the large one and these screens often show you separate images, like the children in Sometimes Life Isn't Easy. The image on the small screens looks better, because the light is projected from behind, giving it a nice side effect that beams come through the screen.
With no major spoilers, the previously unreleased Bamse started with Bo Madsen behind the keyboard that Jonas Bjerre normally uses. Bo also sang and then one of the side screens showed a deformed Teddy Bear which was speaking (with a scary voice) to the audience while the calming music was played. Soon after, Jonas started to sing in the song as well. There's a little video snippet of the song here. Let's see if Mew will release the song as a b-side someday, or if it is just for the live shows. And… Bamse – The World's Strongest Bear is a popular Swedish cartoon created by Rune Andréasson in the 60's.