Hello, frengers.
This link will lead you to the video where the band is testing the earlier version of the upcoming app, Sensory Spaces, for the first time with a few fans (including this fansite's long-time photographer Philip Bo Pedersen). Shot last month at Skanderborg Festival in Denmark, the video will also state that the finished version of the app will be out in exactly one week. So, soon the wait is over. Official press release below…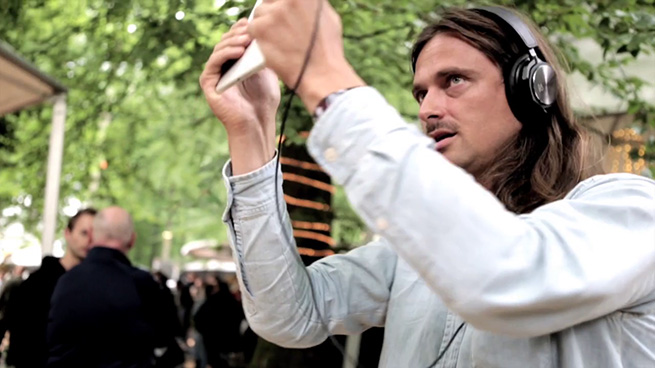 Based on an ambition of expanding the music experience, Mew is now releasing the playful music app Sensory Spaces. An app that aims to be an engaging experience for all lovers of music and sound – and also an app that leads you to brand new material from the band.
– Mew has always been about playing. About turning things upside down and expanding the limits of the music experience. The same applies to Sensory Spaces. We wanted to present our listeners with something different while also revealing some of the stuff that is in store. In addition it is a tiny peek behind the drapes of a band which in its nature is rather private, says Bo Madsen.
Using hearing and movement, you are challenged to navigate through a string of spaces containing bits and elements of new music by Mew. In one space you are searching after drum beats, in other vocals, and by moving yourself and your device towards the sound, you complete a space and proceed. On the entire journey you are guided by the three members of Mew. Finishing the app unlocks an exclusive version of the band's new song, Making Friends. As a bonus feature, you can play around with the song and manipulate the sounds.
Thus, Sensory Spaces is an experience both leading into the heart of Mew's musical universe and a platform for experimenting with sound. The app has been developed in corporation with the award-winning Danish audio brand B&O PLAY by Bang & Olufsen based on a shared value of nurturing music and sound experiences of the highest quality.
Sensory Spaces is released for iPhone and iPad and will be available – free of charge – on 25th of September at  www.sensoryspaces.com.