Roskilde Festival (Roskilde, Denmark) – July 2nd, 2009
Roskilde holds some very dear memories for me – The Raconteurs in 2006 and Roger Waters directly afterwards, The Who in inclement weather in 2007, and most of all, My Bloody Valentine's demented onslaught destroying the Arena stage in 2008.
I suspected '09 might have been anticlimactic following the previous year's shoegazing heatwave. The lineup wasn't immediately that attractive (and was borne out by tepid sets from Trentemøller, Faith No More and Nick Cave), but I was lured to Denmark anyway partly by blissful routine, but partly because I have no resistance to Mew, and any related opportunities for adventuring. They magnetised me a long time ago, at a key moment in my younger life, and as heroes fall one by one, slowly, they have never wavered in their limitless experimentations in what pop music can be. I'm aware that this sounds trite and corny, the ramblings of an idealist desperately clinging on to childish remnants – but it's true, and hindsight changes nothing.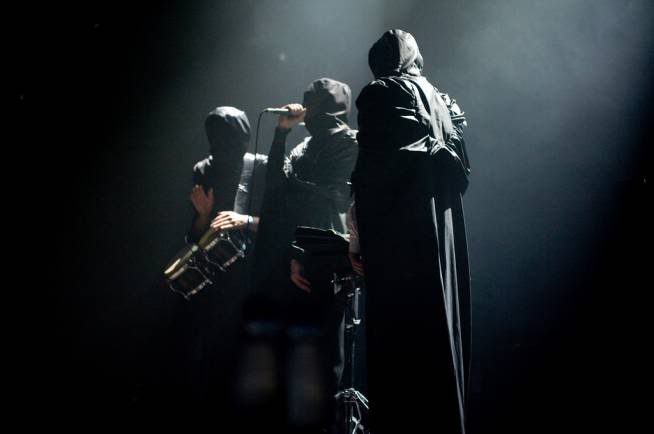 Photo by Tom Spray
The 2009 chapter centered around the forthcoming No More Stories, at the time unheard by the proles, it's dense, difficult contents unveiled hesitantly. The Roskilde set wasn't a showcase for change, wasn't a particularly new statement – it was a reverie on a scarcely believable scale. Tapping into the atmosphere of theatricality that thirty thousand people spilling endlessly out of the Arena tent provided, Mew appeared in Sun O)))-esque robes and stutter into shaky versions of New Terrain and Introducing Palace Players, suffering from hollow, drift-laden sound. Technical merit was unimportant; it was cinema, amidst a blaze of light and rapture. In any case, the mix was swiftly sorted and Mew got on with the serious business of cranking out a greatest hits set, old friends abound. This was finely judged, and not the context where surprises would have been appropriate. With no expectations beforehand, I found it overwhelming, aided by liberal quantities of dangerously appealing white wine in cartons, and by the time Comforting Sounds has melted away to nothing, I'm the happiest kid imaginable.
The rest of the festival provided equally lasting moments – the unreal Jon Hassell, the joyous Friendly Fires and my personal farewell to Oasis, accompanied by unremitting blazing sun and dancing all night. Roskilde hasn't ever been quite as carefree, spontaneous and lasting ever since, but Mew will make their return into the 2012 sprawl – mostly unannounced, but then they always have made a habit of conjuring everything from nothing in particular. The kids know, and wait, and where there's increasingly less and less to get optimistic about, there will always have been this. Let's fly.
Ally Winford
Photo used with permission. Visit the photographer's official website.