Now that Mew have announced exclusive Summer shows for Denmark and Norway, we are anxious to know if they have planned to play festival shows in Finland and Sweden as well. These aforementioned four countries always go hand in hand, so the speculations are not completely uncalled for. Almost a year and a half (since the stunning Danish opera house shows) has passed when they will play the next shows…
Suomi
The last show Mew played on Finnish grounds was in June 2010 when Provinssirock (in the town of Seinäjoki) invited them for the second time. Earlier in 2010 they had played two solo shows in the fair cities of Helsinki and Tampere as well. We are predicting that if the beloved Danes decide to play in Finland, it will take place at Ruisrock Festival (in Turku) where they have previously played in 2003, 2006 and 2009. Every three years? Ruisrock (6.7. – 8.7.) clashes with Roskilde Festival, so they might play in Denmark on Thursday or Friday and either Saturday or Sunday in Finland.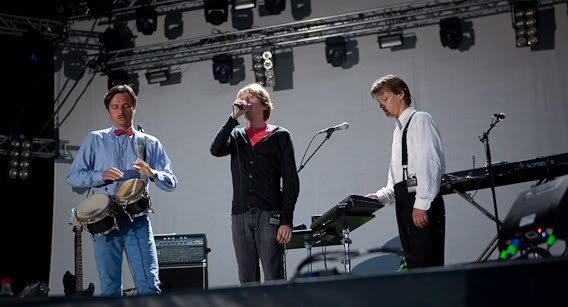 Mew at Ruisrock Festival on July 4th, 2009.
Sverige
In the Summer of 2010, Mew performed at two festivals in Sweden. Siesta! (in the town of Hässleholm) and later in Borlänge at Peace & Love Festival, but what could happen in 2012? To begin with, Sweden is very difficult to predict. Even the bigger Summer festivals come and go (cancellations happen practically every other year) and it feels like they'd spend money on a local act rather than inviting a fellow Nordic band. Hultsfred Festival (in the town of Hultsfred, naturally) is now back on its feet and that sounds like a good bet, doesn't it? This particular festival would take place already in mid-June (14th – 16th), and Mew have not played there since 2005 (if memory serves).
Where would you like to see Mew this Summer?
Tero Heikkinen
Photo by Pete Heikkilä