Skyscraper was released on DVD in Denmark last week. The film is subtitled in Danish (for hearing impaired), Swedish, Finnish, Norwegian and yes… English. You just have to click any of the Nordic countries in the top menu and change subtitles with your remote control. Simple as that, but make sure your player supports European system.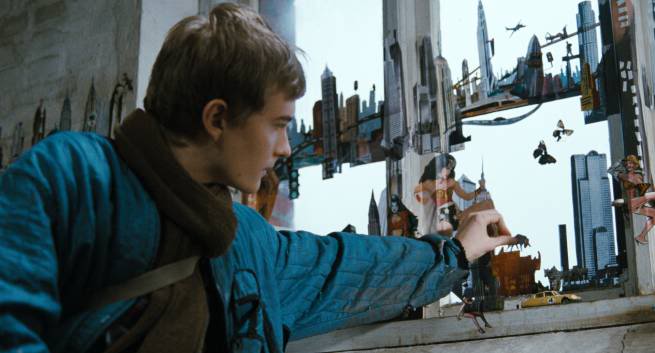 The Film
Fans of Mew have been following this film project for almost two years now, and – naturally – have listened to the soundtrack, but is the film itself any good? In short – yes it is. It's quite excellent even. Wacky coming-of-age stories are what Scandinavians do best. There's some sort of unique honesty in depicting adolescents in films from Nordic region. Sure, adults make the films, but they have not forgotten the awkwardness of puberty and they seem to treat younger characters in a more mature way. This is not American Pie you're getting, but as in the aforementioned film, sexual content (mostly in dialogue) is very much present, so violence-free Skyscraper is rated 11 in Denmark. In USA this would surely be rated R… so, maybe not for the squeamish. Director Rune Schjøtt's feature film debut was also written by him and the clever screenplay is the heart of the film.
Skyscraper is a story about two outsiders. Life is quite bleak in the countryside, and Edith (Marta Holm) works in her constantly smiling father's (Lars Brygmann) grocery store and decides to lose her virginity as soon as possible. As she is blind, she is not the small town's hottest item, but Jon (Lukas Schwarz Thorsteinsson) agrees to do it with her. He would just need a certain operation first. Jon has not been to a school in years and has befriended with considerably younger Ben (Lucas Schulz), who at times is the voice of reason (and our narrator). Everything that goes wrong in the town is blamed on isolated Jon, and it all started years earlier when he was a child and the rural town got its first traffic lights with tragic consequences. You'll realise very soon that these two eccentrics, Jon and Edith are made for each other.
The director has wonderfully captured the sleepy town and its rather absurd community. Time stands still and city folks are an incomprehensible matter. Highpoints of the film are the overall great acting talents, well-thought-out screenplay, grim art direction, and – of course – its soundtrack…
The Music
Jonas Bjerre's music and songs are almost constantly present, and often bring hope and optimism into the film, telling a sort of "side-story" apart from the dialogue. The first viewing of the film probably distracts you from the story when it goes all "song-spotting". Now, the titles and lyrics of the songs start to make more sense. As we've been told, some of the tracks are mostly instrumental or alternative versions in the picture, but some songs get to shine for minutes' worth. There's a song called Something Sweet that didn't make it to the soundtrack, and that definitely should have because it sounds absolutely wonderful. A short snippet from the track Bullets of Fear is also included in the film. End credits reveal that the song was written by director Rune Schjøtt with Jonas, and was produced by Jonah "Gunslinger" Bjerry (correct spelling). This track was taken from the album Tear This Sh*t Down by The Scrapers. Funny.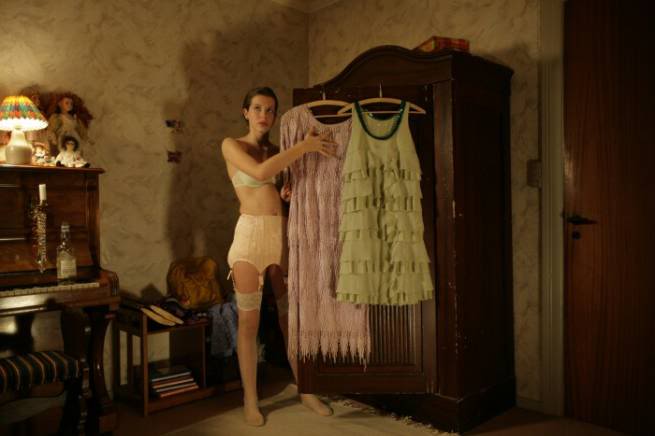 Supplementary / Closing Words
The DVD release also comes with the music video of There's A Cloud In My Brain which is not even in the movie. In addition, there's a 7-minute making of (accessible from Danish menu selection only) which is not subtitled in any language. Jonas is nowhere to be seen in this short documentary by director Gitte Høxbroe. Trailers for other recent Danish movies can be found.
Despite its positive critical response (raves even), the Danish audience didn't find this film during its theatrical run. Apparently only some 500 people bought a ticket in its first week, but it should do pretty well on DVD. It deserves better. It's not only for younger viewers, but adults may enjoy it as much. Jonas has composed music for other films in the past, but I'm so glad that he got to write a full-length soundtrack for a really good film. Mew fan or not, Skyscraper is highly recommended.
Tero Heikkinen
Original title: Skyskraber / Dolby Digital 5.1 / 16:9 letterbox 1.85:1 / Length: 85 minutes / Rated 11 / REGION 2 (PAL)
Additional comment from Jonas:
"Something Sweet was almost finished, like a whole length of a song, but I just didn't feel it fit into the album. In retrospective I should probably have included it… Bullets of Fear was a short piece, in a late 70′s hard rock style with over-the-top singing. It was needed for the film and it's kinda funny, but I chose not to put it on the album."
Trailer for the film (subtitled in English).