Mew have released new interesting items for sale. Among them, their very own 4GB-capacity USB Memory Stick (priced 30 euros!!!) plus something for the cold winter nights. The new headgears like this (for 13€ each) should keep you warm and, according to Mewsite, they will release a special Mew-related snow globe very soon, too. With songs like She Came Home for Christmas, Snow Brigade and Snowflake, it kind of makes sense. Doesn't it?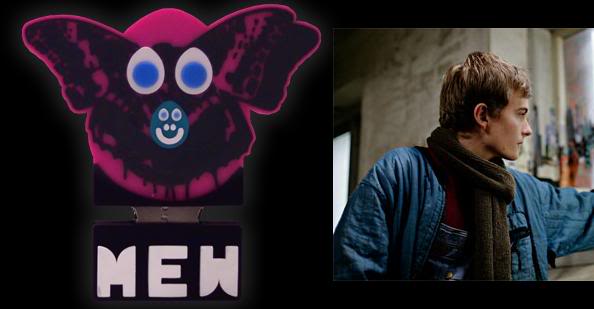 Jonas Bjerre is composing film music once again. As you may know, writer-director Rune Schjøtt made the short films Pandasyndromet (2004) and 4 Unread Messages (2008) with Jonas composing the music to them. Schjøtt's first feature-length motion picture, the rather low-budget Skyscraper (picture: above right) began principal photography two months ago and it is expected to be released the following November. Jonas should jump in during post-production.
*****
Vote for Mew at the 2010 Zulu Awards. They are up for Danish Album and Danish Male Singer. In 2005 Mew won big time here. They took home the prizes for Danish Album (for And the Glass Handed Kites), Danish Hit Song (for The Zookeeper's Boy) and Jonas was awarded with the Danish Male Singer -trophy.
*****
If you're interested in purchasing the documentary Reclaiming the Blade (2009) we talked about over a year ago, you may do so here. Even though the trailer had Comforting Sounds in it, the actual film contains (pretty short) snippets from Her Voice Is Beyond Her Years, Chinaberry Tree and Why Are You Looking Grave.
Also, the music video for Beach is on its way, I swear…