The long-awaited sixth album is about to be reality in a matter of months. The previous album, No More Stories, was released in August 2009 and before that the gaps between albums have always been 2-4 years. The next yet-untitled album was originally rumoured to come out sooner, but we know now that this approximately four-and-a-half-year gap will, in fact, be the longest for Mew. So far.
Pre-production phase is coming to its end and recording will begin in Copenhagen next month. This will be the first time that Mew are going in and out of the studio and playing live shows in-between (in June and August). For this album Mew will be collaborating with many talented people, but Michael Beinhorn is the main producer. The aforementioned producer was the guy behind And the Glass Handed Kites which many consider to be Mew's best-sounding album. It is mixed very low, as we know, and playing it in a night club forces the DJ to go easy on the bass level. Whether this album will contain big rock anthems or not, we'll just have to wait to see. Previously Beinhorn has also produced albums for Aerosmith, Marilyn Manson, Red Hot Chili Peppers and Korn among many many others.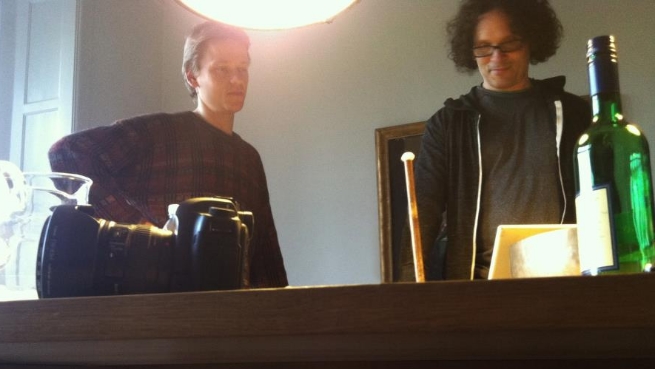 Michael Beinhorn visiting Mew in Copenhagen six months ago.
Since Beinhorn is producing it looks like Mew will also record in United States – once again. The hour-long making of Kites on the Live In Copenhagen DVD was a juicy extra and maybe we'll see something similar later. At around 55 minutes, Kites is Mew's longest record and something tells me that the upcoming one won't be a short album either. We know it's going to be epic.
For previous albums Mew have given us a song or two (as digital download, single or EP) months before the full-length album. Similarly, this is also bound to happen with the band's first independent studio album in more than a decade. Last Summer's live shows already gave us two unfinished songs, Boy and Klassen (working titles), and it's a near certainty that the latter will end up on the album in recognisable form. But it has changed considerably over the last few months, I keep hearing.
This June, Mew are expected to play a couple of new songs that are pretty much finished. They played New Terrain, Repeaterbeater, Introducing Palace Players and Sometimes Life Isn't Easy live months before No More Stories came out. They also played 4-5 songs from Kites a few months before its actual release, so why would this be any different?
Tero Heikkinen