As Mew Day (15/6) celebrations continue in full force (!), we bring you a full breakdown of the results of our big song poll. Alongside the results, we have a detailed mass of statistics for your perusal. Listen to the top twenty while you read! A Spotify playlist can be found at the bottom of the article and here.
On the 27th of May, a month on from +-, we opened up a big, bumper song poll to voters both from this website and the Frengers group on Facebook. We decided to conduct it in a way which would both give voters, who largely seem to know Mew's back catalogue like the back of their hands, the chance to select more than one favourite, and which would keep the poll secret. This allowed the reveal to come as a surprise to those who participated, and, at least in intention, would minimize tactical voting. 59 voters selected their top ten Mew songs; their number one choice received ten points, their number two nine, their number three eight and so on, with their tenth placed selection receiving one point. They also contributed their least favourite Mew tune ever; this didn't affect the top songs, but instead comprised its own poll. We thought it'd be interesting to see if there was much correlation between both people's favourites and their least favourites amongst the 95 songs they could pick from. The results of both polls were revealed on Saturday in a live "listening party" in MewX's own chat room.
Without further delay, here are the top twenty:
20. Wherever (54 Points)
19. A Dark Design (58 Points)
18. Chinaberry Tree (59 Points)
17. Clinging To A Bad Dream (61 Points)
16. Behind The Drapes (62 Points)
15. Hawaii (68 Points)
14. She Came Home For Christmas (69 points)
13. Snow Brigade (70 Points)
11=. Silas The Magic Car (72 Points)
11=. White Lips Kissed (72 Points)
10. Cartoons and Macramé Wounds (77 Points)
9. Special (96 Points)
8. Apocalypso (105 Points)
7. Louise Louisa (131 Points)
6. The Zookeeper's Boy (145 Points)
5. Introducing Palace Players (147 Points)
4. 156 (150 Points)
3. Am I Wry? No (166 Points)
2. Rows (229 Points)
1. Comforting Sounds (247 Points)
74 of the 95 possible choices received at least one point. Here's a breakdown of the top 20 by album:
A Triumph For Man (2/20)
Half The World Is Watching Me (3/20)
Frengers (6/20, including ATFM and HTWIWM tracks)
And The Glass-Handed Kites (7/20)
No More Stories… (4/20)
+- (2/20)
And the overall points totals for each album in descending order:
And The Glass Handed Kites (865)
Frengers (859)
Half The World Is Watching Me (623)
No More Stories… (556)
+- (420)
A Triumph For Man (307)
A clear arc, peaking at Kites, seems to emerge in the chronology of Mew's discography. The highest charting non-album track was That Time On The Ledge at 23, which formed a double A-side with She Came Home For Christmas. The top B-side proper was Like Paper Cuts at 33.
The least favourite poll revealed little in the way of consistency. 32 different songs were awarded "worst Mew song ever" by the 59 voters. Here are the songs which received more than one vote:
I Should Have Been a Tsin-Tsi (For You) (7)
How Things Turn Out to Be (5)
Do You Love It? (4)
Saliva (3)
Symmetry (3)
Ending (2)
Her Voice Is Beyond Her Years (2)
Intermezzo 1 (2)
The Night Believer (2)
No Shadow Kick (2)
Owl (2)
Pink Monster (2)
Repeaterbeater (2)
Water Slides (2)
The full list, with their respective point totals, is available here.
Agnes generously provided some ultra-in depth statistics, as well as adjudicating the calculation of the votes. Enjoy!
Statistics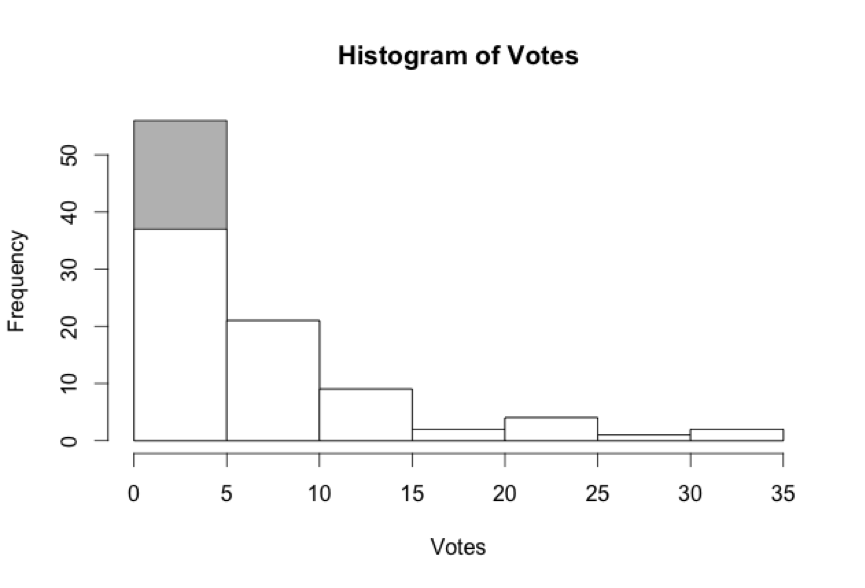 This is a histogram of all votes given to each song. What does it tell us? Generally, most songs got few votes (or none, coloured grey). But more than half of us do agree on a small portion of songs. Comforting Sounds, for example, was chosen by 34/59 voters (58%).
Does it matter if the song was a single?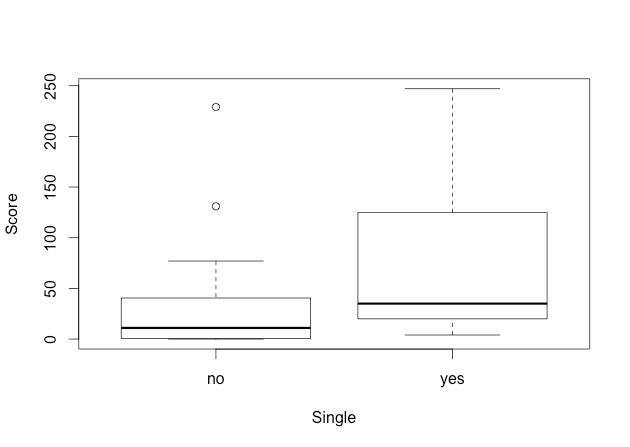 Yes, at least songs which were singles generally got a higher score. It should be noted that there are many more non-singles than singles. Anyway, either we are easily impressionable by singles or Mew's singles are just amongst their best songs.
Is a good Mew song long or short?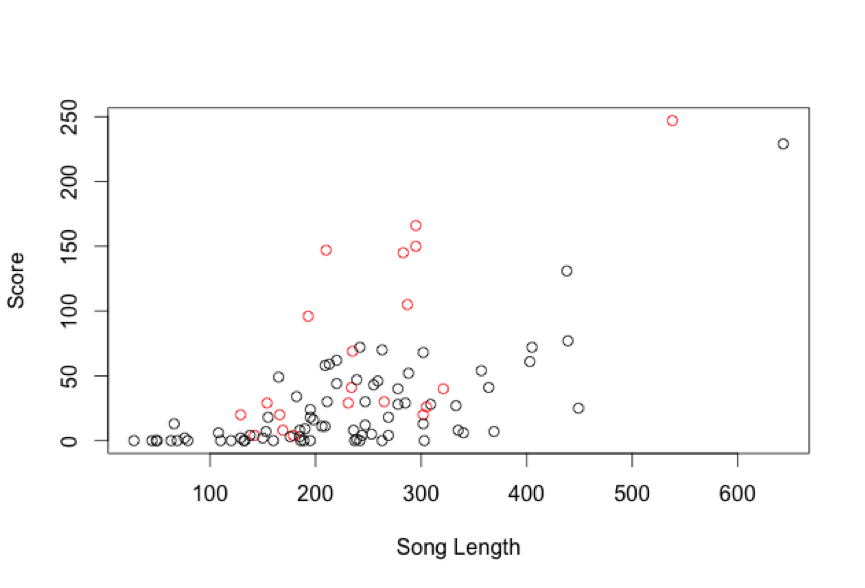 Long! We dislike very short songs and love really long songs. Songs in the middle region are sometimes good, sometimes not. But if a song is in the middle region and a single (coloured red), then we love them!
Percentage of first place votes that songs in the top 20 got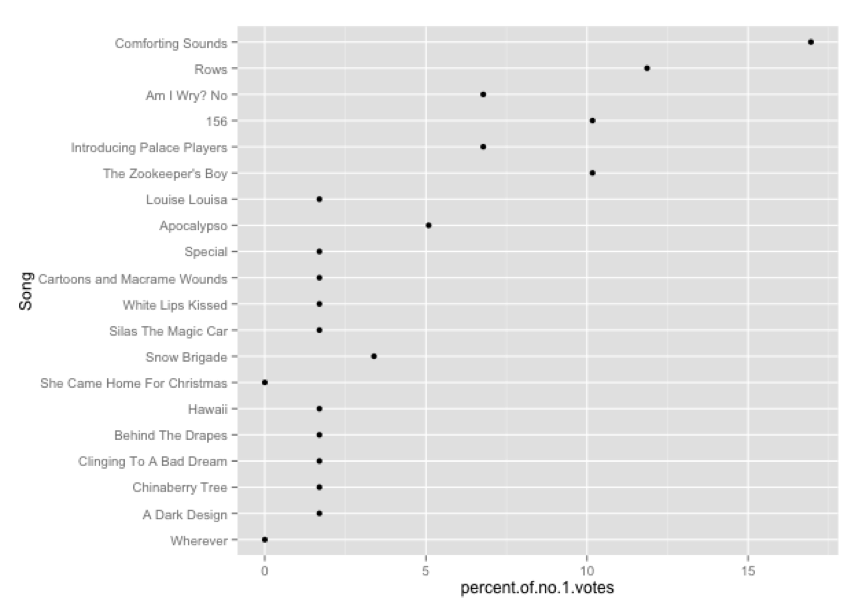 No first places for She Came Home for Christmas or Wherever, but enough people sort of like them.
Which songs are in the top 20?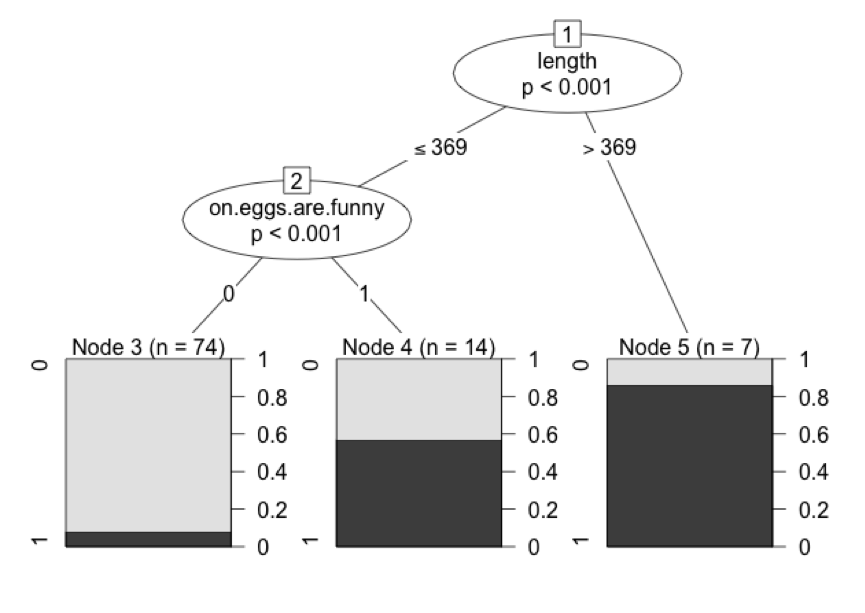 This is a decision tree. At each node in the tree the algorithm chooses the best variable to split on to separate the classes: In the top 20 (1) and not in the top 20 (0). It splits on the song length first – we love long songs! (It ends up to the right with most songs in top 20, seen as dark grey). It then, for the short songs, splits on whether or not the song was on Eggs Are Funny. If it wasn't then we don't like it and if it was then we can't decide. We like about half of them. Anyway, again we love long songs and dislike short songs that did not appear on Eggs Are Funny.
Happy Mew Day!
Thanks for voting. We'll have another listening party for the upcoming tenth anniversary of Kites, which according to voters' favourite songs is the most popular Mew album amongst their biggest fans.
Related Links:
Spreadsheet detailing Frengers' votes
Spotify playlist:
Vote Calculation and Words: Gustav Greijer
All Plots/Graphs/Charts (and related words): Agnes M Nielsen