Mewstralia.com has finally opened. The two frengers behind it (Erin Young from New Zealand and Stefano Perfili from Australia) have been working on it for months.
Erin: "It all started in August 2009 at the forums on Mew's website. Initially we were just joking around with the concept of something called 'Mewstralia', but then Stef and I started bouncing possibilities off each other – and with our combined experience in journalism and the web, the idea was born."
Stefano: "We started out by creating a page on Facebook, and creating a presence on other social networking sites soon after. Initially we had a modest climb in people joining up, then we started posting Facebook ads which all the Aussie and Kiwi fans of Mew would see, and that worked really well for us. We're now at 1,500 frengers (and counting), and I'm so excited about the future of the campaign!"
Mew have played quite a few shows nearby, in Japan mostly. Just yesterday they announced another show in Indonesia, Australia's neighbour country. Obviously it would mean a lot to bring the Danes to 'down under' as well.
Stefano: "Mew are exhilarating on record, but it doesn't come close to the sense of connection that you get out of Mew's live shows, which is the reason we're so committed to bringing them here. Not only that: I also think that they have a lot to offer our music scene, if we give them a chance. As for me, I reckon Mew are just the most awesome, unique pop band I've ever heard; they inspire me all the time, and that's why I'm doing this."
Erin: "When a band are so unique in the way that Mew are – where they can totally change your life, quite literally, as they've changed mine – you want to get that full experience. Seeing a band live can totally change your perspective on their music – it takes you to another world. So when a band means as much to you as Mew does to us, and has brought so much joy and goodness into your life (I mean, c'mon, I met my partner through this band!), it feels so wrong to have never had the chance to pay homage, as it were, by seeing them live."
There are many frengers who got lucky by just being loud on various Mew websites. Take Mexicans and Indonesians, for example. This is something Mewstralia project wishes to achieve as well. Mew have taken notice, and Mewstralia (along with Mewxico Project, Frengers Chile and Indonesian Frengers) has been listed on Mew's official social networking sites.
Erin: "The goal wasn't just to find more frengers down under to join a consolidated front… it was more about just getting them excited about seeing the band live! A lot of frengers here have felt quite isolated, myself and Stef included, because we seem to be so few and far between. Even the band's web forums were sparse of Aussies and Kiwis for years, up until recently. But the truth is, there are more of us here than we think. With Mewstralia & Mew Zealand, and the new website, we're giving everybody a place to come together and be heard."
Stefano: "After talking to a few people about what we need to do, we've set a goal of getting 4,000 frengers on board, and our new website will help us get there. We've created Mewstralia.com as a way of rallying existing fans and attracting new ones. On it, you'll find heaps of opportunities to take action and get involved with the campaign. There's stuff for new frengers as well – they can learn about the band, who they are, and what we're about. That way existing frengers can send their friends to the site and get them excited too. It's like a one-stop-shop for creating the groundswell we need to get Mew down to this part of the world. Let's thump it up!"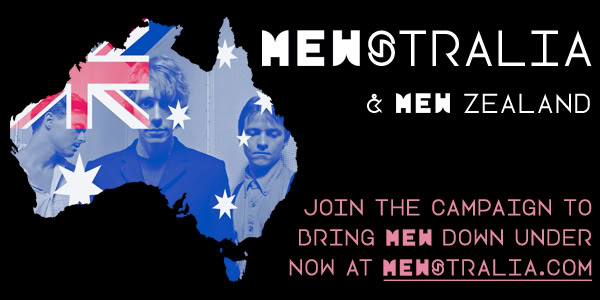 Click on the banner to reach the website.