Jonas Bjerre has called them the best band in Denmark, but no-one seems to know who they even are. According to Mew, this band called Lords of Destruction have been around since 1994, but they have never released any demotapes – other than what Mew's own label got in 1999 (and were taken back by the band in 2006, apparently). Yes, they were supposed to release something through Evil Office and still have a somewhat pointless webpage there.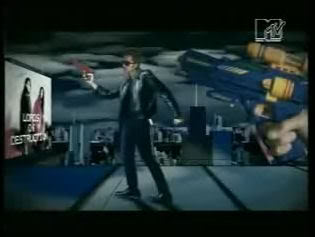 The band's name can be seen in Mew's music video for Mica (at 1min 56s!!!) made in 2000 and they were supposed to support Mew on their 2005 Scandinavian tour, but due to a "surprising" cancellation, they were replaced by Blue Foundation who even joked about being Lords of Destruction. Even earlier this year Mew's MySpace-page said "Lords of Destruction – we love you". So who are they? Just two months ago we had a little discussion with Jonas and we spoke about this, too:
MewX: Who are Lords of Destruction? You love them, according to your MySpace-page.
Jonas Bjerre: That's true, we do. They just… well, they are a band that we really liked and I don't think they are a band anymore, actually… but maybe. We were supposed to put out something.
MewX: Oh, yeah. It still says so on your Evil Office-website…
Jonas Bjerre: Right. I have to fix that. Well, they were kind of a band that never really got it together, you know. And I think two of them are almost done studying now in college, so they don't really have time.