Helsinki, Finland (October 29, 2015)
Mew have always sold out their shows in Finland and last week's gig was no exception. This time it took weeks to sell all 1.500 tickets though. They had sold twice as many tickets in a matter of minutes when And the Glass Handed Kites was hot and new. This is what a six-year break between albums can do to you. Some people simply move on. But… but what if I told you that the seventh Mew album might come as soon as in 2017? It's possible… and you heard this prediction on this website.
I've seen many many Mew shows in Finland, in fact, all from the last decade or so. Last November we got the special two-hour show, and we should not be comparing ANY Mew performance to that one. Finland's largest newspaper Helsingin Sanomat did just that, and they pretty much destroyed this show in their article. I disagree wholeheartedly with this journalist here. I am a frenger, but I am also a frenger who can be honest when writing about one's favourite band. Mew is, you know, pretty good.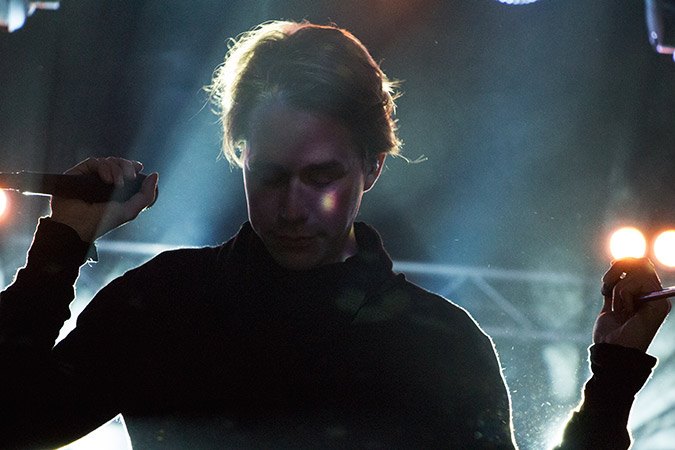 My friend Joonas (with two O's, yes) works at this rather new venue in the very heart of Helsinki. He told me that he has NEVER heard any band sounding this good there. The Circus is a venue that many dislike, as it used to be a supermarket and not really made for musical use. You know, usually these things need some acoustics and all. It wasn't that bad, in my opinion. At first I was standing very far right of the stage, then really in the back and later in the front. It was loud, yes, but Mew have always liked it that way. I don't ever use ear plugs. My hearing's been partially gone for years. I go to a lot of shows. Not just Mew. But mainly Mew.
It has been over three years since I saw a Mew show with the visuals and, naturally, I had checked the new animations beforehand on YouTube (Rows, Satellites, Making Friends), but it's not the same as actually seeing them live. And the backdrops were huge and wide in Helsinki. Someone said after the show that the band had problems with the animations, but they seemed to work just fine. If something was wrong, I sure didn't notice. Care to explain in the comments, frengerino?
Satellites aside, I can't really decide which new animations are better, the ones for Rows or the ones for Making Friends. Obviously Jonas Bjerre (with one O, yes) spent a lot of time animating (mixed with some live action) this time around. Both are so detailed and imaginative. My "epic-meter" tells me that I must choose Rows, because it is also one of the best tracks Mew have ever written. Ever. As you have read in all these reviews over the past few months, Rows grabs you and will not let go. Truly the best eleven minutes you can be seeing in a live show right now. Seeing – that is – if tears won't blur your view.
Last Summer, at Ruisrock Festival, Timo the Watermelon Guitar accidentally (or maybe even willingly) went for a little trip with the band and traveled for thousands of kilometers before coming back home. Johan Wohlert gave the guitar back to its rightful owner in a very funny stage banter. Other than that, Mew didn't chat so much in between songs, but they rarely do anyway. Remember not to compare last November's Helsinki show to anything else. Ever again.
I seem to have a terrible habit of missing every single supporting act that Mew invites. This time it was a Finnish band called Satellite Stories (cool name, by the way) and they are supposedly very good, but I didn't hear any of it. Wondering if there's a crazy super-kawaii J-Pop band supporting Mew in Tokyo and Osaka? I go to those shows next.
Text: Tero Heikkinen
Photos: Marie Cover
Photo Gallery
Setlist: The Circus
Witness / Satellites / Special / The Zookeeper's Boy / Introducing Palace Players / Sometimes Life Isn't Easy / Water Slides / Snow Brigade / She Spider / Medley / Making Friends / Rows / Am I Wry? No / 156 — My Complications / Comforting Sounds