Helsinki, Finland (November 5th, 2014)
Helsinki. The Finnish capital that always gives Mew a warm welcome. So, going in I was thinking that it might be a long show, for they would have to play quite a few new songs, but also the classics. No one could have expected a whopping 123-minute show, though. That's about 20 minutes longer than their previous record and I doubt that the other shows will be over two hours during this tour. The length of the show consisted of 22 tracks and A LOT of chatting. Usually Mew is not known for being a particularly talkative band, but this time they talked in almost every song break and the chatting alone probably lasted 15 minutes combined. As one of the main attractions for this tour is reintroducing Johan Wohlert, he did most of the talking and some really funny anecdotes and band history trivia were heard. They sure had fun on stage and even after the show Jonas Bjerre hugged the fans from the first row. I've never seen that either.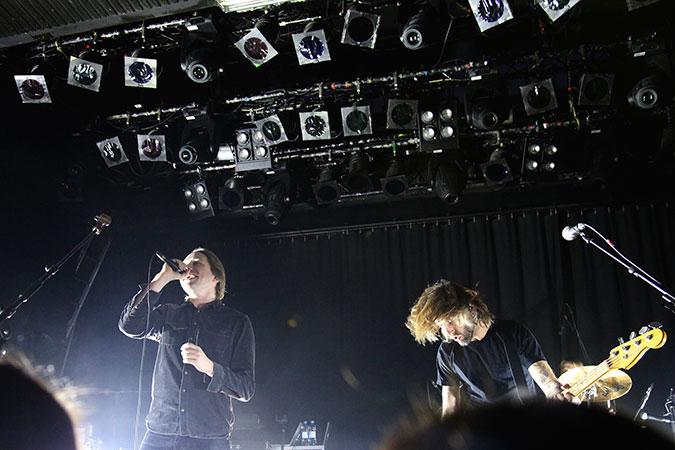 When the band members were thinking about the venue where to kick off the whole tour, Tavastia felt like the perfect choice. They have played there a few times before, but not recently, as their popularity in Finland grew and venues became bigger. Underpriced tickets and a small intimate venue made sure that the tickets were sought after and – of course – they sold out in just two minutes. Those lucky ticket holders got exactly what they were looking for – and MORE.
Before the tour Mew said that they would be playing some VERY old classics. A Triumph for Man-era tracks quickly came to mind and I was hoping for Panda which they did play. It was wonderful to finally hear this song live and the instrumental bit sounded so brutal yet very fresh, as if it was new and not an 'oldie but goldie' (as Johan called it). Please, Mew, bring this track back onto your setlists for good. Coffee Break was a big surprise. And a pleasant one at that. Funny how the first album is so obviously Mew while being very different to today's stuff.
Symmetry was quite surprising as well, considering that visuals were not used, so Nick Watts played the keyboards while Jonas sang both his and Becky Jarrett's parts. This version partly had some interesting lyrics. Maybe Jonas sang whatever came to his mind.
Mew are coming with a completely new visual live design next year, so once again animations were not in use and it's not even decided whether Jonas' animations are ever returning or are they gone for good. This time the lights were less flashy, but one girl near me still suffered from an epileptic seizure. I don't think the band noticed or they would have stopped playing.
Two never-before-heard tracks were played. The first one was called Water Slides (written like that on the setlist) and it had the catchier tune of the two. An upbeat track that sounds like a hit song and is pure single material. I can already picture a music video for this. Mew called Waterslides a song for love making and the closest they'd ever get to hip hop. How much seriousness is behind this, only the band knows. The second one was a ballad called Grizzly (working title on the setlist), but Johan said that the final title is Cross the River on Your Own, so we'll call it that, okay?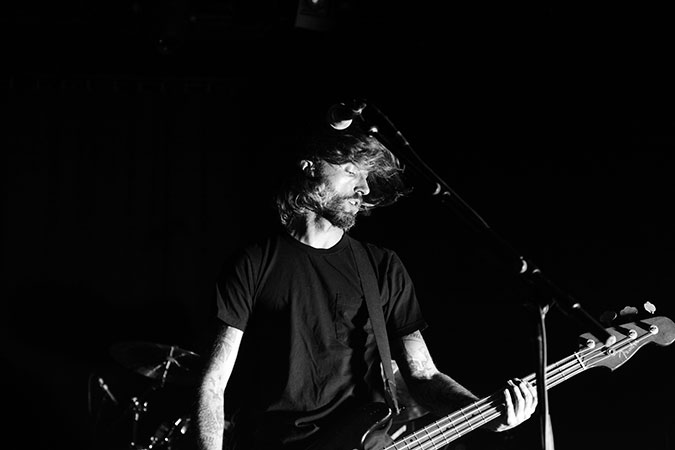 Mew talked about their first attempts to write songs back in 1992-1993 and their first ever creation was a track called Sex Maniac which they will never play for you. Some funny guys in the audience demanded the song to be played a few times during the show, and that got some serious laughs. Sex Maniac was written before Bo Madsen went to the USA to study and the others had started a group called Chien Orange aka Orange Dog. Soon after Bo's return to Denmark, Silas Graae joined the band that became Mew. They threw 20 patches (which celebrate the band's 20th anniversary) into the audience for the lucky few. Jonas said that he feels quite embarrassed that they are not sure when they started the band. "Wikipedia knows," someone yelled from the audience. Case settled. 1994 it is.
Mew will play nine more shows during this tour and I think that they will all be at least 90 minutes long each. Probably in the 100-minute range. A lot of music people, journalists are present during the Winter Tour and some interviews are being done, but the band returns for promotion next year when medias have actually HEARD the album.
Tavastia (Helsinki's pride) got a great opening show and immediately went to the very top of the best Mew shows. It was definitely more inspiring than anything the band has played in the last five years. How much of it is due to Johan's return? Quite a lot. New songs don't hurt either. Let's see if Stockholm gets Witness tonight. I'm pretty sure that setlists will be all over the place. They have so much material, don't they? I would imagine that Russle will be played in every show and Russell Lissack's involvement in this song has now been confirmed by the band. Bo played the guitar solo bits a bit differently this time and maybe there's room for improvisation (just like in She Spider, for example). The ending of Russle – by the way – was different. This new ending has Bo and Johan singing with Jonas. Sort of like how they finish The Zookeeper's Boy.
Now we'll just wait for the lyrics to Sex Maniac…
Text: Tero Heikkinen
Photos: Sari Markus
Photo Gallery
Setlist: Tavastia
Satellites / Special / The Zookeeper's Boy / Beach / White Lips Kissed / Hawaii / Silas the Magic Car / Snow Brigade / She Spider / Symmetry / Am I Wry? No / 156 / Waterslides / Panda / Russle / Apocalypso / Saviours of Jazz Ballet / Changes / Cross the River on Your Own —– Coffee Break / She Came Home For Christmas / Comforting Sounds