Turku, Finland (July 4th 2009)
The already legendary Ruisrock Festival in Finland's oldest city Turku is also the oldest annual rock festival in the whole Nordic region. Established in 1970, these (on July 3rd-5th) were the 40th festivities, but – for some odd reason – they want to celebrate this a year late, just as how people turn 40 on their 41st birthday. Maybe they were worried about its success due to worldwide economic crisis, and we know that many festivals have not done too well in 2009. In Finland's scale, Ruisrock was an exception and became a real winner rather than a survivor. With record-breaking 92 000 attendees (plus media, VIP and other party people with free tickets), the amount was 20 000 more than was expected. You have to go all the way back to 1971 to find a more successful year. The three-day Ruisrock was headlined by Slipknot on friday, Mew on saturday and Faith No More on sunday. Yes, Mew were headlining – they are huge in Finland, and only saturday was completely sold out. Since when did Nordic bands headline a major festival?
Ruisrock is held on an island (Ruissalo) nearby city centre so perhaps it's not the most accessible festival, tens of thousands of people walk the same narrow road and it can be all fun and games if you take lots of drinks along and the sun is shining. Unfortunately, it rained a few hours before Mew were to perform at midnight and by then the temperature was already quite low. Due to cold weather, Mew lost quite a bit of audience, reports say from a little bit over 20 000 to some 15 000 by the show was over. At least they sold all their new hoodies (50€ each), but t-shirts (priced at 30€) were not all sold out – as far as I can tell. They even sold the No More Stories EP for 12 euros which is double the price than at record stores. It's been a while since Mew have played in Finland. In fact – it's been three long years and the last time they played a show, it was at Ruisrock (previously they have played this particular festival in 2003 as well). In 2006 they played a midnight slot, too. Finland is just not dark enough in the summer, even in the south.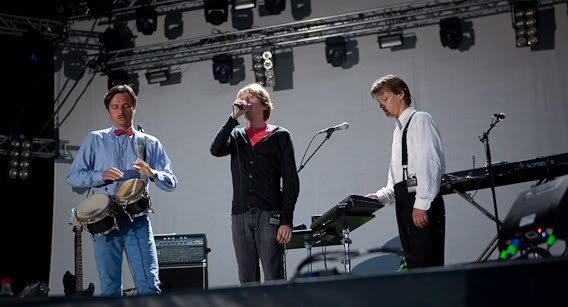 After the Swedish metal band In Flames (where the singer wore a Mew-hoodie), Mew's 75-minute show started on the same main stage with a Bo Madsen interview on a big screen and five minutes later New Terrain began. At the Danish Roskilde Festival – just two days prior – they wore dark costumes that covered their bodies completely, even their faces – and this was something I personally wanted to see here. They didn't do it this time and it would have been fun for audience to guess who's who. Particularly when Silas Graae was playing keyboards and Bo played them little drums. This lacked the surprise-factor, unfortunately. Enter Introducing Palace Players and the surprisingly calm audience began to scream, at least in the very front. The audience got even louder when Circuitry of the Wolf and Chinaberry Tree was played, and the loudest screams during the first half of the show were heard when it was time for Special followed by The Zookeeper's Boy. After White Lips Kissed they left the stage for almost 90 seconds and Uda Pruda was played. Without any introduction Repeaterbeater made its Finnish live show premiere and just as Mew have expected, it sure makes people dance.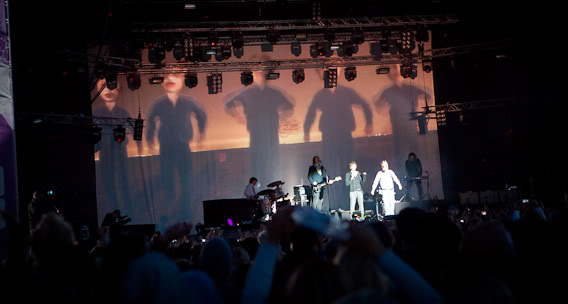 Mew didn't talk much in between songs, but the next song was presented as a new track. Sometimes Life Isn't Easy is the first new song that has complete visuals. Did I say complete? Maybe not entirely since the last minute of the song is played live without the solo of Mari Helgerlikova. Maybe her face will be shown later – just like J Mascis and Becky Jarret have been. During this song Bo danced with a mask on his face and at the same time there were masked dancers on screen as well (see picture above). The animation also included a long shot of a group of children with serious faces that know it "isn't easy sometimes" (see below). This may have been made by director Martin de Thurah who has often worked with children in the past. Jonas Bjerre is not completely in charge with the animations anymore.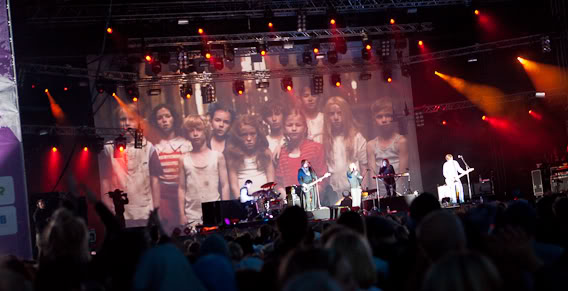 The always popular Frengers-songs played next. Am I Wry? No, 156 and Snow Brigade make sure that the audience had enough material to keep themselves warm during the cold night. After a little break, Mew returned for encores and – as it is almost every time – Comforting Sounds was the finale at Ruisrock 2009 as well. Three years ago Mew had some technical difficulties at this festival, but now all that was forgotten. The sound was amazing for an outdoor gig and you could really hear Jonas' voice which was in top shape. Looking around during the last song, you could tell people were more or less in a trance. I'd be very surprised if the upcoming album didn't go #1 in Finland in its opening week.
*****
New Terrain / Introducing Palace Players / Circuitry of the Wolf / Chinaberry Tree / Special / The Zookeeper's Boy / White Lips Kissed / Uda Pruda / Repeaterbeater / Sometimes Life Isn't Easy / Am I Wry? No / 156 / Snow Brigade / Apocalypso / Saviours of Jazz Ballet / Small Ambulance / Comforting Sounds
Tero Heikkinen
Pictures taken by our very own Mew-photographer Pete Heikkilä – and if you want to use any of these publicly, please do so, but also give credit to our site and the aforementioned photographer.