Seinäjoki, Finland (June 14th, 2013)
It's been three years since Mew have played in Finland and that happened in June 2010 on the main stage of Provinssirock and that daylight show with partly bad sound was not very good, to be honest. This time they performed in this massive 10,000 capacity (YleX) tent where they also had their 2005 show and which was a big turn for the band's success in Finland. One could say that they became BIG after that show. In 2013, the whole festival only saw 14,000 people on its first day Friday, and some major acts (most notably the British indie sensation Bastille attracting similar type of audience) clashed with Mew, so I would guess that maybe just 5,000 people showed up and this is not that impressive for the band in this particular Nordic country. The tent seemed pretty crowded at least – when looking back from the front row.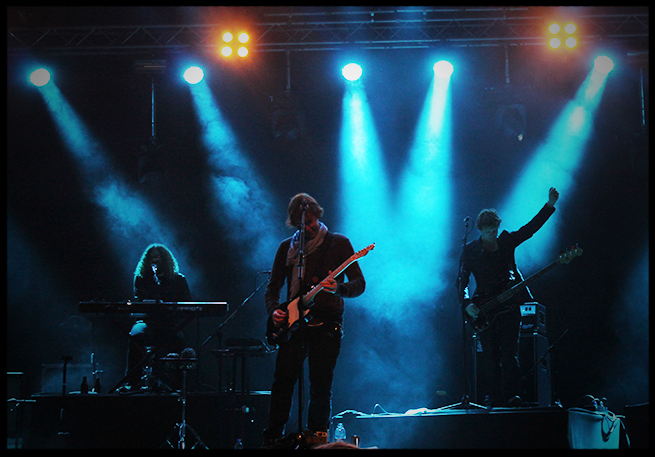 Provinssirock was held for the 35th time in a row, so it sure has a history of great bands playing there, even when the town of Seinäjoki is some four hour drive from the South where capital city Helsinki lies. It had rained quite a bit before the show so festival-goers were not in the warmest of moods, but the first rows showed a lot of dancing still. It was not pushy anywhere, because the tent was not full. The setlist was similar to the one of Hultsfred Festival's just a day earlier. The whole show's running time was only 65 minutes and thus being the shortest Mew show on Finnish soil in a decade. Actually the festival had given them an hour only, but Mew played a little overtime. Something you must be careful with at festivals where schedules must be kept.
As they had done during the two nights prior to this, they opened with Making Friends which – according to the band – looks like to be the final title for the song which still has unfinished lyrics. Klassen is not the final title (as you already knew), but the song is also not ready yet. The band promises it to be even bigger and more epic. More epic than what it already is? Awesome. I witnessed a few crying spectators during the finale of Klassen. It's gonna work so well. Making Friends just two nights earlier was something that needed time to really grow on you, and now I can't get it out of my head. Usually the best Mew songs are the ones that require tens and tens of listenings before they really open up. Those are the ones with actual staying power.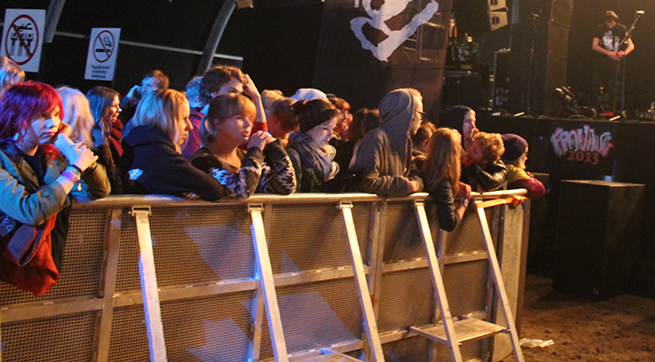 In between Making Friends, Jonas Bjerre once again said "welcome to our show" and this is what they want to do on this mini-tour. A show relying on their old hits and doing it – apart from flashing lights – without any visual animations. It's their stripped "farewell" to the old Mew. They even – very commonly – finished with Comforting Sounds. That's something I don't expect to happen often once the new album comes out. Bo Madsen jumped on the massive loudspeakers locate close to the stage and the audience, and people loved it. Now… I think the band is about to renew themselves in an unexpected way. At Provinssirock they also had very limited stage time, so no speeches were made in between songs. Just hits after hits – spiced up with a couple of new tracks. Also, there was no time to let people wait for the encores. There was no gap, so let's call this show "encoreless".
The sound was very good overall even when the band had technical problems with their own gear and had to use rented equipments that didn't quite work either. New Terrain apparently didn't have the bass they wanted, but no-one noticed.
I think


I thought


Maybe you could change me


I know


You and I


And in between


The shades on your screen




They come and go


Sometimes they never show

Above are the actual lyrics for Medley's bit of an unknown song. Little chat with the band revealed that the upcoming album will probably be a little difficult for many, but that it will also contain the "easy" pop songs in the style of Special and Beach. And when is the album coming out? November, the EARLIEST, but the release date may very well jump into Spring 2014. Who knows? Now they have no deadlines as they had with the previous three studio albums. So, let them have all the time in the world. Do not expect a proper Nordic tour for 2013 either. That will happen after the album is out. Producer Michael Beinhorn is returning to Copenhagen studio soon-ish, as Mew have recorded a little over half of the songs at this point. No serious mixing has been done to any of them yet.
I will leave you with a thought: do you think our beloved Bamse the Bear is dead and buried? Finland's national animal is a bear and they are protected. Still, we couldn't find him.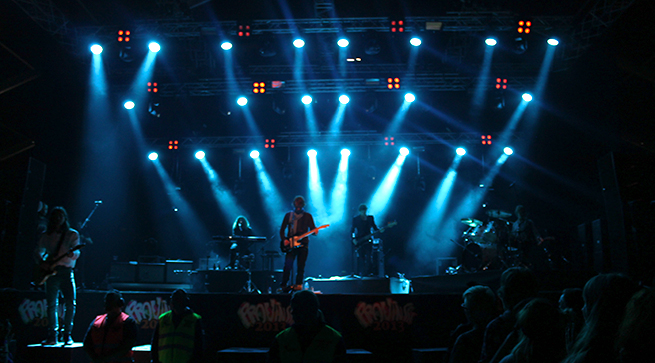 Text: Tero Heikkinen
Photos: Dabo De Lira

Provinssirock setlist:
Making Friends / Special / The Zookeeper's Boy / Snow Brigade / Apocalypso / Saviours of Jazz Ballet / Medley (of Koor, The Zookeeper's Boy and The Seething Rain Weeps For You) / Klassen / Am I Wry? No / 156 / Circuitry of the Wolf / Chinaberry Tree / New Terrain (new version) / Comforting Sounds
PS: People with Finnish language skills, read this recent interview with Jonas.