Lee's Palace, Toronto, ON, Canada (October 6, 2015)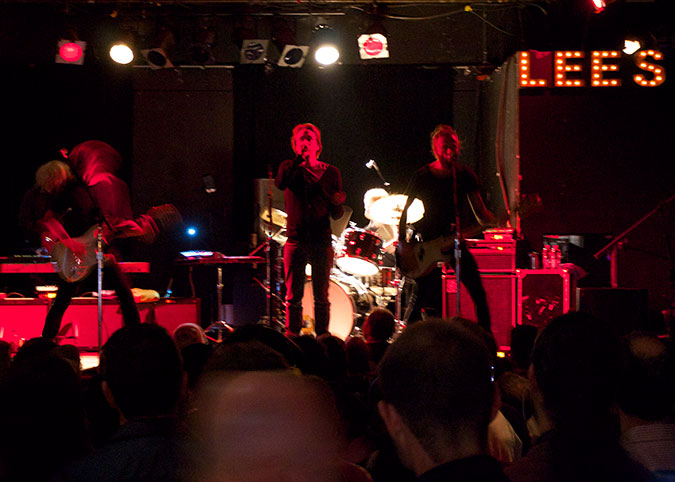 I'm not your average "fan", being a musician and working at a high level specifying and selling audio equipment for touring and live venues for the past 17 years throughout all of North America. So forgive me if I focus a little on the production value of the Lee's Palace gig.
I have seen Mew 2 other times in Toronto, both at a venue called the Mod Club. Lee's is a very challenging room sonically, and it maintained that reputation for Mew.
The highlights of a Mew show have always been Jonas Bjerre's soaring vocals, the bands' intense dynamic range and the very original supporting visuals. Jonas and the band were at their very best, but buried vocals, no visuals and a limited lighting palette left me disappointed, mostly for the band.
The Dodos provided an energetic set as the show's opening act. Uniquely presented as a two-man band weaving suggestive polyrhythms between guitar and drums. They were perfectly original for a somewhat quirky, indie university crowd whom attended the show. Meric had a couple of comical moments trying to get his "looper" pedal to repeat riffs he input in real time. All in all, a fun, original act.
In anticipation of seeing Mew, I wondered how the contribution of the new guitarist Mads Wegner would contribute to the angular, jagged character of Mew's previous guitar arrangements. His sound and interplay on stage with Johan Wohlert was top notch.
Mew delivered a well-thought-out set list with dynamics, great energy and artistic tinge. Johan (on bass), was solid and driving and seemed to be the energy cell and P.R. ambassador all in one. Nick Watts, (on keys), humbly delivered the juicy orchestration and padding for the songs, and even jumped out in front to contribute rhythm guitar on She Spider. Silas Graae, as usual, was all business on drums and provided the energy. Jonas was soaring at times in his alto choir-boy best. I was most impressed that he even went for the very upper limit in Comforting Sounds, considering the grind of the tour they are on.
It was 6 years since Mew played in Toronto, and i can't wait to see them live again. Their sonic assault seems to have been difficult to capture in the studio, but remain an amazing band to see live.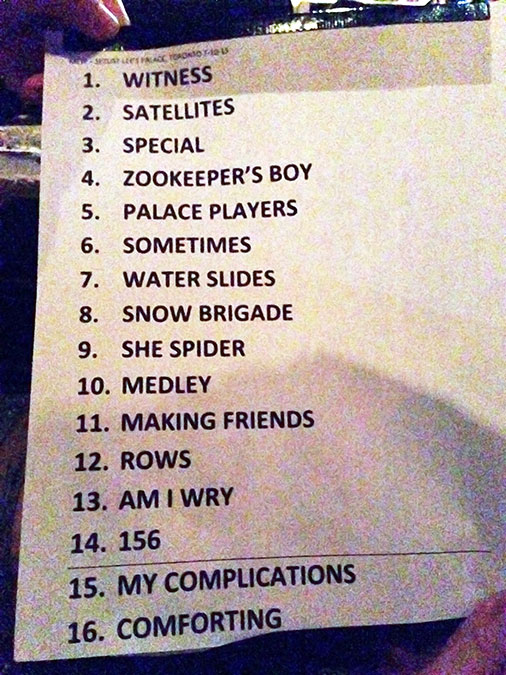 Text & Photos: Derek Black
Setlist: Lee's Palace
Witness / Satellites / Special / The Zookeeper's Boy / Introducing Palace Players / Sometimes Life Isn't Easy / Water Slides / Snow Brigade / She Spider / Medley / Making Friends / Rows / Am I Wry? No / 156 — My Complications / Comforting Sounds