KEXP 90.3 FM, Seattle, WA, USA (August 17, 2017)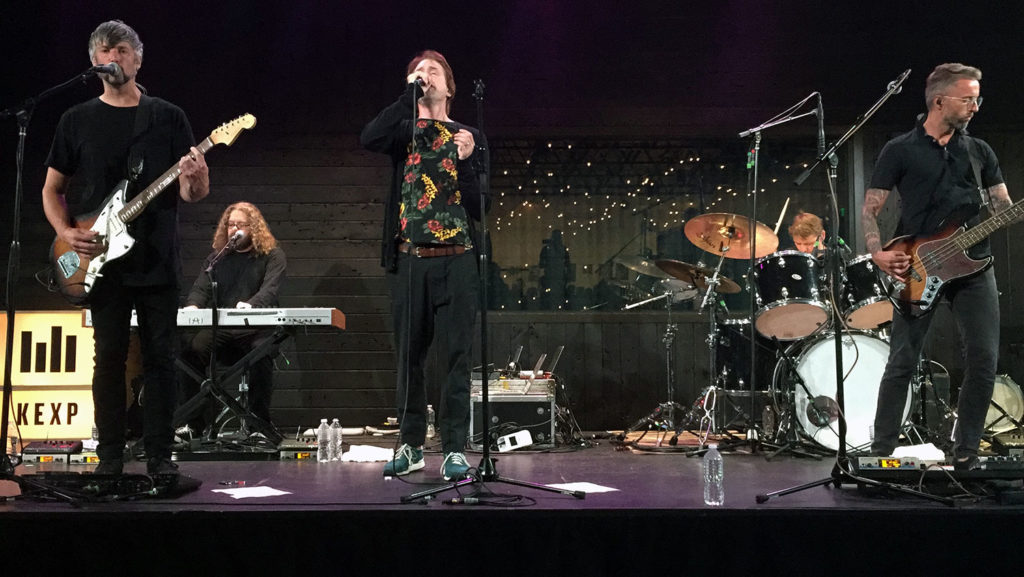 Whenever Mew visits Seattle, it tends to be quite an occasion. Not just for me, personally, since it is my base of operations, but because the city always welcomes them with open arms. They are beloved here, revered even. A great deal of that love is centered on our local independent radio station, KEXP 90.3 FM, who has championed their work for years. It's where I first heard The Zookeeper's Boy back on that fateful day in 2007 that set my life on a course I could have never anticipated.
Two years ago, ahead of their visit to Seattle I had the fortune to do a guest DJ spot on the air, playing nothing but Mew rarities for an hour. The following week they did an in-studio which I got to watch from the booth. Both these things were life-changing experiences, so surely nothing could top that, right? Wrong!
This time around, Mew was invited to do a VIP Club concert in KEXP's Gathering Space within their brand new facility in the Seattle Center, near the Space Needle. The exterior of the building is adorned with engraved tiles purchased by devoted listeners supporting the move to the New Home (mine tastefully says "Tak for Mew!") These VIP shows are invite-only events, attendance offered only to a small number of those who have donated a significant amount of money to the radio station. For the stars to align for me to receive this invitation was a miracle in and of itself, but I'm sure my determination would have allowed me an alternate way inside regardless. We arrived early enough to see the band members milling about inside. I waved to a few people I knew in the building and waited patiently for the doors to open.
Because of the exclusivity of the event, there were not many people present, and I was able to get a spot on the couch right up front. I sat near some of my concert buddies who are just as enthusiastic as I about music, and bought a KEXP beer to calm my nerves (yes, KEXP produces a delicious signature IPA; this is Seattle, after all!) My friend DJ Shannon MC'ed the show and introduced the band. I was surprised to see all the band members on stage, as I had expected it to be one of the more relaxed acoustic sessions we have often seen with Jonas Bjerre and Johan Wohlert playing stripped down versions of the songs. This was the real deal! It was the first time I'd seen some of the new material played live, and it was quite thrilling to be so close. They played a solid set, about 45 minutes' worth, then retired to the Green Room in back or headed off to dinner. Many people milled about after the performance, enjoying some drinks and chatting. If you're ever in Seattle, I highly recommend checking out this space if you have the time. It's a huge open space with a full coffee shop, a pop-up record shop, and of course full view of the DJ booth while they are on air. It's a music lover's paradise!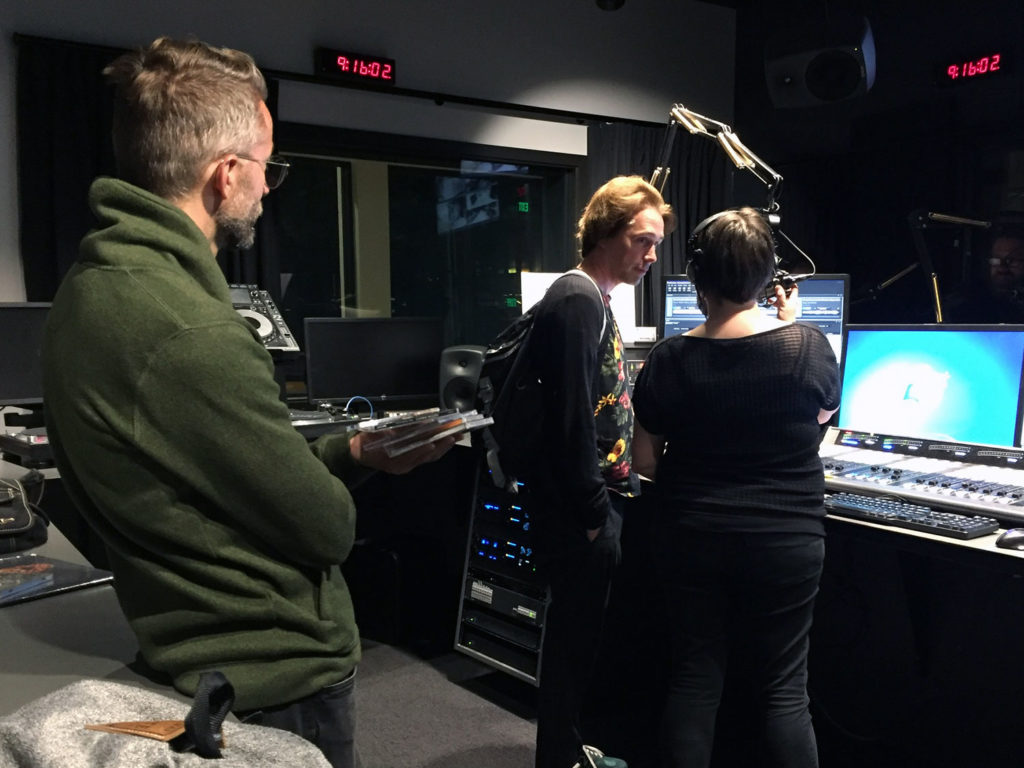 Once the show was over, I waited patiently for Shannon to get things set up for her show that evening. When she was ready, I hugged my friends goodbye and followed her into the back, where I'd be an assistant to her for the evening. It was my task to help the Mew guys choose music for their guest DJ spots and make sure they had everything they needed. Armed with liquid courage, I set aside my introversion and did my best to be a good host to my favorite band.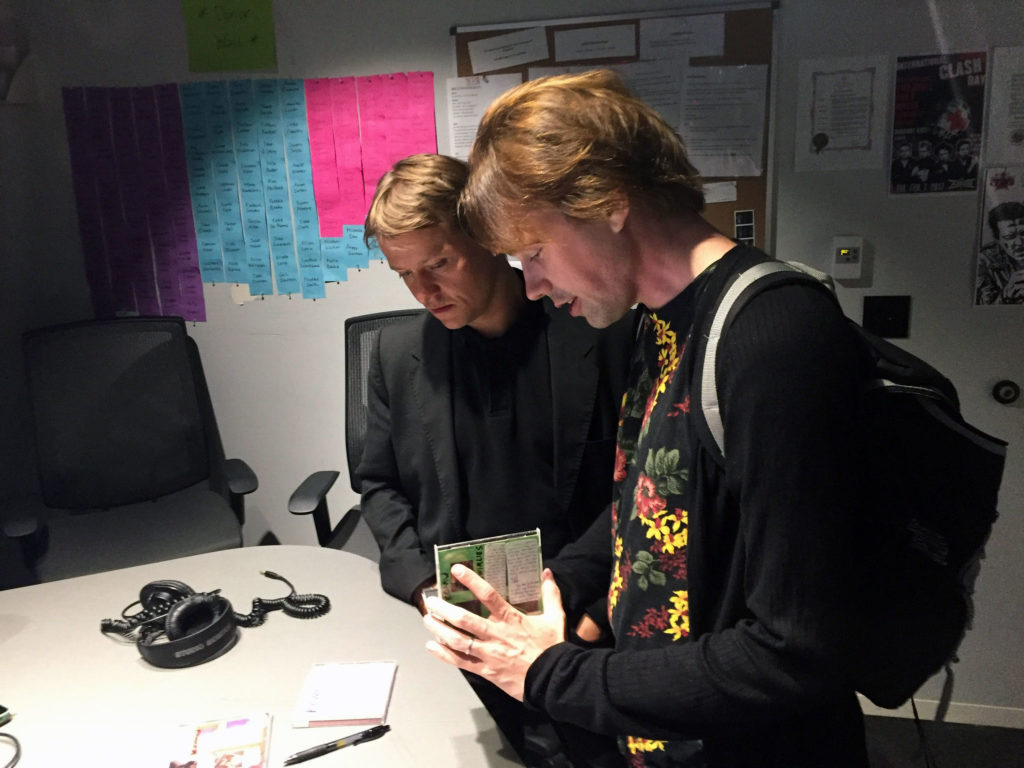 The radio show went fantastic. I confess I missed a large portion of it simply because I was too wrapped up in chatting with Jonas, but fortunately I was able to listen to it later on after all the craziness had subsided, and I can confirm they all made some excellent song choices. Jonas answered some fan questions from the Frengers Facebook group, and then we all retired to the Green Room where we chatted for another hour or so before parting ways for the night. Naturally I did not sleep too well after that amazing experience, but I had to do my best to get as much sleep as possible, because this adventure was only just beginning!
Seattle, WA, USA (August 19, 2017)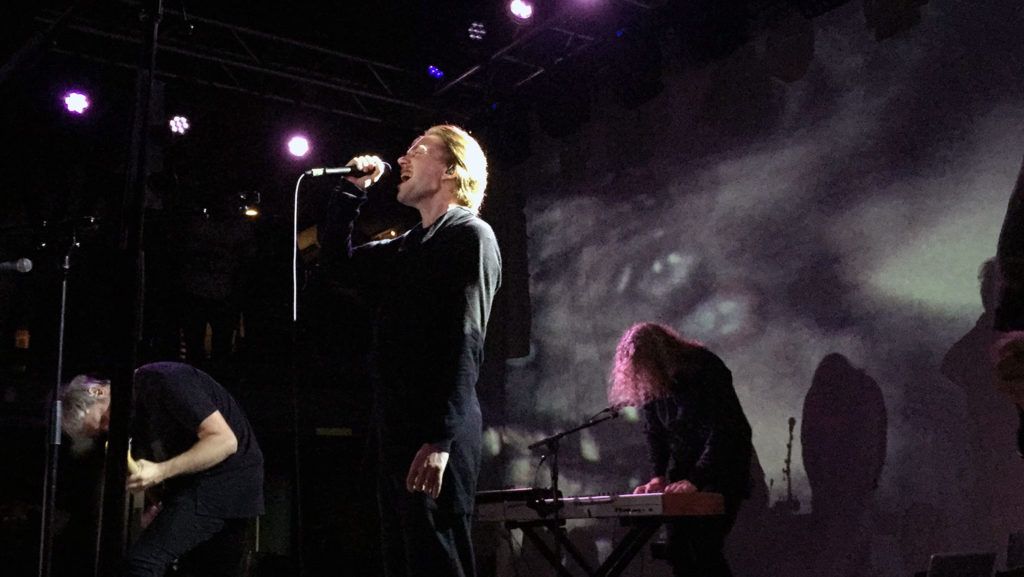 Saturday night, an enormous cadre of my friends gathered in Seattle's Capitol Hill neighborhood for a pre-show dinner before we headed over to the newly-remodeled venue Neumos. This has been my home away from home for years, and the same place I'd seen Mew play the previous two times they'd been through here since I'd become a fan. I had grown to love the divey atmosphere: some of the bathroom stalls didn't lock, there was graffiti everywhere, and it seemed really "lived in" as so many older venues do. But the renovation has removed all those "charming" elements and replaced them with much nicer things, the best upgrade being air conditioning!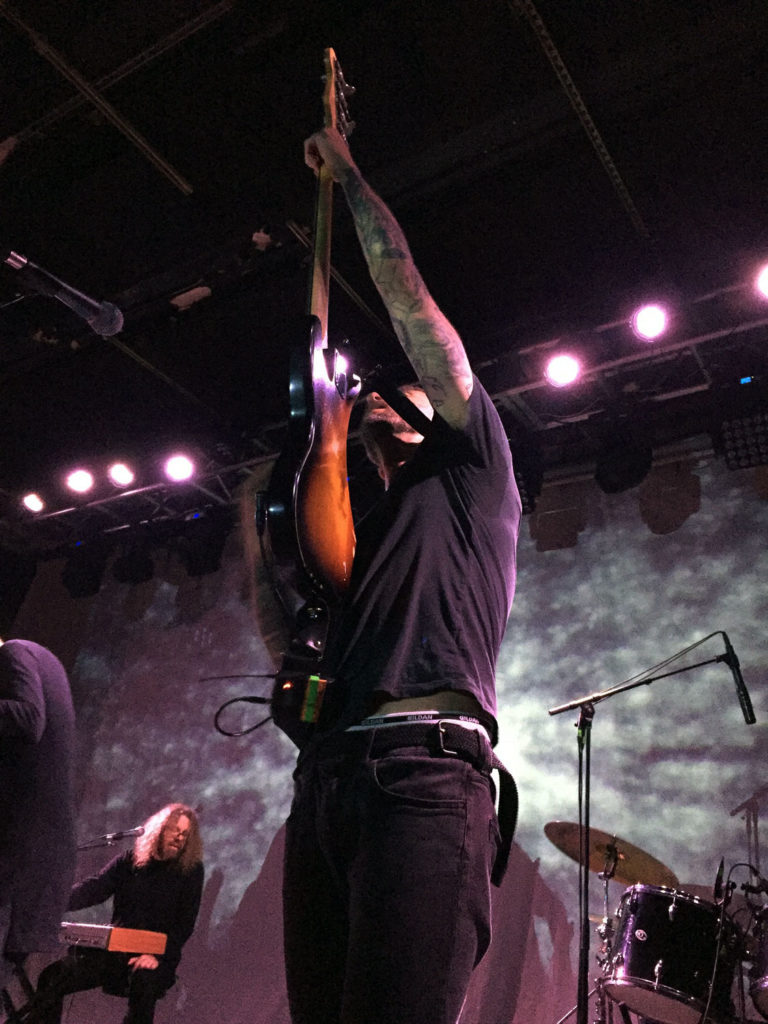 I stood at stage left in front of Johan, surrounded by handfuls of my best friends in the world, old Frenger acquaintances, and lovely people I'd just met! Jonas gave KEXP a shoutout and proclaimed that Seattle was their favorite show of the tour. They all seemed to be having a grand old time on stage. Johan repeated Jonas's proclamation and it really seemed like it was an honor for them to be performing there for us. The setlist was a solid mix of new and old, just the right amount of energy. The show ended with a shower of bubbles falling from the ceiling. Calling it anything but magical would be a disservice to the experience!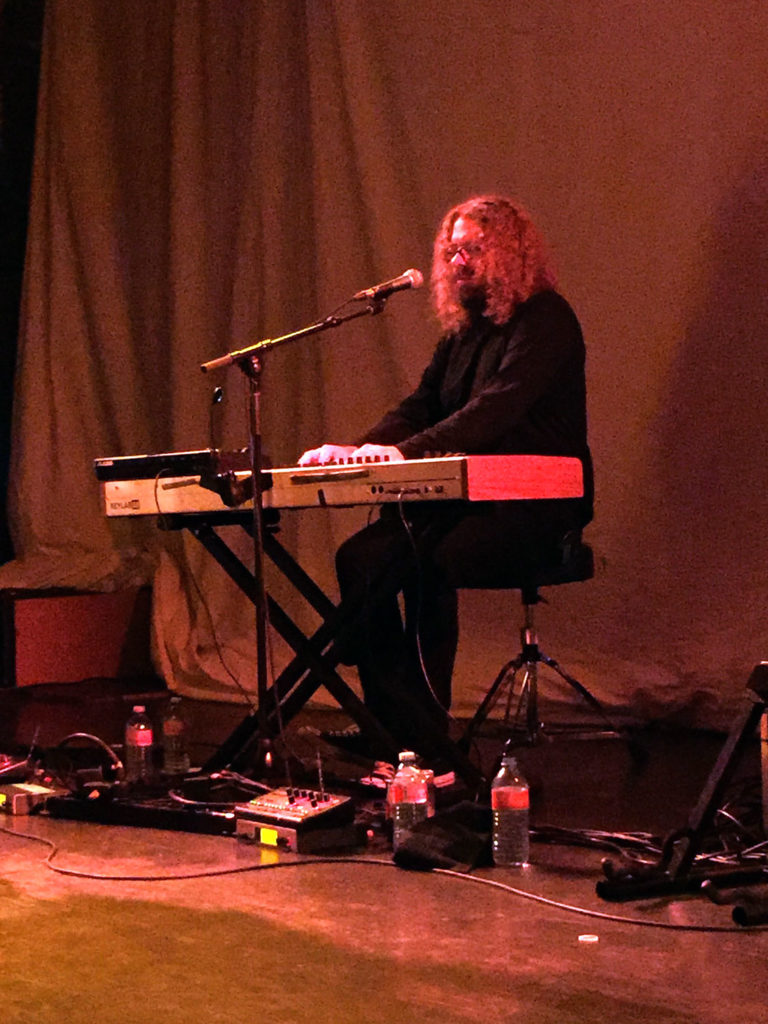 Afterwards, my friends and I went outside to hang out and chat, and to my surprise the Mew guys exited as well, and started greeting the fans. Jonas and Nick Watts signed my friend's 12-year-old son's t-shirt, and he was beside himself with glee. I took a really dumb photo with Nick as has become tradition, and parted ways with my friends. Shannon and I went backstage with Mew and spent the next few hours with them, drinking crappy beer, telling tales of travels through Europe, and proving to them that I understand enough Danish to be dangerous to be around. (No more using that code language to tell each other secrets!) I got to hug everyone (yes, including the elusive Silas Graae!) and have so many laughs with Mads Wegner and Nick. Both of those guys are absolutely hilarious to be around. We stayed until after bar-close time, far longer than I should have been out given I needed to drive to Portland the next day, but it was totally worth every moment of it. I can sleep when I'm dead.
Portland, OR, USA (August 20, 2017)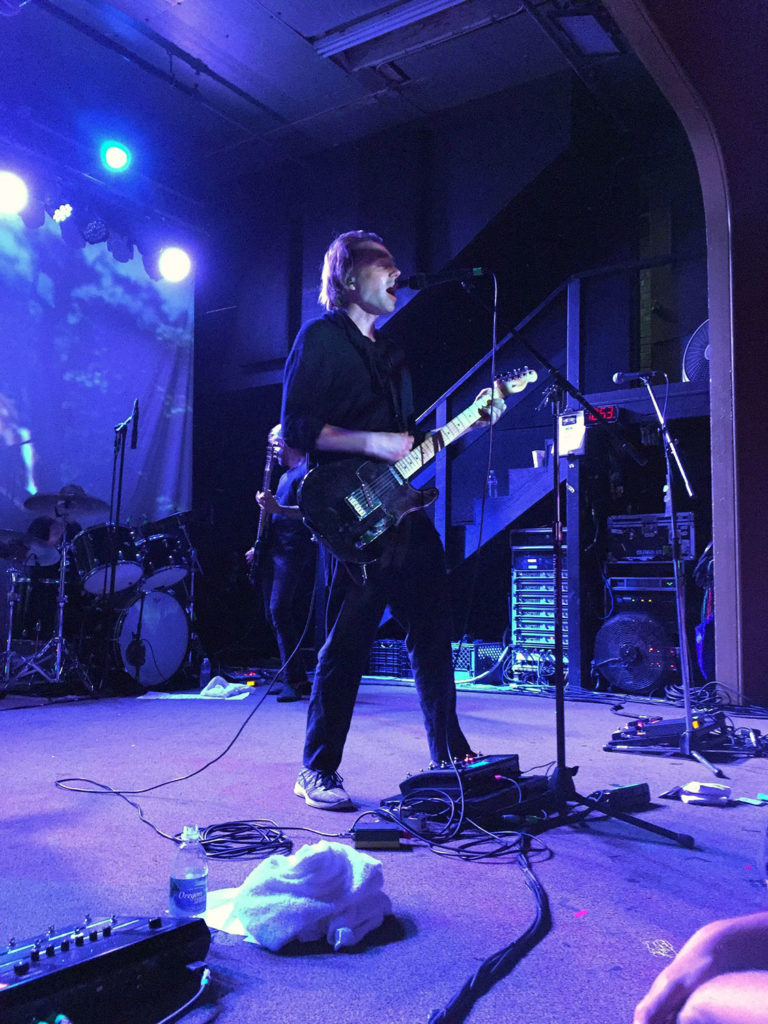 I was uncertain about when to leave for Portland later that day, given that central Oregon was in the path of totality for the solar eclipse that was happening the following day. I'd been warned that millions of people would be making the pilgrimage and that traffic would be horrific. On a good day it takes around 3 hours, on a bad day, over 5. It wasn't fantastic, but at least it wasn't the horror show I was expecting. My friends and I stopped and had some beers and dinner from one of the many Portland food trucks before the show and met up with a Frenger who is a fellow Washingtonian making the journey south. This time we secured a spot at stage right, in front of Mads.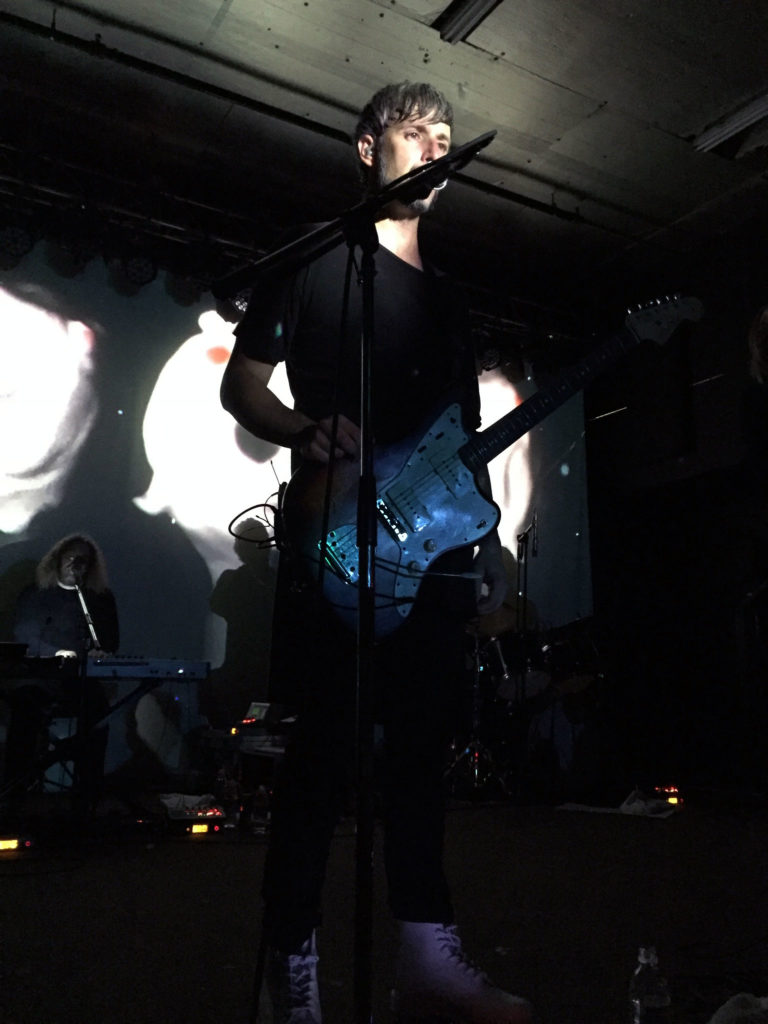 The Hawthorne Theater is inside a very old historic building, which appeared to be about half the capacity of the venue in Seattle. The placement of the speakers at the front seemed like a poor choice, as they were not above the crowd, but set at eye level. Unfortunately for me, it was right in front of my face. The sound vibrations were so powerful my teeth rattled in my head, and my clothes flapped in the sonic breeze. Thank goodness for earplugs!
The best part of the Portland show was during Twist Quest when a Frenger at the front handed Jonas a handmade masked bird toy that resembled the figures from the music video. Jonas held it while he sang, tried (and failed) multiple times to attach it to the microphone stand, and looked down at it with adoration. My heart melted a little at that moment. Given his reaction to the gift, I can tell it was well appreciated. At the end of the show, the guys came around and shook hands with people in the audience. When Jonas neared me, a very excited girl and her equally excited friend nearly pushed me over as she jumped and screamed for him, so I figured I'd better back away. I don't know if he even saw me under the pile of screaming girls, but that's okay.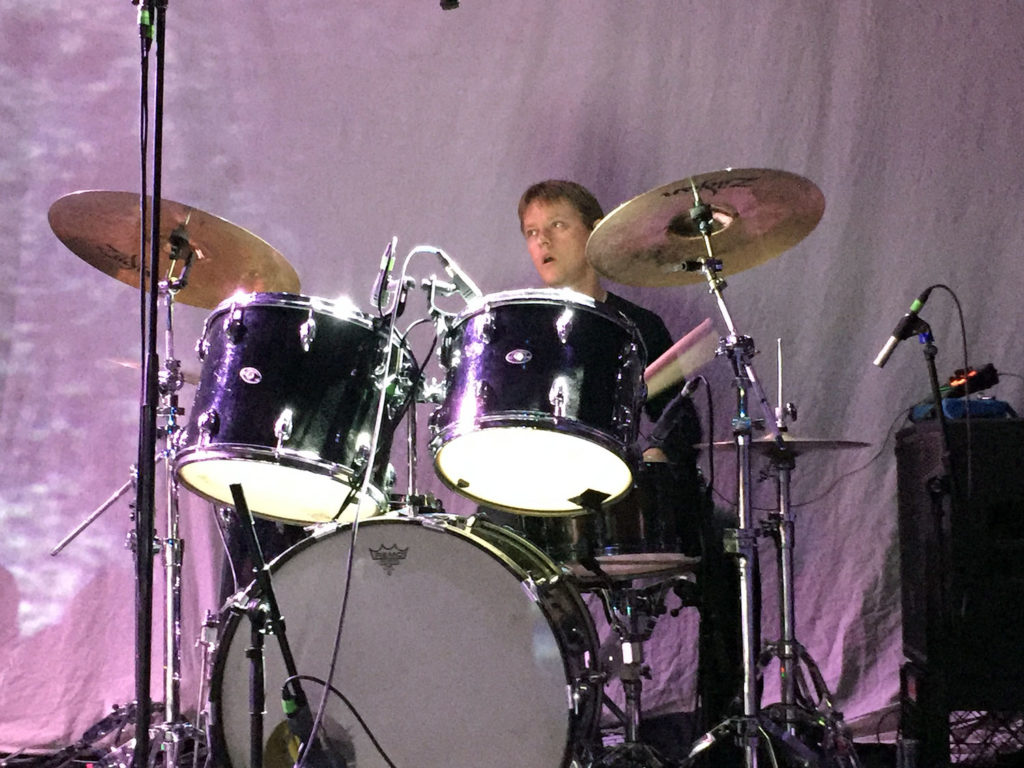 I saw Johan outside the venue after the show. He squeezed my shoulder and said hi. Some other Frengers took photos with him and exclaimed loudly about how lucky they were to have such an opportunity to be in the presence of greatness. I smiled to myself and remembered feeling just that way the first time I was even in the same room with these guys. Meeting them truly is a life-altering experience.
By this point, my tank was completely empty. I had begun the day on 3 hours' sleep and I was relying completely on adrenaline to keep me awake. I had agreed to drive back to Seattle but it was looking like I would be the world's worst choice for a safe driver, so my friend who had driven down graciously agreed to drive us back home. Even after an emergency pit stop for coffee and pie in Olympia, there was no salvaging me as a potential driver so I did my damnedest to stay awake and chat with my saint of a friend who was chauffeuring us home.
That night I slept like a rock, but I had to get up early and pack for my flight to San Francisco which left that afternoon. I felt like a zombie, and remembered the last time I'd felt that level of tiredness: when I'd followed them around on the Nordic tour in 2014. The Anny flying to San Francisco was a close cousin to the Anny who flopped into a hostel bed in Gothenburg, Sweden after pushing herself way beyond her limits.
San Francisco, CA (August 22, 2017)
A dear friend who moved to San Francisco last year picked me up from the airport and brought me back to the brand new house he'd just purchased with his wife. We all sat up chatting until the wee hours of the morning, until I was drunk on both beer and sleeplessness. It's these moments I cherish most when traveling to see Mew: meeting up with friends new and old and having those types of late-night conversations that transcend space and time. Mew has simply become a convenient excuse to see the people I love. I had planned to do a bunch of work while in San Francisco, but I was just too wiped out to do anything but rest. I wondered to myself how on earth musicians have the stamina to do this all the time. I was a complete wreck of a human only after a few days.
The next evening, after I'd had a super long and restful sleep and a late-afternoon nap, my friend and I headed to The Fillmore. As a contrast to the Hawthorne in Portland, The Fillmore is easily twice the size of Neumos, maybe even bigger. The room is absolutely beautiful, with multiple chandeliers hanging from the ceiling and an upstairs room overlooking the left side of the stage containing the famous Fillmore posters which are often handed out after a performance. As we had arrived a little late, we hung out near the back of the room and danced our hearts out. It was rather nice being able to see the entire stage at once, so I could take in the full animations for the first time (I miss so much of the overall picture when I'm standing directly in front of the stage, so I appreciated this change in perspective.) They showed an animation for Candy Pieces All Smeared Out which had not been previously shown in either Seattle or Portland, so that was a special treat for me. I know that several people there were expecting to see me in the audience, but it was kind of fun hanging in the back in incognito mode, so I could appreciate the performance as a fan, rather than someone who might have gotten herself a bit too involved in things.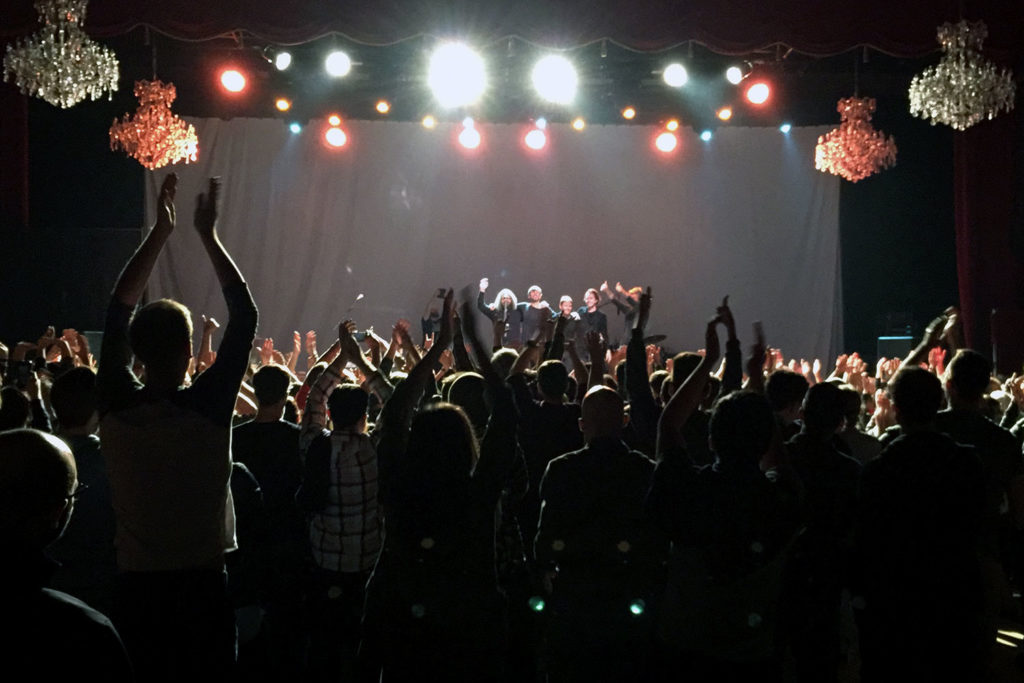 I could see in my friend's reaction that he was having an absolute blast, and that only fed my happiness over being there with him. We've been close for more than 15 years, and I hadn't seen him in over a year, so being able to share this with him was incredibly special for me. Especially because he works really hard, long hours, and it's hard to get him away for long enough for him to enjoy life outside work. I made sure he had a wonderful evening that he will remember for years to come! We left immediately afterwards instead of hanging around to greet the band (due to utter exhaustion), and were sad to see that there were no posters being handed out at the door. At least I still have my poster from the last time Mew played the Fillmore (thank you Jonas!)
Another night of the sleep of the dead, and I was back on a plane home to Seattle. As I was in my Lyft to the airport, I looked around at the Northern California landscape and wondered what I was even doing. Not so much as a critique of my life's decisions, but more a commentary on the surreal quality my life had taken on. It's a strange feeling when I realize it's been literally years since I'd taken a domestic flight because I've been using all my available vacation days traveling to and from Europe multiple times a year for the last few years to follow these guys around. I told Jonas it was even a bit strange that I'd recently visited Denmark to be a tourist, not to attend a gig! It's all just become such an essential part of the rhythm of my life. And I hope that doesn't change any time soon.
Text and Photos: Ann Lancaster
Photo Gallery
Setlist: KEXP 90.3 FM (Seattle, WA, USA)
In a Better Place / 85 Videos / The Wake of Your Life / Start / Twist Quest / Snow Brigade / Carry Me To Safety
Setlist: Neumos (Seattle, WA, USA), Hawthorne Theater (Portland, OR, USA), and The Fillmore (San Francisco, CA, USA)
In a Better Place / Special / The Zookeeper's Boy / Satellites / Candy Pieces All Smeared Out / Introducing Palace Players / Snow Brigade / Start / Twist Quest / Water Slides / Apocalypso / Saviours of Jazz Ballet / Carry Me to Safety — Nothingness and No Regrets / Am I Wry? No / 156 / Comforting Sounds