This series has taken too long… we've been busy. Here are Jonas Bjerre's favourite movies in horror and thriller genres.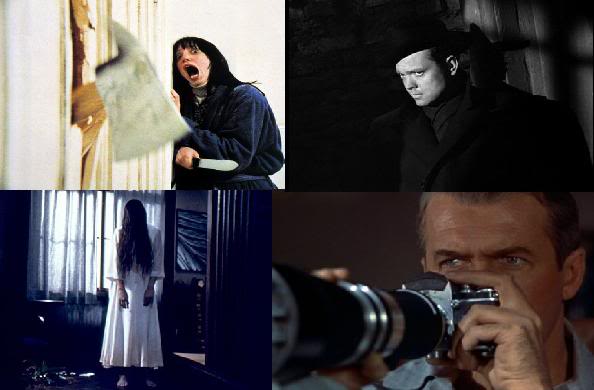 "Heeere's Johnny!"
The Shining (Stanley Kubrick, 1980)
Based on Stephen King's novel, The Shining contains some of the best shots ever created to a horror film. What else can you expect from a perfectionist like Stanley Kubrick? The camera takes you on a terrifying tour at the Overlook Hotel. There's something fishy about the wintry location, but do you think the caretaker Jack Torrance (Jack Nicholson) loses his mind a bit too fast? The American version of the film runs over 20 minutes longer, but adds very little to the story. Somehow author King didn't like this movie at all. He later adapted his book into a terrible miniseries which you should avoid.
The Third Man (Carol Reed, 1949)
An American novelist (Joseph Cotten) arrives in post-WWII Vienna only to find that the friend (Orson Welles) who was waiting for him has been killed in a peculiar traffic accident. The novelist is determined to solve the mystery behind his friend's sudden death when hearing about his involvement in the black market. Some of the stories are just too inconsistent. This British film noir classic deservedly won Oscar for its Cinematography.
Major motion picture in the current wave of Asian horror. Ringu may or may not be scarier than the American remake which is still surprisingly well-made. The cheaper production costs make it more interesting at least, and Japanese girls arguably look scary. And they know it. Director Hideo Nakata has since contributed the series with Ringu 2 and its American remake… plus The Ring Three has been announced for 2011 release with Nakata once again behind the camera.
Rear Window (Alfred Hitchcock, 1954)
Trying to name just one Alfred Hitchcock thriller above the rest is no easy task. Rear Window is one his absolute best and has been copied multiple times since (more visibly in the recent Disturbia). A photographer (James Stewart) has been confined to his small apartment in a wheelchair with a broken leg. He "spies" on his neighbours from his window to kill time and is fully aware of the dramas in the neighbourhood. When the invalid wife of a salesman suddenly vanishes, our lead character believes the man might have killed her. How close to the suspect is he and his girlfriend (Grace Kelly) willing to go?