A few weeks ago we asked Jonas Bjerre to name some of his favourite movies of all time from various genres. The list was quite numerous, so we're gonna post these titles in SEVEN parts starting with drama (comedy is up next). Click on the titles to get more details from IMDb…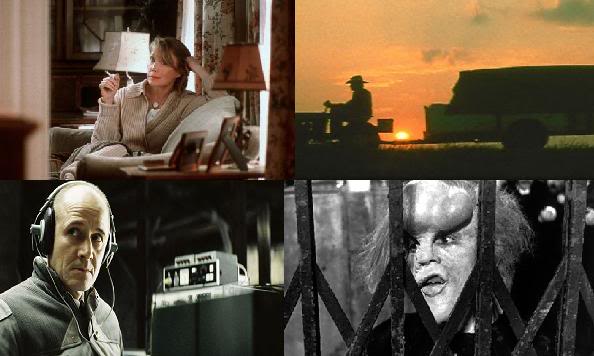 "I am not an elephant! I am not an animal! I am a human being! I am a man!"
In the Bedroom (Todd Field, 2001)
Looking for a strong drama with great performances? Todd Field's In the Bedroom has it all. From the total of five Academy Award nominations, three of them went for actors alone. Sissy Spacek, Tom Wilkinson and Marisa Tomei were all nominated and the film itself was competing in the Best Picture -category. The Fowlers are living an American dream. The parents have respectable jobs and their son has just returned home from his first year in college. The son is in love with an older woman and that relationship soon leads to an unthinkable tragedy. A subtle (and realistic) drama about human emotions such as grief and forgiveness.
The Straight Story (David Lynch, 1999)
Director David Lynch is known for creating mysterious worlds where nothing is what it seems. They may also be quite hard to understand and many different "truths" may appear, depending on the viewer. Based on real life events, The Straight Story has a double meaning in a title. It refers to the main character's last name and to the fact that this movie is set in quite an ordinary world (for its director). Wrong. It's not ordinary at all. The film's lead character is over 70 years old and the plot is as simple as they come. In a way, this is also a world we are not used to seeing in movies. Richard Farnsworth's Oscar-nominated performance carries the whole film and his character's daughter is played by Sissy Spacek.
Das Leben der Anderen (Florian Henckel von Donnersmarck, 2006)
One can only think of what it was like living in the former East Germany where the Socialist secret police listened to your phone calls. The late Ulrich Mühe (in a stunning performance) plays an agent who's conducting surveillance on a writer and his lover and finds himself increasingly absorbed by their lives. One of the best German films of the last decade won an Oscar for Best Foreign Language Film. It's exciting from start to finish, and was made considerably cheap (for approximately 1,5 million euros). English title: The Lives of Others.
The Elephant Man (David Lynch, 1980)
Another David Lynch feature from Jonas' selection. This is probably the most ordinary one, and not the one mentioned before. Shot beautifully in black and white, it tells the true story of John Merrick, a 19th century Englishman who suffered from a rare disease that disfigured his body. A humane doctor (played by Anthony Hopkins) helps Merrick to regain the dignity he had lost after years spent as a circus freak. Oscar-nominated John Hurt portraits one of the most touching characters ever on screen. The ending is as sad as any scene can get, you need to develop a heart if it does nothing to you. Nominated for a total of eight Academy Awards (including Best Picture and Director), but it won nothing… unfortunately.