Mew posted the following picture last night. Let's talk more about the fox orchestra opening with Jonas Bjerre…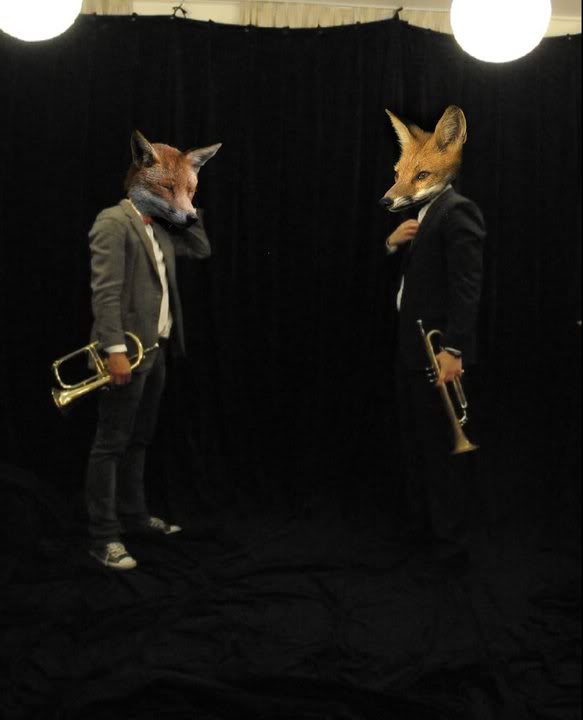 "It was initially Bo's (Madsen) idea, and I filmed the sequence and did the compositing (the fox heads). Bo Rande was involved as well. On the still I posted, he is the fox on the right, and Bo (our Bo) is the one on the left."
If you were wondering about Bo Rande…? He's a long-time collaborator with Mew, best known from the Danish electro pop band Blue Foundation, and Jonas posted pictures of him from the soundtrack recording session of the upcoming movie Skyskraber. And… despite all the effort, it is very unlikely that we'll get to see this fox orchestra animation performed live ever again. It was supposed to be a one-off (or three-off, to be exact).
"We only had access to the opera house that one day. But I think we managed to put together something quite special for the opera shows."
As been mentioned before, the majestic orchestrated piece during the animation consisted mainly of The Zookeeper's Boy and Am I Wry? No, but it has also been speculated that a small part of it could have been from Beach. Well?
"That's true, there's also a bit of Behind the Drapes in there, which made me glad because we hardly ever play that song live these days. The piece was put together and arranged by composer Jeppe Just. We asked him to do an overture of several Mew songs."
Now, something off-topic… Will we ever get to hear the alternative version of Sometimes Life Isn't Easy, heard on the ninth video diary -episode?
"Oh man, I've been trying to put a version together using demo recordings, but it's difficult as they're all recordings of separate parts of the song, never a whole run-through of everything… But I am trying!"
And finally a little something for the devoted fans living in Australia and New Zealand. Mew are really trying to get shows to down under someday…
"I know, it really burns me how close we were to Australia last week in Surabaya… So incredibly hard to make all the pieces fit together in this world. Hopefully soon."
Tero Heikkinen