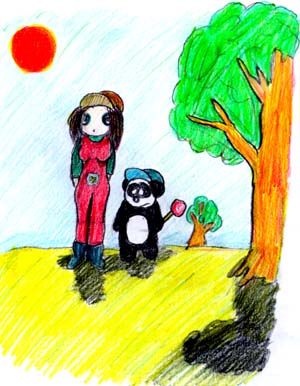 nce upon a time, Mew and her friend panda went to see the large oval fair that was supposed to be held each year in January. To their horror and sadness there was no fair at the fairground, only large fields of grass and wheat. "So?" said panda, who at that time did not have any reason for talking. They usually just stand there talking in this story, but this time it's a story about feelings and feeling just those. "We must have come here too early" she said in a calm voice, although her head was filled with rage and anger and grief. Most likely they will put up another fair somewhere else in the world, like the one that is not here. Accordingly, Mew took pandas hand and dragged him through the grass, as if he had behaved badly (which he had). "You must not eat so many lollipops", she concluded. Panda friend did not feel remorse but something worse yet is about to happen to him. Mew listened to the grass, and the sounds of the bugs playing there. Loud frantic noises. "I remember being on a train in England, and then watching people who were wrapped in their own faces. It was a disturbing thing."

ll of the stuff you said to me has made me worse. I am now too weak to even write you. Also, I have gathered that my name and yours is actually a puzzle: MEW AND HER PANDA ARE GOOD FRIENDS is really: HEAR PIN FAR, DOWN GONE READS ME.
Is this the only reason we are close?
I do so hope that we can remain friends either as good ones or as the concepts of different sorts of friendship. Whenever I think of you - at the cinema at the theatre at the library - you are what I think about (). Leaving it all behind, I see the waving hands form a circle that greets me. Farewell said the hands knowingly of my destination and its merits. Only those who did not stand in the circle were my true friends. They too stood in the circle waving.
---




Den grønne lunge er så fin
den har fået sit eget liv




alene i verden kravler den
på sin bug
---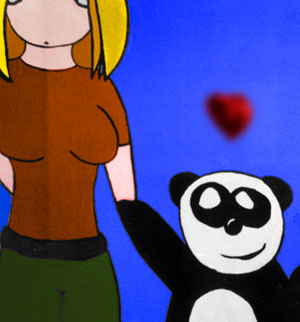 oing something with your life shouldn´t be that hard, should it? At least we have each other, companions we are, but sometimes I think about dying, and it feels like we´re not going to be together at that moment. It's hard to think about. Making something the way it is can sometimes take a lifetime to acomplish (take it from Mew). When I watch a film about human beings, they often seem more disturbing than cultural. Dreams, I like that. I dreamed a sentence in the train: I want to know why she sits there.

orders are not meant to be broken, nor are limits. But they are often displayed is if though they were. Psychologists have no rights. Even now, I am looking at Mew and her friend panda, watching their every move. Believe you me, it takes a long time to calm down. It was nice talking to someone at least. You can send me a letter and tell me about yourself so as to make me write your letter on this very page. My address is alleder@danbbs.dk. Hope you are well and happy. Goodbye for now.
Alleder und Fa.
---
memories
movie
knowledge
links