The big news. This is what you've been waiting for…
After seeing the new web address of Plus Minus last week, some of you cleverly put two and two together and guessed that the upcoming sixth album by Mew will be called Plus Minus, and because the band is Mew, on the album cover the title will not even be in letters but simply + –. Interesting that we've seen the title since 2013 without really getting it. This is the second Mew album produced by Michael Beinhorn, the previous being And the Glass Handed Kites almost a decade ago. Plus Minus will hit the stores on April 27th and at that time it will have been nearly six years from when No More Stories came out in late Summer of 2009. The new album will be released on CD, heavyweight gatefold double 12″ vinyl and limited edition deluxe double CD book which includes the live recordings from last year. Listen to Satellites' radio edit on Mewsite or scroll down. At least in Denmark and Finland the song has already been played on radio today.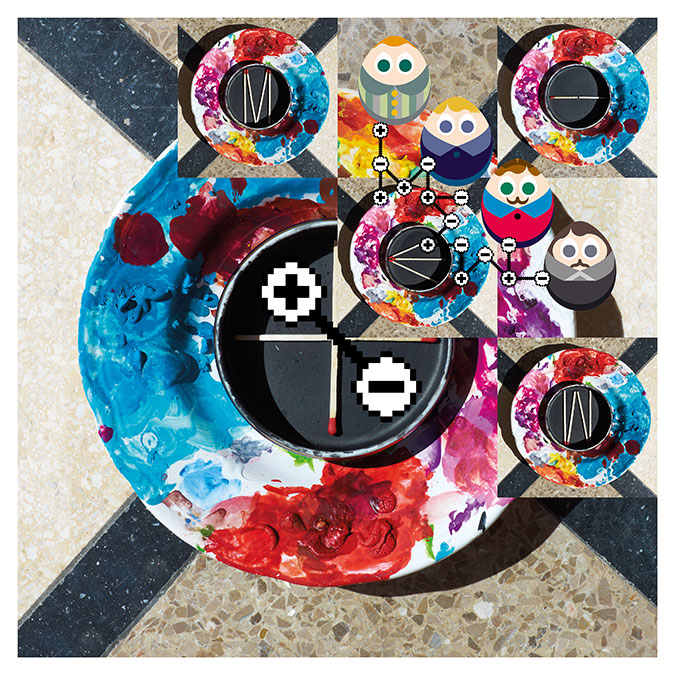 The album cover has a lot going on, and this marks the third collaboration with m/m paris, also known as Mathias Augustyniak and Michael Amzalag. Here's a fresh comment from Jonas Bjerre:
"One thing you can say about m/m (paris)' work is, it's always something you have to glance at more than once, and ponder, which I think fits really well with the Mew universe… I suppose + – represents the far extremes of what we have been doing as a band, because I think this album is the most versatile, all-encompassing album we've done so far, while still maintaining its own style and direction. It will take you a little time to take in the cover, as it has multiple layers of elements bound together by the symbols + and – and the name: Mew. I think its intricacy is Mathias' and Michael's reaction to the music, and their interpretation of the "inner workings" of the band. And I think it's so cool that they, like us, responded so positively to Hyunji Choi's work, the Mew eggs, because I believe she was inspired to make them from the previous cover m/m did, for the No More Stories album, and so it's come full circle. It's a beautiful thing."
Today the band also announced a new European mini tour for this May, visiting such usual suspects as London, Paris, Amsterdam and Berlin. The tour dates are listed on the band's official site… and – it's been a long time coming – but Mewsite is finally back in all its glory. The site has loads of promotional photos, videos etc… Check it out now. Mew will most likely tour North America later this year too, but for this Spring it will only be the previously announced SXSW show. Note that the date in Belgium is for a festival and therefore it's not part of the Mew tour that is connected with the pre-order (for which we'll have proper information later this week).
Plus Minus will be available for pre-order this Wednesday (January 21st) and that is also the day when tickets for European tour will be on sale. To conclude… here's the Satellites single.