Mew have released another teaser from the upcoming album. The song is Water Slides and you can listen to it on Pitchfork.
Now, seven weeks before the album's global release date, this is only the second published studio recording out of ten tracks… Third, if you count Making Friends, for which you've heard an early version that was approximately 3/4 finished already a year and a half ago. A while back, it seems now. Well, The Night Believer was almost entirely played on a Norwegian radio station, but – as we know Mew – radio sound may not do proper justice for the band. The latter is the track where Kimbra is most audible, but you can't miss her on Water Slides either. On Interview The Girls she is also singing a little bit of harmonies.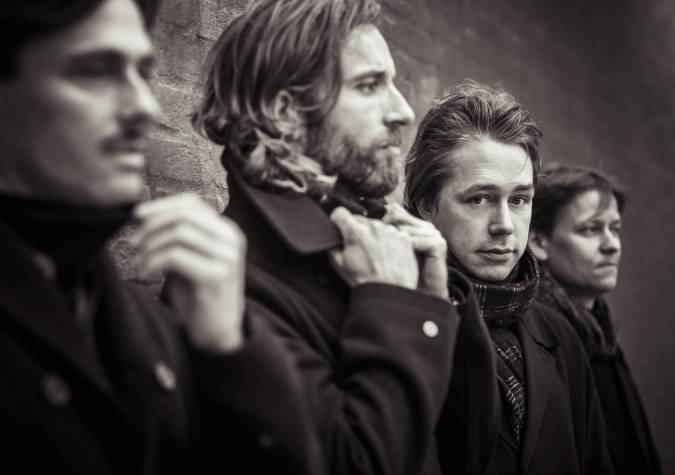 In other recent news… Mew have announced a Swedish festival gig as well, and now it looks like all the Summer shows for Nordic countries have been scheduled (excluding Iceland where Mew have not played a live show yet). Bråvalla Festival in the fair city of Norrköping will be held on June 25th through June 27th, but the exact "Mew Day" is still unknown. The band also paid a short promotional visit to Sweden a week ago. Jonas Bjerre, Johan Wohlert and Nick Watts performed five songs for Spotify Session, but at this point we don't know when or where these songs will be released. The acoustic set consisted of Witness, The Night Believer, Satellites, Water Slides and Symmetry.
The Japanese release of + – will be released a few days earlier (on April 22nd), so with good luck a pre-ordered album might even reach you around the time of the global release date (April 27th) and this website seems to be English-friendly at least. As often with Japanese album releases, + – will also come with exclusive bonus material, possibly the tracks hinted previously by Japanese iTunes – Drinking Soda and Western Silver Lion Cub.
Finally, recently on Danish X-Factor a Mew song was played live and you may watch the video of Comforting Sounds here.