Read the first part of this 2-part article.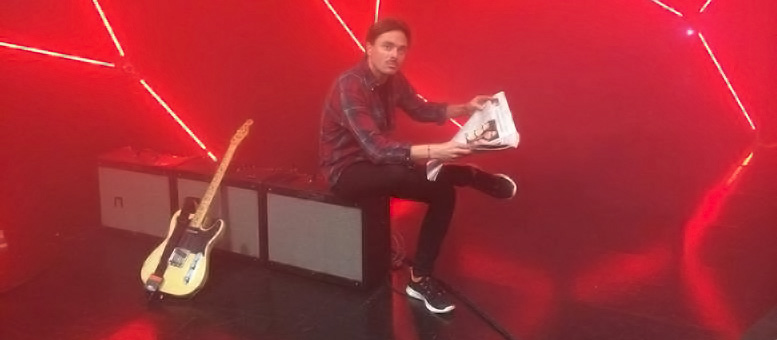 Back to Satellites, and, since Johan Wohlert's return, it's taken on a new lease of life. Over its six-minute duration the band have managed to combine the immediately memorable chorus, great dynamic and structural shifts, and space for every band member to take centre stage in its arrangement. During a slow buildup, an unusual, dreamy harp timbre gives misleading impressions of the epic-scale rock that is soon to follow: a wall of Bo Madsen guitars soon accompanies its second verse, Johan's stuttering bassline comes more to the fore in the last verse and Silas Graae unloads some of his familiar frenetic fills in the coda after the final chorus. The step-up key change between the verses and the chorus (from A to B), provides extra oomph, and underlines the song's central hook, while the finely balanced arrangement has, together with clusters of swirling backing vocals, taken on extra-musical details: the sound of beams (of a far-off satellite perhaps), and bubbling water (where someone might have been swimming fast) bring the song to a delicate close. Like the album cover it feels like a mosaic, but one of all things Mew coming together to form one of their boldest, most immediate songs yet.
The immediacy of that Klassen chorus is reflective of much of the album. As Silas said at Provinssirock, "[the album] will contain a lot of pop songs…it's got some big, huge, heavy songs [on it]," while Bo mentioned during the previously referred-to Facebook Q&A, which had been held in promotion of Sensory Spaces, that there'll be "less counting (time signature changing)" but hinted at some compensation for this when he alluded to the band's new explorations of key changes in a recent social media update. And, though direct pop songwriting seems to have been a key aim for this record, Jonas Bjerre told Malaysian radio show, Wavelength, "our song-structures [can be] a bit weird…and it does feel like little journeys sometimes…and there's a lot of that on the album as well". Judging by some of the track lengths, that's not an understatement; Rows clocks in at just shy of 11 minutes, and will be their longest ever song, and 5 of the 10 tracks last more than 6 minutes.
The songs they've played live often have their big moments, but retain a colourful diversity. Water Slides might be considered Mew's third proper foray into electronic production (after Mica and Tricks Of The Trade), but when the band chime in collectively for the chorus, it's a chorus that instantly forms a tight grip around the listener's consciousness; My Complications (previously Russle), is driven by dueling, and strikingly different, guitar parts by Bo and Bloc Party guitarist Russell Lissack; Witness is propulsively raw, Jonas's surprising, post-punk-esque baritone verse vocal giving way to a falsetto-led chorus which aims skyward; and Cross The River On Your Own is soft, wistful meandering in 3/4 time, which will fill the customary Mew mould for effective, curtain-drawing album-closers.
Boy, a song they debuted live at the same shows as Satellites, will feature "in some form", although whether that means that just a single strand of the song (Bo's funky guitar line perhaps) will have made the cut, or a bigger chunk of it, is unclear; looking at the tracklisting, though, it might make sense if it were part of The Night Believer or Interview The Girls. Meanwhile, Clinging to A Bad Dream, part of which has racked up a good number of live outings in a medley with The Zookeeper's Boy and The Seething Rain Weeps For You, features Bo and Silas "going nuts" according to a previous article on MewX; that medley was first heard performed by Icelandic female choir, Lyrika, in promoting the Nordic Ja Ja Ja festival in London in 2013, and, considering its title was displayed on setlists for a while as Koor (an approximation of "choir" in Danish), it might feature some form of choir-involvement.
Familiar figure behind the keys at live shows, the good Doctor Watts, has been afforded greater involvement in the creative process this time around, and it will be interesting to hear what his personal touch will have brought to the table. Longtime Frenger, and New Zealand singer-songwriter, Kimbra, will feature on one track, although which one that is, is yet unknown. And what will Damon Tutunjian, who, from producing A Triumph For Man to playing bass on Introducing Palace Players, has had some part to play in every Mew album so far, be up to this time? Frengers and No More Stories producer/mixing engineer Rich Costey was again assigned his duties behind the mixing desk. With a CV of mixing credits for anthemic rock outfits (Foo Fighters, Muse et al), he's someone who can transform crescendos to takeoffs, and choruses to explosions; that "big"ness and "heavy"ness which Silas alluded to should have come to full fruition.
Mew are crossing the globe in March, with shows at SXSW in Austin, Texas, and T-Festival in Taiwan, before embarking on a relatively brief European tour in May. They've been working with a German company on a new live show to accompany performances of songs from the new album. "We definitely hope to do something really great with that in time for the tour", Jonas told UK radio station XFM, whose evening show made Satellites their "record of the week"; enigmatically, though, he wouldn't be drawn on any details as to what exactly "that" is.
Promotion has started promisingly with Play It Again Sam (PIAS), whose roster includes the artist Mew have cited as their collective favourite, The Pixies (under whose management, Key Music Ltd, they also fall), distributing the album in the US, the UK and presumably many of the other territories where distribution was previously managed by Sony. Alongside the exposure on XFM, they'll be doing various things on the radio across the Nordic region in the coming weeks, and a video for Satellites will arrive within days. They've been allowed to make a record under their own steam, promotion is picking up speed, and they're in league with their idols: all of that should mean a lot to the band.
Nearly six years on from No More Stories, our favoured foursome will finally release their 6th studio album. Whether such a long wait for some more stories will be worth it, will take the next few months to say; to realise the full picture of their production may take 27 April in a day. But this Frenger couldn't be more excited. "We feel like we're ready to conquer the world again," Johan told P6 Beat after his big reveal at NorthSide. We're ready and waiting to be reconquered.
Text: Gus Greijer
Photo: Mew
Satellites Credits:
Lead vocals, choir – Jonas Bjerre
Electric guitar, choir – Bo Madsen
Drums, shakers, congas, tambourine – Silas Graae
Electric bass, guitars – Johan Wohlert
Keyboards – Nick Watts
Saxophone – Jakob Dinesen
Additional choir – Ella Moreno Risell, Carla Emma Berg Bisaballe, Liva Katrine Vincent Bonnesen, Sarah E. Sejer Solow, Sasha Ryabina

Producer: Michael Beinhorn
Mixing: Rich Costey
Composer, lyrics: Mew