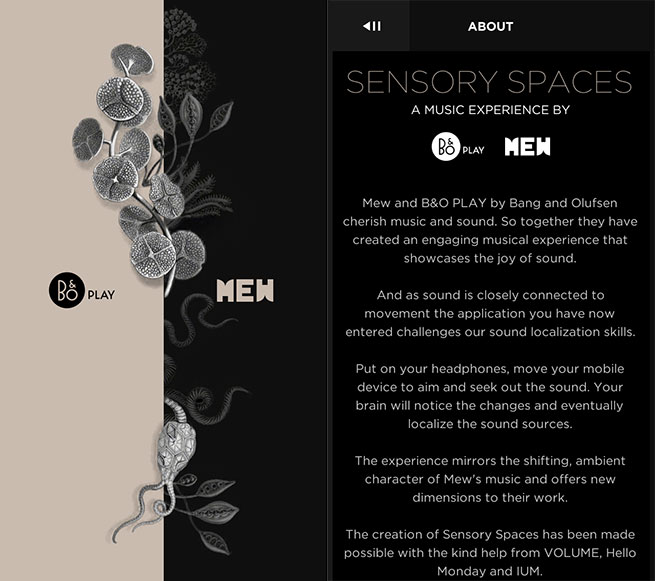 Few things are more delightful than opening up a much-anticipated product and having it blow your socks off with its exceptional quality. Sensory Spaces (which can be downloaded from www.sensoryspaces.com), the new free iOS application developed in a partnership between Mew and B&O Play, does this with elegant aplomb. For established fans of Mew it certainly does not disappoint, and its ingenuity in use of modern technology is sure to convert more than a few casual onlookers into fans.
On first launch of the app, the user is presented with a screen with limited options. I chose to review the help section first, which is not entirely necessary as the help content is automatically shown to the user after the initial introduction (both of which are narrated by Jonas Bjerre.) It is absolutely critical to use the application with headphones and to be in a place where you are able to stand and move around freely, as you will be doing a lot of this.
Sensory Spaces is divided into three "Sound Spaces" and one Bonus section. Each sound space is introduced by a different band member, so we get a fantastic opportunity to hear the speaking voices of Jonas, Silas Graae, and Bo Madsen with crystal clarity as they explain how to navigate through the application.
In each section the user must point their device towards the direction which they perceive as the sound's origin. The gyroscopic functions within the device track where the user is in relation to the "source" so the sound can seem to come from above, below, behind, or in front of you. Once you locate the source of the sound, the sound comes into clear focus and is "locked" into place and you may move onto the next space. The sounds you are locating are all individual pieces of a song, such as the drums, vocals, guitars, and so on.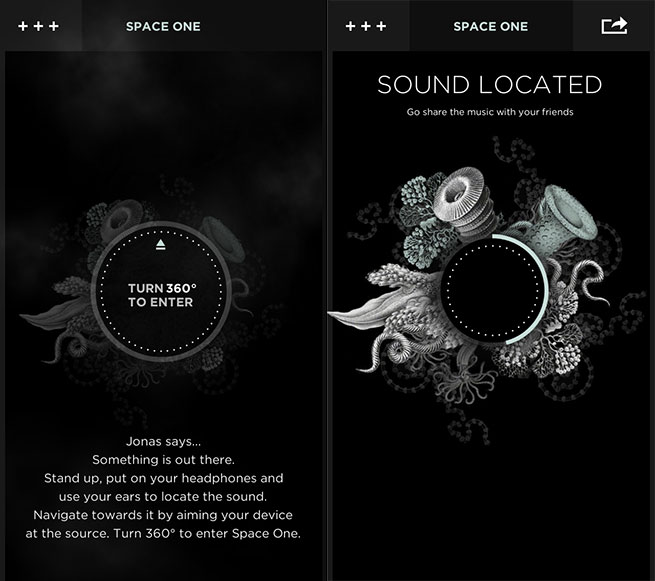 Aside from the sheer delight of waving your device around through the air to locate something as intangible as a sound, the excitement really lies in the Bonus section, where you are finally able to achieve the ultimate goal of Sensory Spaces, which is to piece together all the constituent segments you have collected into a fully-formed song. The app gives you a peek into approximately two minutes of Making Friends, a song which Mew has been performing live throughout the summer and is likely to be the first single from their upcoming album.
Without divulging too much detail (after all, you'll want to explore some of the surprises yourself!), the application also incorporates content sharing through social media platforms such as Twitter and Facebook and contains many videos of the band creating their music. On the whole, it is a very polished and beautiful piece of software that is a fantastic introduction to Mew's next era of music and visualization.
(In terms of technical details, I was able to test the application on an iPhone 5 (iOS 6 and iOS 7) and iPad 3 (iOS 6 and iOS 7) with similar results. At this point it is unknown whether it will be available on other mobile platforms.)
Ann Lancaster
Note: As mentioned in the previous post, we have posted the lyrics for Making Friends (as they appear in the application) in our Discography section under "Full Song List & Lyrics". We will update them to the final studio version as soon as they are known.